EMPLOYEE HEALTH MANAGEMENT AS A MODERN TOOL OF LABOR PROTECTION AND ORGANIZATION
Keywords:
staff health, labor protection, labor organization, corporate health promotion programs, workplace, working conditions
Abstract
The main goal of any commercial organization is to generate profit, build financial capacity and maximize income. Important in this process is the work of the company's management to find any opportunities to reduce its costs. But nevertheless, the functioning of the organization is impossible without the use of human resources, their development in the future. The issues of maintaining and strengthening professional health acquire special significance due to the ongoing changes, which actualize today the need to create conditions for achieving professional longevity. The article is devoted to the consideration of the issue of preservation and self-preservation of workers' professional health. The results of professional health management programs available in foreign practice are presented. It was found that abroad these programs have a long history of their implementation, in contrast to the domestic management practice. In Ukrainian companies, concern for employees, the development of corporate policy as a strategy for the future has not yet become ubiquitous. Many are looking for benefits in downsizing, lower wages, temporary employees, and effective management decisions. Objectively, companies want instant results without long-term and ambiguous investments. Meanwhile, in foreign countries, health management programs are reaching a new, progressive level, which provides not only for improving working conditions, but also for holding Health Days, changing the lifestyle of employees (promoting a healthy lifestyle, adjusting nutrition programs, increasing physical activity, etc.), as well as regular monitoring and monitoring of the health of employees. For many corporate health management systems in organizations, the period has come to reassess the system of work and develop new solutions. The concept of professional health is considered and its relevance is revealed. The socio-psychological aspects of occupational health management have been determined. The necessity of introducing a corporate health management system for employees is emphasized, it is revealed how it can be economically beneficial for organizations and useful for employees.
References
Щербакова Е.М. Население мира по оценкам ООН пересмотра 2019 года. Демоскоп Weekly. 2019. № 821–822. URL: http://demoscope.ru/weekly/2019/0821/barom01.php (дата звернення: 21.09.2021).
Разумов А.Н., Пономаренко В.А., Пискунов В.А. Здоровье здорового человека (Основы восстановительной медицины) / под ред. В.С. Шинкаренко. Москва : Медицина, 1996. 413 с.
Ушаков И.Б., Арутюнов А.Г., Шерешков Г.М., Турзин П.С. Введение в авиационную медицину. Москва; Воронеж, 2002. 350 с.
Масленникова Г.Я., Оганов Р.Г. Профилактика неинфекционных заболеваний как возможность увеличения ожидаемой продолжительности жизни и здорового долголетия. Кардиоваскулярная терапия и профилактика. 2019. № 2. С. 5–12.
Ромейко В.Л., Потеряева Е.Л., Ивлева Г.П., Кругликова Н.В., Труфанова Н.Л. Основные проблемы совершенствования правовых механизмов сохранения профессионального здоровья работающего населения. Здоровье населения и среда обитания. 2018. Т. 307, № 10. С. 46–49.
Валеева Э.Т., Бакиров А.Б., Капцов В.А., Каримова Л.К., Гимаева З.Ф., Галимова Р.Р. Профессиональные риски здоровью работников химического комплекса. Анализ риска здоровью. 2016. № 3. С. 88–97.
Титова Е.Я., Голубь С.А. Современные проблемы охраны здоровья сотрудников крупного промышленного предприятия, работающих в условиях профессиональных вредностей. Анализ риска здоровью. 2017. № 4. С. 83–90.
Шингаев С.М. Программы сохранения профессионального здоровья менеджеров в зарубежных странах. Ананьевские чтения – 2013. Психология в здравоохранении: материалы научной конференции (Санкт-Петербург, 22–24 октября 2013). 2013. С. 474–476.
Beare, P.G. Adult health nursing. Toronto: Elsevier Science, 1998. 1868 p.
Kok G., De Haes W. Research in health education and promotion. Hygie. 1991. Vol. 10. Is. 2. Р. 12–15.
Арутюнов А.Т., Денисенко В.И., Турзин П.С., Ходжаев С.С. Профилактическая медицина и эпидемиология: энциклопедический словарь-справочник / под ред. Г.Г. Онищенко и В.И. Покровского. Москва; Смоленск, 2010. 756 с.
Миронов С.П., Арутюнов А.Т., Турзин П.С. Факторы риска заболеваний человека и их профилактика. Москва, 2008. 272 с.
Рыбаков И.А. Корпоративная культура и программы корпоративного здоровья для удаленных работников. Управление корпоративной культурой. 2015. № 3. С. 258–263.
Рыбаков И.А. Корпоративное здоровье: как мотивировать, повышать производительность труда и экономить, используя программы благополучия. Москва : Самиздат, 2018. 210 с.
Рыбаков И.А. Экономическая эффективность программ по укреплению корпоративного здоровья, а также профилактических программ на рабочем месте для сотрудников с краткосрочной временной нетрудоспособностью. Биозащита и биобезопасность. 2015. № 1 (22). С. 10–17.
Данилова Е.А. Проблема выбора стилей руководства в процессе формирования организационной культуры. Социокультурные факторы консолидации современного российского общества: III Международная научно-практическая конференция. Под редакцией Г.Б. Кошарной, Н.В. Корж. Пенза, 2019. С. 51–55.
Наумов А.И. Организационная культура как фактор долгосрочной конкурентоспособности. Управление компанией. 2018. № 7. С. 52–60.
Scherbakova E.M. (2019) Naselenie mira po otsenkam OON peresmotra 2019 goda [World population estimated by UN revision 2019]. Demoskop Weekly. pp. 821–822. URL: http://demoscope.ru/weekly/2019/0821/barom01.php (accessed: 21.09.2021).
Razumov A.N., Ponomarenko V.A., Piskunov V.A. (1996) Zdorove zdorovogo cheloveka (Osnovyi vosstanovitelnoy meditsinyi) [Health of a healthy person (Fundamentals of restorative medicine)] pod red. V.S. Shinkarenko. Moskva: Meditsina. (in Russian)
Ushakov I.B., Arutyunov A.G., Shereshkov G.M., Turzin P.S. (2002) Vvedenie v aviatsionnuyu meditsinu [Introduction to Aviation Medicine]. Moskva; Voronezh. (in Russian)
Maslennikova G.Ya., Oganov R.G. (2019) Profilaktika neinfektsionnyih zabolevaniy kak vozmozhnost uvelicheniya ozhidaemoy prodolzhitelnosti zhizni i zdorovogo dolgoletiya [Prevention of noncommunicable diseases as an opportunity to increase life expectancy and healthy longevity]. Kardiovaskulyarnaya terapiya i profilaktika, no 2, pp. 5–12.
Romeyko V.L., Poteryaeva E.L., Ivleva G.P., Kruglikova N.V., Trufanova N.L. (2018) Osnovnyie problemyi sovershenstvovaniya pravovyih mehanizmov sohraneniya professionalnogo zdorovya rabotayuschego naseleniya [The main problems of improving the legal mechanisms for maintaining the professional health of the working population]. Zdorove naseleniya i sreda obitaniya, vol. 307, no 10, pp. 46–49.
Valeeva E.T., Bakirov A.B., Kaptsov V.A., Karimova L.K., Gimaeva Z.F., Galimova R.R. (2016) Professionalnyie riski zdorovyu rabotnikov himicheskogo kompleksa [Occupational health risks of employees of the chemical complex]. Analiz riska zdorovyu, no 3, pp. 88–97.
Titova E.Ya., Golub S.A. (2017) Sovremennyie problemyi ohranyi zdorovya sotrudnikov krupnogo promyishlennogo predpriyatiya, rabotayuschih v usloviyah professionalnyih vrednostey [Modern problems of health protection of employees of a large industrial enterprise working in conditions of occupational hazards]. Analiz riska zdorovyu, no 4, pp. 83–90.
Shingaev S.M. (2013). Programmyi sohraneniya professionalnogo zdorovya menedzherov v zarubezhnyih stranah [Professional health preservation programs for managers in foreign countries]. Proceedings of the Ananevskie chteniya. Psihologiya v zdravoohranenii: materialyi nauchnoy konferentsii (Sankt-Peterburg, 22–24 oktyabrya 2013), pp. 474–476.
Beare P.G. (1998) Adult health nursing. Toronto: Elsevier Science, 1868 p.
Kok G., De Haes W. (1991) Research in health education and promotion. Hygie. 1991. Vol. 10. Is. 2. pp. 12–15.
Arutyunov A.T., Denisenko V.I., Turzin P.S., Hodzhaev S.S. (2010) Profilakticheskaya meditsina i epidemiologiya: entsiklopedicheskiy slovar-spravochnik [Preventive medicine and epidemiology: an encyclopedic dictionary] pod red. G.G. Onischenko i V.I. Pokrovskogo. Moskva; Smolensk. (in Russian)
Mironov S.P., Arutyunov A.T., Turzin P.S. (2008) Faktoryi riska zabolevaniy cheloveka i ih profilaktika [Risk factors for human diseases and their prevention]. Moskva. (in Russian)
Ryibakov I.A. (2015) Korporativnaya kultura i programmyi korporativnogo zdorovya dlya udalennyih rabotnikov [Corporate culture and corporate health programs for remote workers]. Upravlenie korporativnoy kulturoy, no. 3, pp. 258–263.
Ryibakov I.A. (2018) Korporativnoe zdorove: kak motivirovat, povyishat proizvoditelnost truda i ekonomit, ispolzuya programmyi blagopoluchiya [Corporate health: how to motivate, increase productivity, and save with wellbeing programs]. Moskva: Samizdat. (in Russian)
Ryibakov I.A. (2015) Ekonomicheskaya effektivnost programm po ukrepleniyu korporativnogo zdorovya, a takzhe profilakticheskih programm na rabochem meste dlya sotrudnikov s kratkosrochnoy vremennoy netrudosposobnostyu [Cost-effectiveness of corporate health promotion programs and workplace prevention programs for employees with short-term temporary disabilities]. Biozaschita i biobezopasnost, no. 1 (22), pp. 10–17.
Danilova E.A. (2019) Problema vyibora stiley rukovodstva v protsesse formirovaniya organizatsionnoy kulturyi [The problem of choosing leadership styles in the process of forming an organizational culture]. Proceedings of the Sotsiokulturnyie faktoryi konsolidatsii sovremennogo rossiyskogo obschestva: III Mezhdunarodnaya nauchno-prakticheskaya konferentsiya. Eds. G.B. Kosharnoy, N.V. Korzh. Penza, pp. 51–55.
Naumov A.I. (2018) Organizatsionnaya kultura kak faktor dolgosrochnoy konkurentosposobnosti [Organizational culture as a factor in long-term competitiveness]. Upravlenie kompaniey, no. 7, pp. 52–60.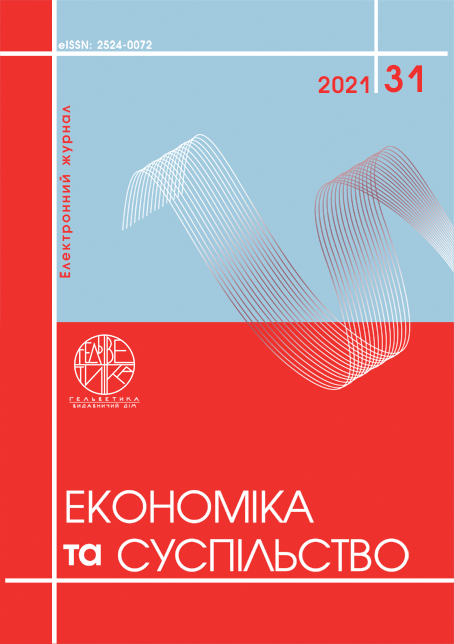 Article views: 82 PDF Downloads: 54
How to Cite
Soroka, O., & Salo, Y. (2021). EMPLOYEE HEALTH MANAGEMENT AS A MODERN TOOL OF LABOR PROTECTION AND ORGANIZATION. Economy and Society, (31). https://doi.org/10.32782/2524-0072/2021-31-57