Home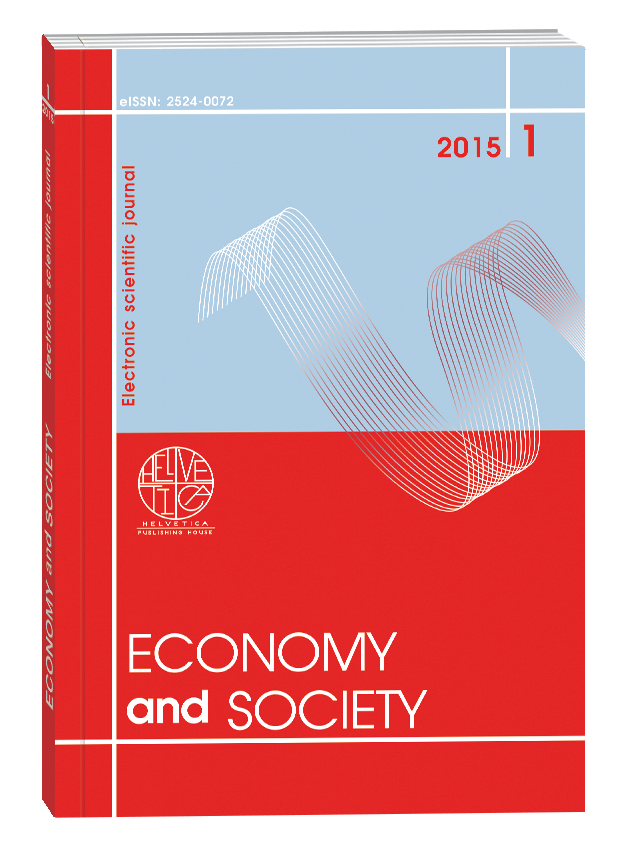 Title of the publication: "Economy and Society"
Year of foundation: 2015
About the Journal: "Economy and society" is an e-journal in economics founded in 2015 by Mukachevo State University. At the beginning of 2019, the publication was discontinued. To resume functioning of the journal and its further promotion, the founder and publisher has been changed in 2020. Publishing House "Helvetica" administers publishing of the articles.
The Editorial Board of the journal consists of leading Ukrainian and foreign specialists. The publication cooperates with the largest HEIs in Ukraine and abroad, public authorities and local governments. Such cooperation involves releasing the information materials, scientific articles, holding roundtables on the basis of the edition.
The journal covers current issues of economic theory and history of economic thought; world economy and international economic relations; economics and enterprise management; innovation and investment activities; accounting, analysis and audit; finance and tax policy; mathematical methods and information technologies in economics; modern management and other branches of economic sciences. The journal also informs about the events of scientific life and economic education in Ukraine; provides reviews of scientific papers and textbooks on economic topics.
We invite everyone to cooperate with our journal and to publish your articles. The publication is intended not only for scientists, but also for practitioners who find it helpful for their activity.
Branch of science: economic.
Founder and publisher: Publishing House "Helvetica".
ISSN (Online): 2524-0072
Periodicity: 12 times per year.
Professional registration (category B): Decree of MES of Ukraine No. 1471 (Annex 3) dated November 26, 2020
Abstract databases: Vernadsky National Library, Google Scholar, Index Copernicus, CiteFactor, Eurasian Scientific Journal Index (ESJI), Directory of Open Access Journals (DOAJ).
Publication language: submission of articles in Ukrainian and English is allowed.
The purpose of the journal is to promote the release of empirical and theoretical scientific research dealing with economics, accounting and taxation, finance, banking and insurance, management, marketing, entrepreneurship, trade and stock exchange activity, hotel and restaurant business, tourism, international economic relations. The purpose ensures the coordination of basic and applied research of different specialists in economics and promotes their actualization.
The objectives of the journal are to increase the level of economics and to create a unique scientific and practical platform for highlighting current trends and prospects for the development of economics and interdisciplinary research, building a national economic system, considering theoretical, methodological and practical aspects of innovative transformations in economics and business management, analysing and releasing the latest achievements of economics, providing free exchange of idea by means of the publication of relevant scientific materials.
Topical sections of the journal:
1. Economics.
2. Accounting and taxation.
3. Finance, banking and insurance.
4. Management.
5. Marketing.
6. Entrepreneurship, trade and stock exchange activity.
7. Hotel and restaurant business.
8. Tourism.
9. International economic relations.