RESEARCH OF ENVIRONMENTALLY CONSCIOUS CONSUMER BEHAVIOR IN THE DRINKING WATER MARKET
Keywords:
drinking water, PET bottle, waste, environment, conscious behavior, plastic recycling
Abstract
The article is devoted to the marketing research of the drinking water market of Ukraine with an emphasis on the ecological component of the behavior of drinking water consumers in PET bottles. The main preconditions for the growth of drinking water consumption by the population of the planet with the parallel growth of the volume of plastic waste from PET bottles are presented and analyzed. which has a detrimental effect on the environment. It is emphasized that an important factor is the protection of the environment in the production of bottled water, which has two components. The first is sustainable resource management, as integrated groundwater management is crucial to maintaining the quality and availability of natural water sources for future generations, so producers must help protect the natural ecosystems through which water enters the natural source, which are renewable resources. Second, the industry has a commitment to sustainable resource management in the field of packaging optimization (bottles), as all packaging materials used in the industry are recyclable (glass, PET bottles and aluminum cans). It is proved that the increase of ecological pressure on enterprises forces them to reconsider all parts of their activity for "environmental damage" and look for ways to minimize it by introducing eco-innovations. It is revealed that the implementation of the extended producer responsibility policy is an effective tool for waste minimization, which is produced by the enterprise at all stages of the product life cycle. It is emphasized that the stage of consumer use of packaging and its environmental elimination after performing its functions depends entirely on the willingness of consumers to participate in the process of extended producer responsibility, be environmentally conscious, and, in some cases, pay a small markup. safe recycling or disposal of packaging. A survey of drinking water consumers was conducted using a questionnaire that shows the real state of the market and environmentally conscious behavior of consumers with a used PET bottle, namely the willingness to pay more if these funds are directed to the safe recycling or disposal of PET bottles.
References
Report on Bottled Water Market – Growth, Trends and Forecasts (2020-2025). URL: https://www.mordorintelligence.com/industry-reports/bottled-water-market (дата звернення: 25.08.2021).
ADEME & Eco-emballage publication "Le gisement des emballages ménagers en France. Evolution 1997-2012". URL: http://www.ecoemballages.fr/sites/default/files/files/etudes/eco-emballages_gisement_1994-2012.pdf (дата звернення: 06.09.2021).
Extended Producer Responsibility at the glance. Режим доступу: https://www.expra.eu/ (дата звернення: 06.09.2021).
Пономаренко І.В. Аналіз ринку мінеральних вод в Україні. Інфраструктура ринку. 2018. Випуск 25. С. 412–418.
Добрянська, В.В., & Іваненко, І.О. Комплексна інтегральна маркетингова оцінка конкурентоспроможності ПрАТ «Миргородський завод мінеральних вод. Ефективна економіка. 2021. № 1. DOI: https://doi.org/10.32702/2307-2105-2021.1.95
Танасійчук А.М., Середницька Л.П., Габрид А.І. Особливості формування сучасного ринку мінеральної води. «Modern Economics». 2020. № 19. С. 178–182. DOI: https://doi.org/10.31521/modecon.V19(2020)-29
Державна служба статистики України, Інформаційно-аналітичне агентство. URL: http://www.ukrstat.gov.ua (дата звернення: 17.09.2021).
Бізнес на воді: рентабельність виробництва мінеральної води сягає 150%. URL: https://landlord.ua/news/biznes-na-vodi-rentabelnist-virobnitstva-mineralnoyi-vodi-syagaye-150/ (дата звернення: 22.09.2021).
Report on Bottled Water Market – Growth, Trends and Forecasts (2020-2025). Retrieved from: https://www.mordorintelligence.com/industry-reports/bottled-water-market
ADEME & Eco-emballage publication "Le gisement des emballages ménagers en France. Evolution 1997-2012". Retrieved from: http://www.ecoemballages.fr/sites/default/files/files/etudes/eco-emballages_gisement_1994-2012.pdf
Extended Producer Responsibility at the glance. Retrieved from: https://www.expra.eu/
Ponomarenko I.V. (2018) Analiz rynku mineralnykh vod v Ukrayini. Infrastruktura rynku, 25, 412–418. (in Ukrainian)
Dobryanska V.V., Ivanenko I.O. (2021) Kompleksna intehralna marketynhova otsinka konkurentospromozhnosti PrAT «Myrhorodskyy zavod mineralnykh vod. Efektyvna ekonomika, 1. DOI: https://doi.org/10.32702/2307-2105-2021.1.95 (in Ukrainian)
Tanasiychuk A.M., Serednytska L.P., Habryd A.I. (2020) Osoblyvosti formuvannya suchasnoho rynku mineralnoyi vody. «Modern Economics», 19, 178–182. DOI: https://doi.org/10.31521/modecon.V19(2020)-29 (in Ukrainian)
Derzhavna sluzhba statystyky Ukrayiny, Informatsiyno-analitychne ahent•stvo. Retrieved from: http://www.ukrstat.gov.ua (accessed: 17.09.2021) (in Ukrainian)
Biznes na vodi: rentabelnist vyrobnytstva mineralnoyi vody syahaye 150%. Retrieved from: https://landlord.ua/news/biznes-na-vodi-rentabelnist-virobnitstva-mineralnoyi-vodi-syagaye-150/ (accessed: 22.09.2021) (in Ukrainian)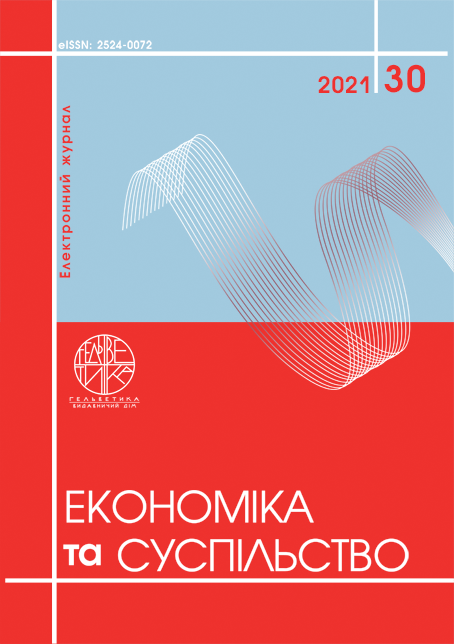 Article views: 95 PDF Downloads: 58
How to Cite
Mashchak, N. (2021). RESEARCH OF ENVIRONMENTALLY CONSCIOUS CONSUMER BEHAVIOR IN THE DRINKING WATER MARKET. Economy and Society, (30). https://doi.org/10.32782/2524-0072/2021-30-29