DEVELOPMENT OF A BASIC PLATFORM OF INVESTMENT SUPPLY FOR AN ENTERPRISE IN THE PANDEMIC CONDITIONS
Keywords:
investments, investment supply, sources of financing, platform for investment resources growth, enterprises
Abstract
The article presents dynamics of growth of the amounts of capital investments in Ukraine in 2013-2020. It is confirmed that in the studied period, structure of capital investments experienced transformations in terms of the sources of financing, particularly, volume of investments increased due to personal funds of enterprises, investments of foreign investors into the enterprises of our country also increased. The authors have studied the structure of capital investments by the sources of financing and confirmed that in 2013, the largest share was secured by the own funds of enterprises and organizations, i.e. 65%, whereas in 2020, that index increased up to 67%. It is determined that growth of capital investments from the state budget demonstrated positive dynamics, particularly in 2013 it accounted for 2.5%, and in 2020 – 8.7% of the funds of local budgets, which made 2.7% of the total share in 2013, whereas in 2020, it was 10.4%. The research marked negative dynamics to reduction of capital investments due to bank credits and other loans: in 2013 – 13.9%, in 2020 – 6.7%, and population's money spent for housing: in 2013, it was 9.6%, whereas in 2020 – 4.9%. Rather negative was the dynamics of capital investments by the kinds of assets, particularly in the last year, one observed their significant reduction. It was obvious, that the reduction was caused by the COVID pandemic, which made a negative impact not only on the investment level, but on the whole economy. It is substantiated that the basic conditions for growth of investment resources of an enterprise suggests available materials and machinery; use of know-how; a system of motivation of the investment stimuli; infrastructure of the enterprise; creativity and development; labour potential and highly-qualified staff. The work justifies that the ground for investment resources growth should be secured by an available platform of the enterprise's investment resources formation. The suggested platform points the general components of the enterprises' operation, marks the correctness/incorrectness of the made investment decisions, directions, forms and methods of investment activity.
References
Бочко О.Ю. Сутність та види ризиків при плануванні діяльності підприємства. Економіка : проблеми теорії і практики. Збірник наукових праць. 2010. Випуск 265 том 7. С. 1785–1790.
Державна служба статистики України. URL: http://www.ukrstat.gov.ua/
Зарічна О.В. Формування інноваційної інфраструктури на засадах транскордонного партнерства. Вісник Київського національного університету технологій та дизайну. Серія : Економічні науки. 2018. № 4 (125). С. 30–37.
Кахович О.О. Державне регулювання струкутрно-інвестиційної політики в Україні : автореф. дис. … канд. екон. наук : спец. 25.00.02 «Механізми державного управління». Київ, 2010. 21 с.
Коюда В.О., Лепейко Т.І., Коюда О.П. Основи інвестиційного менеджменту : навч. посібник. Київ : Кондор, 2008. 340 с.
Стецюк П.А. Управління ризиками фінансування інноваційно-інвестиційної діяльності підприємств. Економіка. Менеджмент. Бізнес. 2017. № 3 (21). URL: http://www.dut.edu.ua/uploads/p_1010_27184671.pdf
Ульянченко О.В. Інноваційно-інвестиційна діяльність, як основа сталого розвитку економіки держави. URL: http://www.msu.edu.ua/visn/wp-content/uploads/2015/11/2-4-1-2015-12.pdf
Ткаченко А.М., Тимошенко Д.М. Інвестиційне забезпечення інноваційного потенціалу промислового підприємства. URL: http://www.zgia.zp.ua/gazeta/evzdia_5_119.pdf
Bochko O. (2010) Sutnist ta vydy ryzykiv pry planuvanni diialnosti pidpryiemstva [Essence and kinds of risks while planning the enterprise's activities]. Ekonomika: problemy teorii i praktyky [Economics: problems of theory and practice], v. 265 T. 7, p. 1785–1790.
Derzhavna sluzhba statystyky Ukrainy. [State Statistics Service of Ukraine]. URL: http://www.ukrstat.gov.ua.
Zarichna O.V. (2018) Formuvannia innovatsiinoi infrastruktury na zasadakh transkordonnoho partnerstva [Creation of investment infrastructure on the principles of transborder partnership]. Visnyk Kyivskoho natsionalnoho universytetu tekhnolohii ta dyzainu. Seriia: Ekonomichni nauky [Bulletin of Kyiv National University of Technologies and Design. Series: Economic Sciences]. № 4 (125). P. 30–37.
Kakhovych O.O. (2010) Derzhavne rehuliuvannia strukutrno-investytsiinoi polityky v Ukraini: avtoref. dys. … kand. ekon. nauk: spets. [State regulation of the structural and investment policy of Ukraine: extended abstract of the Candidate of Economics dissertation] 25.00.02 «Mekhanizmy derzhavnoho upravlinnia» [Mechanisms of state regulation]. Kyiv, 21 p.
Koiuda V.O., Lepeiko T.I., Koiuda O.P. (2008) Osnovy investytsiinoho menedzhmentu: navch. posibnyk [Fundamentals of investment management: manual]. Kyiv: Kondor, 340 p.
Stetsiuk P.A. (2017) Upravlinnia ryzykamy finansuvannia innovatsiino-investytsiinoi diialnosti pidpryiemstv [Management of the risks of financing the innovative and investment activity of enterprises]. Ekonomika. Menedzhment. Biznes. [Economics. Management. Business]. № 3 (21). URL: http://www.dut.edu.ua/uploads/p_1010_27184671.pdf
Ulianchenko O.V. (2015) Innovatsiino-investytsiina diialnist, yak osnova staloho rozvytku ekonomiky derzhavy [Innovative and investment activity as a fundamental of sustainable development of the state economy]. URL: http://www.msu.edu.ua/visn/wp-content/uploads/2015/11/2-4-1-2015-12.pdf
Tkachenko A.M., Tymoshenko D.M. Investytsiine zabezpechenia innovatsiinoho potentsialu promyslovoho pidpryiemstva [Investment supply of the innovative potential of an industrial enterprise]. URL: http://www.zgia.zp.ua/gazeta/evzdia_5_119.pdf.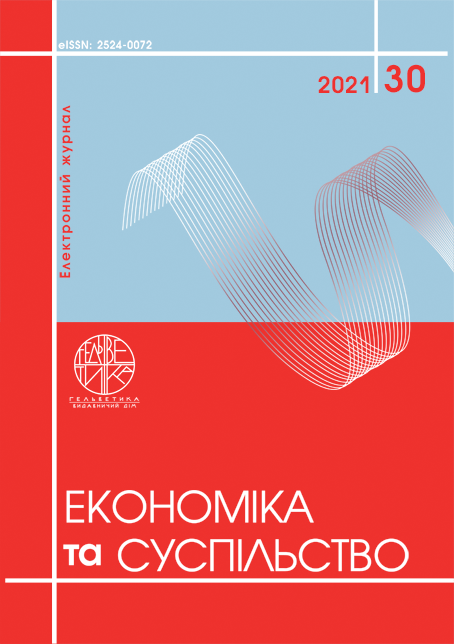 Article views: 71 PDF Downloads: 55
How to Cite
Bochko, O., Donets, D., & Kuziak, V. (2021). DEVELOPMENT OF A BASIC PLATFORM OF INVESTMENT SUPPLY FOR AN ENTERPRISE IN THE PANDEMIC CONDITIONS. Economy and Society, (30). https://doi.org/10.32782/2524-0072/2021-30-14