PRACTICE OF COPYRIGHTING AND VISUALIZATION IN ENVIRONMENTAL AND ETHICAL MARKETING
Keywords:
ecological marketing, ethical marketing, eco-friendly, cruelty-free, copywriting, visualization, marketing communications
Abstract
The article considers practical approaches and examples of marketing communications in the aspect of ecological and ethical marketing. Environmental marketing is considered as the implementation of the principles of "eco-friendly" in the marketing and production policy of the enterprise, including naturalness, usefulness of goods, environmental friendliness of production, ecological packaging and emphasis on environmental friendliness in advertising campaigns. Ethical marketing is a fairly broad concept, but this article discusses the aspect of "Cruelty-free", such as ethical treatment of living beings at all stages of production and sale: prevention of vivisection, ensuring proper conditions for keeping animals in accordance with their needs, free walking, etc. It is proposed to divide marketing communications in the aspect of ecological and ethical responsibility into two groups: commercial and non-commercial. Non-commercial communications (social advertising) create a basis for demand for "eco-friendly" and "cruelty-free" goods, while commercial marketing communications help the manufacturer or retailer to position itself as an environmentally responsible business entity, emphasize the value of its proposals, as well as to promote human awareness of environmental values as a modern trend. Commercial and non-commercial communications together help to achieve such goals as the formation of the right needs, environmental responsibility and rational consumption, as well as stimulating demand for relevant goods. Copywriting and visual effects play a significant role in both types of communications. Practical examples of the use of verbal and nonverbal techniques in commercial marketing communications and social advertising are analyzed. In particular, the methods of copywriting and visualization were studied on the example of the brand block of the Vega-Market store, the MotherFarm eco-farm, some methods of advertising text of the official MotherFarm website, as well as communication components of one of MotherFarm's products. Visual and textual effects of social environmental advertising posted on the social network page of the EcoVida Imbituba store are analyzed. Properly selected set of verbal and nonverbal components, understanding the psychology of color perception, fonts and techniques of composition helps to better convey the communicative message to the target audience, form the right values and emphasize the appropriate positioning of manufacturers.
References
Вега Маркет. Офіційний сайт. URL: https://vega-market.com.ua/ (дата звернення: 19.06.2022).
Закаблуківська В.В., Калайда В.В., Лиськова Л.М. Екологічний маркетинг як спосіб етичного просування та популяризації товарів та послуг на території України. ΛΌГOΣ. ONLINE. International scientific e-journal. 2020. URL: https://www.ukrlogos.in.ua/10.11232-2663-4139.15.03.html (дата звернення: 19.06.2022).
Прищенко С.В. Екологічна соціальна реклама в структурі медіа простору. Культурологічна думка. 2016. № 10. С. 222–229.
Решетнікова І.Л. Етичний маркетинг як концепція маркетингової діяльності. Маркетинг і менеджмент інновацій. 2021. № 4. С. 91–96.
Соловйова Ю.Є., Шапран М.А. Семіотичний аналіз соціальної реклами проти порушення швидкісного ліміту водіями. International Science Conference on Multidisciplinary Research, January 19–21. Berlin, Germany, 2021. Р. 37–42.
Cruelty Free International. Офіційний сайт. URL: https://crueltyfreeinternational.org/about-cruelty-free-international дата звернення: 19.06.2022).
EcoVida Imbituba. Офіційна сторінка ФБ. Пост від 14.06.2020. URL: https://www.facebook.com/ecovida.imbituba/posts/106856527737674/ (дата звернення: 19.06.2022).
Mother. Live with Love. Офіційний сайт. URL: https://motherfarm.com.ua/nasha-ferma-mother/ (дата звернення: 19.06.2022).
Veha Market. Ofitsiinyi sait [Vega Market. Official site]. Retrieved from: https://vega-market.com.ua/ [in Ukrainian]
Zakablukivska V.V., Kalaida V.V., Lyskova L.M. (2020) Ekolohichnyi marketynh yak sposib etychnoho prosuvannia ta populiaryzatsii tovariv ta posluh na terytorii Ukrainy [Ecological marketing as a way of ethical promotion and popularization of goods and services on the territory of Ukraine]. ΛΌГOΣ. ONLINE. International scientific e-journal. Retrieved from: https://www.ukrlogos.in.ua/10.11232-2663-4139.15.03.html [in Ukrainian]
Pryshchenko S.V. (2016) Ekolohichna sotsialna reklama v strukturi media prostoru [Ecological social advertising in the structure of the media space]. Kulturolohichna dumka, 10, 222–229. [in Ukrainian]
Reshetnikova I.L. (2021) Etychnyi marketynh yak kontseptsiia marketynhovoi diialnosti [Ethical marketing as a concept of marketing activities]. Marketynh i menedzhment innovatsii, 4, 91–96. [in Ukrainian]
Soloviova Yu.Ie., Shapran M.A. (2021) Semiotychnyi analiz sotsialnoi reklamy proty porushennia shvydkisnoho limitu vodiiamy [Semiotic analysis of social advertising against speeding by drivers]. International Science Conference on Multidisciplinary Research, 37–42. [in Ukrainian]
Cruelty Free International. Ofitsiinyi sait. Retrieved from https://crueltyfreeinternational.org/about-cruelty-free-international
EcoVida Imbituba. Ofitsiina storinka FB. Post vid 14.06.2020. Retrieved from: https://www.facebook.com/ecovida.imbituba/posts/106856527737674/
Mother. Live with Love. Ofitsiinyi sait. Retrieved from: https://motherfarm.com.ua/nasha-ferma-mother/ [in Ukrainian]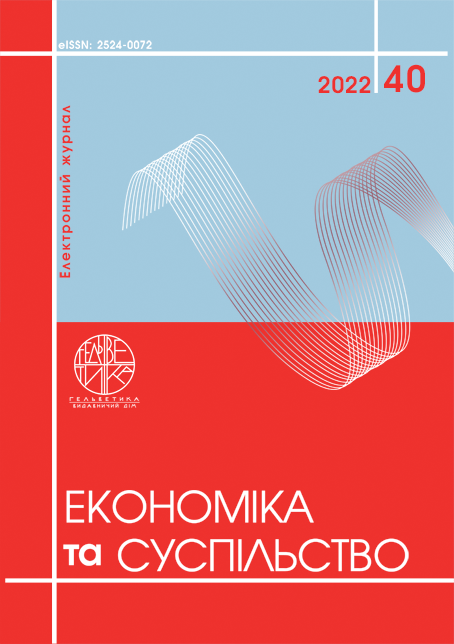 Article views: 33 PDF Downloads: 16
How to Cite
Tkachuk, S., & Stakhurskyi, V. (2022). PRACTICE OF COPYRIGHTING AND VISUALIZATION IN ENVIRONMENTAL AND ETHICAL MARKETING. Economy and Society, (40). https://doi.org/10.32782/2524-0072/2022-40-12