HYBRIDIZATION OF THE INTERNATIONAL ECONOMY
Keywords:
hybridization, economy, globalization, changes, security
Abstract
Currently, the totality of modern geopolitical challenges and threats in the new information reality can be characterized as hybrid warfare, which includes a wide range of actions aimed at destruction of all spheres of social life of the rival state. Hybrid wars are now becoming the main instrument of geopolitical confrontation, which actualizes the search for counteraction to such threats. Whereas previously military security was reduced exclusively to quantitative indicators of the country's combat effectiveness, then in the new information reality the country's military security strategy requires different approaches to the development and implementation of measures to organize the country's security system and take into account the specifics its various segments. Therefore, at the beginning of the XXI century it is important to analyze the specific features of the hybridization of the international economy.
References
Yi Y., Meng M., Wei Z. (2017) Bottom-up learning, strategic flexibility and strategic change. Journal of Organizational Change Management. № 30 (2). P. 161–183.
Baharun R., Jing Mi T., Streimikiene D., Mardani A., Shakeel J. (2019) Innovation in healthcare performance among private brand's healthcare services in small and medium-sized enterprises (SMEs). Acta Polytechnica Hungarica. № 16(5). P. 151–172.
Awwad M. (2018) Influences of Frege's Predicate Logic on Some Computational Models. Future Human Image. № 9. P. 5–19.
Lebedeva M.M., Kharkevich M.V., Zinov'eva E.S., Koposova E.N. (2016) Arkhaizatsiya gosudarstva: rol' sovremennykh informatsionnykh tekhnologii [Archaization of a State: the Role of Modern Information Technologies]. Polis. Political Studies. № 6. P. 22–36.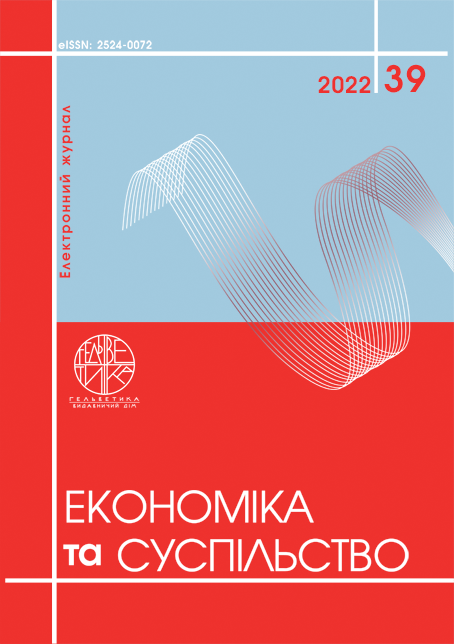 Article views: 35 PDF Downloads: 20
How to Cite
Duginets, G., & Busarieva, T. (2022). HYBRIDIZATION OF THE INTERNATIONAL ECONOMY. Economy and Society, (39). https://doi.org/10.32782/2524-0072/2022-39-42
Section
INTERNATIONAL ECONOMIC RELATIONS