APPROACHES TO THE DETERMINATION OF ON-LINE PROMOTION INSTRUMENTS' EFFICIENCY IN TERMS OF COMMUNICATION POINTS OF CONTACT
Keywords:
promotion, instruments of on-line promotion, brand, efficiency, communication point of contact, conversion
Abstract
Dynamic development of on-line-advancement instruments causes the situation where practical communication activity of the enterprise in the Internet passes ahead its theoretical providing that negatively influences on the process of planning and effectiveness evaluation of products advancement of the enterprise is considered. The scientific and practical approach offers the evaluation level of effectiveness of commodities' usage of on-line promotion instruments of the enterprises of beer industry is given. Practical implementation of its usage is guideline in making decision in relation to pursue the marketing politics of on-line promotion and achievement of enterprise's objectives is considered. The matrix of correlation of expected scenarios of conversion to the specific communication point of contact in the context of usage of online-instruments promotion that identifies basic and additional point of contact that allows making effective marketing communications that predetermines individual approach in the choice of point of contact and accessible instruments in its frameworks is offered. Every segment, except the general integral indexes of efficiency, within the framework of on-line-promotion instruments' realization has the specific indexes that depend on the formed strategy and tactics of promotion is proved. Consumers' descriptions substantially influence at brands' choice from the point of view of image and price segmentation, in fact the majority of consumer descriptions correlates with descriptions of other groups of Internet-users on the whole and social medias in particular is determined. Recommendations to forming online-instruments complex on the basis of communication point of contact taking into account the profile of beer consumer and image and price segmentation of brewing industry products that will allow to pay attention to behavioural aspect, namely controlling of consumer behavior in the Internet with behavior in an ordinary off-line environment are worked out. Offered approach to the determination of priority points of contact and instruments of on-line promotion can have a practical value from the point of view of providing the media-planning process on the enterprises of both brewing industry and in the context of any enterprise's activity that operates on the consumer market is proved.
References
Капінус Л.В., Бикова В.О., Ніколаєнко І.В. Дослідження маркетингових комунікацій підприємства на онлайн-ринку. Проблеми системного підходу в економіці. 2019. № 4 (1). С. 193–199. URL: http://nbuv.gov.ua/UJRN/PSPE_print_2019_4%281%29__30
Капінус Л.В., Скригун Н.П., Семененко К.Ю. Поведінка Інтернет-споживачів у соціальних мережах. Економічний часопис-ХХІ. 2015. № 7–8(1). С. 75–77. URL: http://nbuv.gov.ua/UJRN/ecchado_2015_7-8%281%29__19
Лойко В.В., Лойко Є.М. Применение инструментов интернет-маркетинга как современного средства рекламной деятельности предприятия. European scientific journal of Economic and Financial innovation. 2020. № 1(5). С. 45–55. URL: https://journal.eae.com.ua/index.php/journal/article/view/85
Турчин Л., Монастирський Г. Social Media Marketing як інструмент просування підприємств-надавачів транспортних послуг. Економічний аналіз. 2018. № 1. С. 258–264. URL: http://nbuv.gov.ua/UJRN/ecan_2018_28%281%29__35
Турчин Л., Островерхов В. Сучасні тренди інтернет-маркетингу. Регіональні аспекти розвитку продуктивних сил України. 2019. № 24. С. 75–85. URL: http://rarrpsu.wunu.edu.ua/index.php/rarrpsu/article/view/355/0
Kapinus L.V., Bykova V.O. & Nikolaienko I.V. (2019) Doslidzhennia marketynhovykh komunikatsii pidpryiemstva na onlain-rynku. Problemy systemnoho pidkhodu v ekonomitsi, 4 (1), 193–199. URL: http://nbuv.gov.ua/UJRN/PSPE_print_2019_4%281%29__30
Kapinus L.V., Skryhun N.P. & Semenenko K.Iu. Povedinka Internet-spozhyvachiv u sotsialnykh merezhakh (2015). Ekonomichnyi chasopys-ХХІ, 7–8(1), 75–77. URL: http://nbuv.gov.ua/UJRN/ecchado_2015_7-8%281%29__19
Loiko V.V. & Loiko Ye.M. (2020) Prymenenye ynstrumentov ynternet-marketynha kak sovremennoho sredstva reklamnoi deiatelnosty predpryiatyia. European scientific journal of Economic and Financial innovation, 1(5), 45–55. URL: https://journal.eae.com.ua/index.php/journal/article/view/85
Turchyn L. & Monastyrskyi H. (2018) Social Media Marketing yak instrument prosuvannia pidpryiemstv-nadavachiv transportnykh posluh. Ekonomichnyi analiz. 1, 258–264. URL: http://nbuv.gov.ua/UJRN/ecan_2018_28%281%29__35
Turchyn L. & Ostroverkhov V. (2019) Suchasni trendy internet-marketynhu. Rehionalni aspekty rozvytku produktyvnykh syl Ukrainy, 24, 75–85. URL: http://rarrpsu.wunu.edu.ua/index.php/rarrpsu/article/view/355/0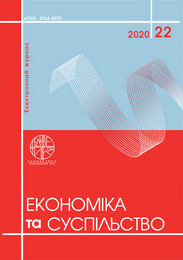 Article views: 129 PDF Downloads: 133
How to Cite
Semenenko, K., & Kapinus, L. (2020). APPROACHES TO THE DETERMINATION OF ON-LINE PROMOTION INSTRUMENTS' EFFICIENCY IN TERMS OF COMMUNICATION POINTS OF CONTACT. Economy and Society, (22). https://doi.org/10.32782/2524-0072/2020-22-54