PROGRAM TOURISM: ORGANIZATION OF RECREATIONAL SERVICES IN THE CONTEXT OF CONTINUOUS DEVELOPMENT OF TOURISM INFRASTRUCTURE (THE ISSUE OF DESIGN, DIVERSIFICATION, CREATIVITY, CLUSTERING)
Keywords:
program tourism, organization of recreational services, sustainable development of tourism, diversification, creativity, clustering
Abstract
The article confirms that the urgency of the problem is determined by the process of integration of Ukrainian society into the European tourist area, one of the strategic goals of which is sustainable tourism development, based on the principles of establishing a harmonious balance between environmental, economic, social, cultural areas. It is analyzed that Ukraine has a great opportunity for tourism development in many areas: gastrotourism, ecotourism, medical tourism, business tourism, scientific tourism, rural tourism, recreational tourism, sea tourism, sports and health tourism, cultural tourism, MICE (Meetings, Incentives, Conferences, Events) and so on. The authors of the article analyzed the role of the tourism industry in the general situation and trends of the world economy, increasing employment, diversification and innovation of the national economy, preservation and growth of cultural reserves and environmentally friendly environment, harmonization of relations between countries and people confirmed by regulations at the global and national levels. The reasons that hinder the effective updating of the content of the tourist product for domestic and inbound tourism, namely: the lack of coordinated action of all industries that directly or indirectly ensure the functioning and growth of the tourism industry, system and integration approach in combining joint efforts to ensure growth of domestic and inbound tourism in Ukraine. It was found that the influence of tourism as a powerful mechanism for socio-economic prosperity of the state is permissible due to the development of domestic and inbound tourism, which requires the design of a new tourist product (tour, route, service), organization of recreational services adequate to global and European trends. national and regional properties. It is established that a significant and far-reaching way for the development of the tourism industry in Ukraine, given the European practice of diversification of recreational services, is the formation of such types of tourism as rural, green, agritourism, which corresponds to harmony between economic, sociocultural, political, environmental areas, and today is a strategic vector of world policy in the tourism industry.
References
Безкоровайна Л.В., Бойка О.А., Омельянчик О.В. Сільський туризм, біорізноманіття та сталий розвиток: комплементарність та вплив на добробут сільського населення. Економічний вісник Дніпровської політехніки: Науковий журнал. Серія: Економічна теорія. 2021. № 1 (73). С. 68–76. DOI: https://doi.org/10.33271/ebdut/73.068
Безкоровайна Л.В. Теоретичні і методичні засади професійної підготовки майбутніх фахівців з туризмознавства у вищих навчальних закладах : дис. … д-ра пед. наук: 13.00.04 / Запорізький національний університет. Запоріжжя, 2018. 713 с. URL: http://phd.znu.edu.ua/page//dis/09_2018/Bezkorovaina_dis.pdf
Зінчук Т.О., Куцмус Н.М. Диверсифікація бізнесу на сільських територіях: досвід країн світу. Економіка АПК. 2018. № 4. С. 19–27. URL: http://eapk.org.ua/sites/default/files/eapk/2018/04/eapk_2018_4_p_19_27.pdf
Колективні засоби розміщування в Україні в 2012, 2013 та 2014 роках. Державна служба статистики України. URL: http://www.ukrstat.gov.ua.
Resolution adopted by the General Assembly on 22 December 2015 (2015). Global Code of Ethics for Tourism. URL: https://undocs.org/ru/A/RES/70/200
The Paris Agreement under the United Nations Framework Convention on Climate Change. United Nations. 12 December 2015 (2015). URL: https://www.un.org/ru/climatechange/paris-agreement
Bezkorovaina L.V., Boika O.A., Omelianchyk O.V. (2021) Silskyi turyzm, bioriznomanittia ta stalyi rozvytok: komplementarnist ta vplyv na dobrobut silskoho naselennia. Ekonomichnyi visnyk Dniprovskoi politekhniky: Naukovyi zhurnal. Seriia: Ekonomichna teoriia. № 1 (73). S. 68–76. DOI: https://doi.org/10.33271/ebdut/73.068 (in Ukrainian)
Bezkorovaina L.V. (2018) Theoretical and methodological basis of the professional training of the future masters of tourism in higher educational institutions. Thesis for a doctoral degree in pedagogical sciences, Zaporizhzhia: Zaporizhzhia National University. (in Ukrainian)
Zinchuk T.O., Kutsmus N.M. (2018) Dyversyfikatsiia biznesu na silskykh terytoriiakh: dosvid krain svitu. Ekonomika APK. № 4. S. 19–27. Available at: http://eapk.org.ua/sites/default/files/eapk/2018/04/eapk_2018_4_p_19_27.pdf (in Ukrainian)
Kolektyvni zasoby rozmishchuvannia v Ukraini v 2012, 2013 ta 2014 rokakh. Derzhavna sluzhba statystyky Ukrainy. Available at: http://www.ukrstat.gov.ua (in Ukrainian)
Resolution adopted by the General Assembly on 22 December 2015 (2015). Global Code of Ethics for Tourism. Available at: https://undocs.org/ru/A/RES/70/200
The Paris Agreement under the United Nations Framework Convention on Climate Change. United Nations. 12 December 2015 (2015). Available at: https://www.un.org/ru/climatechange/paris-agreement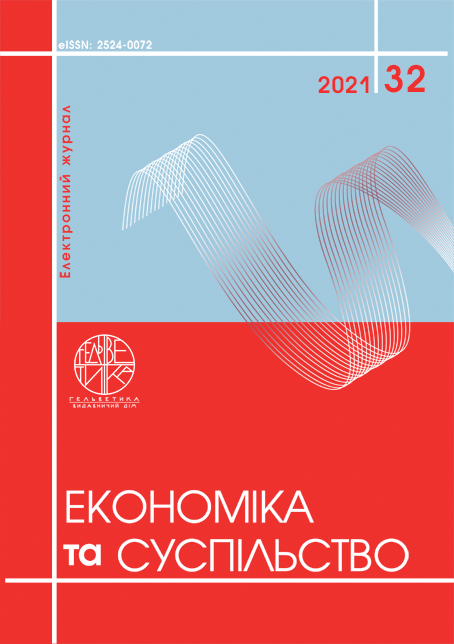 Article views: 54 PDF Downloads: 36
How to Cite
Bezkorovayna, L., Pyptiuk, P., & Nazdravetska, V. (2021). PROGRAM TOURISM: ORGANIZATION OF RECREATIONAL SERVICES IN THE CONTEXT OF CONTINUOUS DEVELOPMENT OF TOURISM INFRASTRUCTURE (THE ISSUE OF DESIGN, DIVERSIFICATION, CREATIVITY, CLUSTERING). Economy and Society, (32). https://doi.org/10.32782/2524-0072/2021-32-6