THE ESSENCE AND FEATURES OF THE LABOUR ORGANIZATIONS OF THE MODERN MANAGER
Keywords:
management, manager, management labor, organization of managerial work, regulation, manager work, workplace manager
Abstract
According to research results, the theoretical component of the article defines the process of organization of labor manager, as such that is carried out on the same basis as the organization of work of the entire collective. The organization of labor is based on social laws (Law of Labor District, Law Cooperatives, Law of Labor, etc.) and subjective organizational principles (principle of rhythm, principle of proportionality, principle of continuity, etc.). But in the methods of organizations of management labor are the features arising from the specifics of the management processes of the organization. They are due to the separation of managerial labor from the work of the executive, which is a form of manifestation of division of labor in society. Global Competition, Many Markets, Costs Increasing, Consumer Caution, Prejudice to top managers and owners of companies, Permanent Public Supervision, Instant Distribution of Information, Limiting Natural Resources, Future Future – All this imposes a print of management and work of managers. Management in social structures includes not only psychological interconnections between people, but also important for the implementation of social groups economic, cultural, political, legal, law enforcement, production, environmental and other attitudes in which the specific activities of people are carried out.
References
Balabanova L. (2008) Orhanizatsiia pratsi menedzhera [Organization of the manager's work]: a textbook for students. higher education institution Donetsk National University of Economics and Trade. Mykhailo Tuhan-Baranovsky. Department of Marketing Management. Donetsk: DonNUET, 480 p.
Volynets V. (2019) Komunikatyvna skladova profesiinoho stanovlennia maibutnikh menedzheriv. Svitohliadni transformatsii osobystosti studenta ZVO: istoryko-filosofski, sotsialno-pravovi, movoznavchi ta zdoroviaformuiuchi aspekty [Communicative component of professional development of future managers. Worldview transformations of the higher educational institution student's personality: historical-philosophical, social-legal, linguistic and health-forming aspects]. Collection of abstracts of the VI student scientific-practical Internet conference. (Vinnytsia, February 28), Vinnytsia. P. 64–66.
Danyuk V. (2006) Orhanizatsiia pratsi menedzhera [Organization of work of the manager]. Kyiv National Economic University Vadim Hetman. Kyiv: KNEU, 272p.
Mostenska T.L., Novak V.O., Lutsky M.H., Ilyenko O.V. (2021) Menedzhment [Management: textbook] 2nd type. Kyiv: Condor, 757 p.
Chaika H. (2007) Orhanizatsiia pratsi menedzhera [Organization of labor manager: textbook]. Kyiv: Znannia, 420 p.
Khmil F.I. (2019) Praktykum z menedzhmentu orhanizatsii [Workshop on management of organizations]: textbook. way. 2nd ed., Lviv: Mahnolia 2006, 333 p.
Балабанова Л. Організація праці менеджера : підручник для студ. вищих навч. закл. Донецький національний ун-т економіки і торгівлі ім. Михайла Туган-Барановського. Кафедра маркетингового менеджменту. Донецьк : ДонНУЕТ, 2008. 480 c.
Волинець В. Комунікативна складова професійного становлення майбутніх менеджерів. Світоглядні трансформації особистості студента ЗВО: історико-філософські, соціально-правові, мовознавчі та здоров'яформуючі аспекти : збірник тез доповідей VI студентської науково-практичної Інтернет-конференції. (Вінниця, 28 лютого 2019 р.). Вінниця, 2019. С. 64–66.
Данюк В. Організація праці менеджера : Навч. посібник. Київський національний економічний ун-т ім. Вадима Гетьмана. Київ : КНЕУ, 2006. 272 с.
Мостенська Т.Л., Новак В.О., Луцький М.Г., Ільєнко О.В. Менеджмент : підручник. 2-ге вид. Київ : Кондор, 2021. 757 с.
Чайка Г. Організація праці менеджера : навчальний посібник. Київ : Знання, 2007. 420 с.
Хміль Ф.І. Практикум з менеджменту організацій : навч. посіб. 2-ге вид., стер. Львів : Магнолія 2006, 2019. 333 с.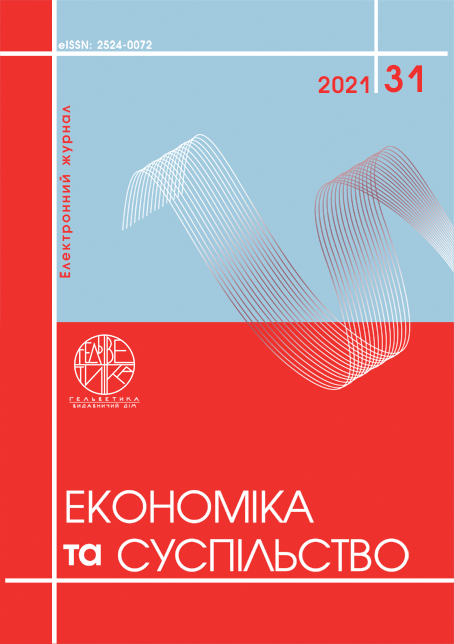 Article views: 82 PDF Downloads: 39
How to Cite
Bondarchuk, L. (2021). THE ESSENCE AND FEATURES OF THE LABOUR ORGANIZATIONS OF THE MODERN MANAGER. Economy and Society, (31). https://doi.org/10.32782/2524-0072/2021-31-44