MODEL OF STRATEGIC MANAGEMENT OF HIGHER EDUCATIONAL INSTITUTIONS ON THE BASIS OF THE FORMATION ITS COMPETITIVE ADVANTAGES IN THE MARKET OF EDUCATIONAL SERVICES
Keywords:
higher educational institution, competitiveness, marketing approach, market of educational services, development strategy
Abstract
Education is an integral part of public life, which means that the development of higher education institutions must take place continuously, and on the basis of the principles of strategic management, in which the mission of the institution is formulated, strategic program (strategy) is designed and implemented, strategic tasks are solved. At the present stage of formation the strategy of development of higher educational institutions implementation of the principles of strategic management to the organizational model of higher education institutions is an objective necessity for the competitive functioning of institutes and universities in the market of educational services. Higher education as a type of economic activity is represented by higher educational institutions that provide educational and related services. Therefore, higher education institutions are unique subjects of the market of educational services, which is quite relevantly studied by the results of the relevant publication.
References
Bilousova S.V. (2015) Marketynh osvitnikh posluh: stan, tendentsii ta perspektyvy. [Marketing of educational services: status, trends and prospects]. Business navigator. № 1 (36). P. 39–43.
Honcharova O.V. (2018) Marketynh na rynku osvitnikh posluh. [Marketing on the market of educational services]. Scientific notes of «Krok» University. Ed. 49. P. 169–178.
Hrishchenko I.M. (2016) Faktory pidvyshchennia efektyvnosti vyshchykh navchalnykh zakladiv Ukrainy. [Factors of improving the efficiency of higher education in Ukraine]. Current economic problems. № 3. P. 134–141.
Kirichenko O., Vyhivska Yu. (2011) Formuvannia systemy upravlinnia vyshchym navchalnym zakladom innovatsiinoho typu. [Formation of the management system of the higher educational institution of innovative type]. High school. № 11. P. 29–38.
Pavlenko O. Marketynh u sferi vyshchoi osvity v XXI stolitti: evoliutsiia chy revoliutsiia? [Marketing in higher education in the XXI century: evolution or revolution?]. Retrieved from: http://www.ir.kneu.edu.ua/bitstream/handle/2018/31136/IP_19_46.pdf
Білоусова С.В. Маркетинг освітніх послуг: стан, тенденції та перспективи. Бізнес-навігатор. 2015. № 1 (36). С. 39–43.
Гончарова О.В. Маркетинг на ринку освітніх послуг. Вчені записки університету «Крок». 2018. Вип. 49. С. 169–178.
Грищенко І. М. Фактори підвищення ефективності вищих навчальних закладів України. Актуальні проблеми економіки. 2016. № 3. С. 134–141.
Кириченко О., Вигівська Ю. Формування системи управління вищим навчальним закладом інноваційного типу. Вища школа. 2011. № 11. С. 29–38.
Павленко О. Маркетинг у сфері вищої освіти в XXI столітті: еволюція чи революція? URL: http://www.ir.kneu.edu.ua/bitstream/handle/2018/31136/IP_19_46.pdf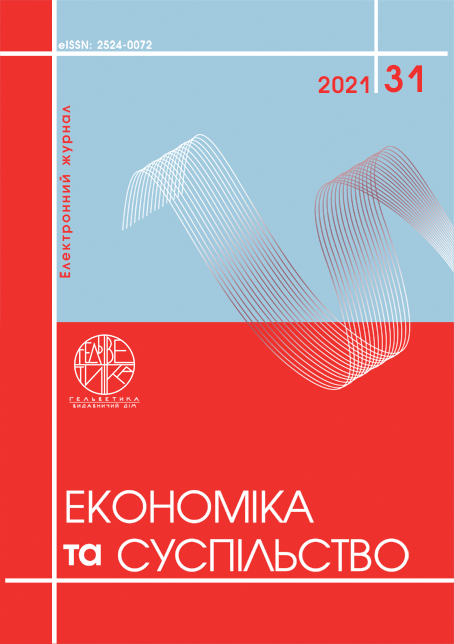 Article views: 67 PDF Downloads: 39
How to Cite
Yasenchuk, Y., & Bondarchuk, L. (2021). MODEL OF STRATEGIC MANAGEMENT OF HIGHER EDUCATIONAL INSTITUTIONS ON THE BASIS OF THE FORMATION ITS COMPETITIVE ADVANTAGES IN THE MARKET OF EDUCATIONAL SERVICES. Economy and Society, (31). https://doi.org/10.32782/2524-0072/2021-31-61