DEVELOPMENT OF INNOVATION MARKETING BY SUBJECTS OF ECONOMIC SECTOR ECONOMY
Keywords:
marketing, innovations, business entities, agricultural sector, research, market demand, consumers
Abstract
The main purpose of the research is substantiation of theoretical and methodological principles and development of methodical and practical recommendations for the marketing innovations development by economic entities in the agricultural sector. It's shown, that the systematization of literature sources and approaches to solving the problem of innovation marketing by agricultural entities, as a holistic socio-economic phenomenon of the real economy, is not properly covered in other researches. The urgency of solving this scientific problem is that it allows economic entities of the agricultural sector: to strengthen the resource potential in order to ensure national and world food security; use modern marketing tools to meet market demand for consumers in a variety of goods and services; to acquire tools for the implementation of the latest agro-economic and technical-technological achievements in the practice of entrepreneurship. Methodical tools of the study were dialectical, hermeneutic, critical, comparison, axiomatic, synthesis, systemic, monographic and abstraction methods. The main directions of improving the development of marketing innovations by economic entities in agricultural sector are substantiated. The innovative goods portfolio content in agricultural sector is determined, it includes newly created and improved technical-technological, socio-economic, organizational and management systems, products and services. The research empirically confirms and theoretically proves that the development of innovation marketing provides an opportunity for businesses in the agricultural sector: to meet market demand; expand the range of market segments, intensify business activities; to diversify economic activity in rural areas, including due to non-agricultural production. The results of the study may be useful for scientists, practitioners, managers and specialists of agricultural enterprises, individuals and entrepreneurs in the field of agro-industrial complex, representatives of public authorities and local governments, students of higher educational institutions, as well as anyone interested in the development of the agricultural sector in marketing, management, innovation, economy.
References
Dobizha, N.V. (2019). Organizacijno-ekonomichni zasady formuvannya infrastruktury rynku silskohospodarskoi texniky v Ukrayini [Organizational and economic bases of formation of infrastructure of the market of agricultural machinery in Ukraine]. (Monografiya). Ternopil: Taip [in Ukrainian]. P. 266.
Zaxarchenko, O.V. (2019). Naukovi ta prykladni zasady upravlinnya rozvytkom bioresursiv ta pryrodokorystuvannya v agrarnomu sektori [Scientific and applied principles of management of bioresources development and nature management in the agricultural sector]. (Monografiya). Odesa : KP OMD [in Ukrainian]. P. 307.
Pogrishhuk, G.B. (2016). Innovacijno-oriyentovanyj rozvytok silskogospodarskogo vyrobnycztva na zasadax ekologizaciyi [Innovation-oriented development of agricultural production on the basis of greening]. (Monografiya). Ternopil: Krok [in Ukrainian]. P. 426.
Fedosyeyeva, G.S. (2018). Teoretyko-metodologichni ta prykladni zasady formuvannya konkurentnyx perevag vyrobnykiv silskogospodarskoyi produkciyi na svitovomu rynku [Theoretical and methodological and applied principles of formation of competitive advantages of agricultural producers on the world market]. (Monografiya). Mykolayiv : MNAU [in Ukrainian]. P. 379.
Shelenko, D.I. (2019). Organizacijno-pravovi formy silskogospodarskyx pidpryyemstv v ekonomichnomu vymiri [Organizational and legal forms of agricultural enterprises in the economic dimension]. (Monografiya). Ivano-Frankivsk : Prykarpatskyj nacz. un-t im. V. Stefanyka [in Ukrainian]. P. 476.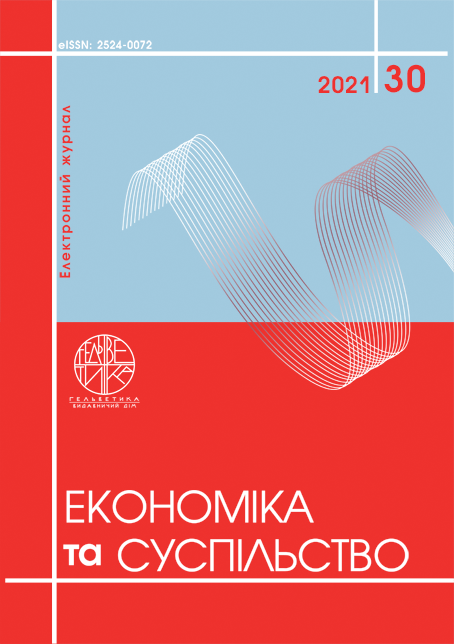 Article views: 73 PDF Downloads: 47
How to Cite
SakhatskyiМ., & Zapsha, H. (2021). DEVELOPMENT OF INNOVATION MARKETING BY SUBJECTS OF ECONOMIC SECTOR ECONOMY. Economy and Society, (30). https://doi.org/10.32782/2524-0072/2021-30-53