ORGANIZATION OF PAPERLESS MANAGEMENT ACCOUNTING IN SMALL BUSINESS ENTERPRISES
Keywords:
management accounting, small business, accounting automation, without paper accounting
Abstract
The article considers the organization of paperless management accounting in small enterprises. It is determined that management accounting is the basis of a paperless information system, which allows you to make informed management decisions, both in the short and long term. It is established that it is expedient for small business to introduce paperless management accounting, as: small business is strongly influenced by external changes; management accounting needs to be adjusted so that it is as clear as possible; with the established account it is possible to analyze consequences of decisions; accounting helps manage cash flows. A comparison of the features of IFRS and NAR (S) accounting systems for use in management accounting was performed. It is concluded that the financial data of IFRS are more suitable for management purposes, as initially these standards were created taking into account the needs of investors to make economic decisions, the principles and objectives of IFRS largely correspond to the principles and objectives of management accounting. The tasks of the implemented system of management accounting at the small enterprise which consist in the control of economic efficiency of work of the enterprise and the centers of responsibility are defined; improving the system of operational management of the enterprise; ensuring effective control over the availability, rational distribution, movement of property, labor, financial and material resources for the rapid achievement of goals by the enterprise, etc. The software for paperless management accounting is given and their characteristic is given. It is established that any program will have both positive and negative components, as developers will never be able to take into account all the variety of factors and the rate of change in market conditions in today's world. It is concluded that when organizing a system of paperless management accounting in small businesses, errors often occur: managers of small businesses seek to automate all processes; insufficient funding; lack of clear tasks. The introduction of a paperless management accounting system allows the company's management to make the right decisions based on data on the economic condition of the enterprise.
References
Ніпорко Н.І. Формування системи обліку на малому підприємстві: управлінський аспект. Проблеми і перспективи економіки та управління. 2015. № 4. С. 377–384. URL: http://nbuv.gov.ua/UJRN/ppeu_2015_4_54
Гоголь Т.А., Маргасова В.Г. Організація управлінського обліку і контролю на підприємствах малого бізнесу. Вісник ХНАУ ім. В.В. Докучаєва. 2018. № 2. С. 401-411. URL: http://dspace.knau.kharkov.ua/jspui/bitstream/123456789/1733/1/Гоголь%20Т.А.%2c%20Маргасова%20В.Г..pdf
Рибальченко Д. Управлінська звітність: кому, коли, навіщо. Погляди. 2020. 11 березня. URL: https://thepage.ua/ua/experts/upravlinska-zvitnist-komu-koli-navisho
BAS Комплексне управління підприємством. Офіційний сайт програмного продукту BAS.URL: https://www.bas-soft.eu/soft/bas-mass/bas-integrated-enterprise-management/
BAS Управління торгівлею. Офіційний сайт програмного продукту BAS. URL: https://www.bas-soft.eu/soft/bas-mass/bas-trade-management/
Niporko N.I. (2015). Formuvannia systemy obliku na malomu pidpryiemstvi: upravlinskyi aspect [The formation of the accounting system on a small enterprise: managerial aspect]. Problemy i perspektyvy ekonomiky ta upravlinnia – Problems and prospects of economics and management, 4, 377–384. Retrieved from: http://nbuv.gov.ua/UJRN/ppeu_2015_4_54 (in Ukrainian)
Hohol T.A., Marhasova V.H. (2018). Orhanizatsiia upravlinskoho obliku i kontroliu na pidpryiemstvakh maloho biznesu [Organization of management accounting and control in small businesses]. Visnyk KhNAU im. V.V. Dokuchaieva – Bulletin of KhNAU named after V.V. Dokuchaeva, 2, 401-411. Retrieved from: http://dspace.knau.kharkov.ua/jspui/bitstream/123456789/1733/1/Гоголь%20Т.А.%2c%20Маргасова%20В.Г..pdf (in Ukrainian)
Rybalchenko D. (2020). Upravlinska zvitnist: komu, koly, navishcho [Management reporting: to whom, when, why]. Pohliady – Views, March 11th. Retrieved from: https://thepage.ua/ua/experts/upravlinska-zvitnist-komu-koli-navisho (in Ukrainian)
BAS Kompleksne upravlinnia pidpryiemstvom [BAS Integrated enterprise management]. Official site of the BAS software product. Retrieved from: https://www.bas-soft.eu/soft/bas-mass/bas-integrated-enterprise-management/ (in Ukrainian)
BAS Upravlinnia torhivleiu [BAS Trade Management]. Official site of the BAS software product. Retrieved from: https://www.bas-soft.eu/soft/bas-mass/bas-trade-management/ (in Ukrainian)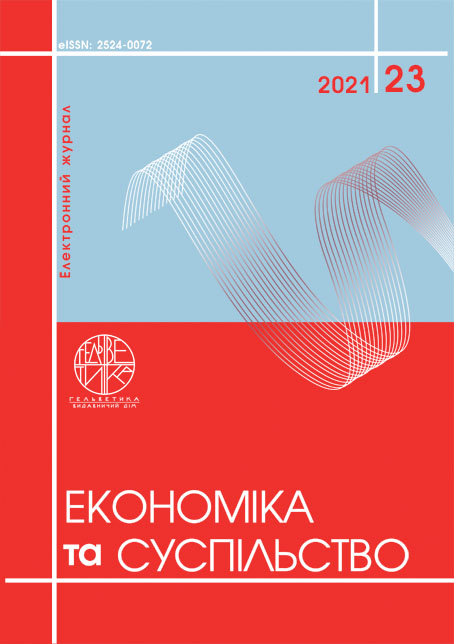 Article views: 184 PDF Downloads: 131
How to Cite
Harkusha, S. (2021). ORGANIZATION OF PAPERLESS MANAGEMENT ACCOUNTING IN SMALL BUSINESS ENTERPRISES. Economy and Society, (23). https://doi.org/10.32782/2524-0072/2021-23-12
Section
ACCOUNTING AND TAXATION