INTERNAL CONTROL AS A FACTOR OF THE EFFICIENCY OF THE INFORMATION SYSTEM OF ACCOUNTING
Keywords:
internal control, accounting information system, efficiency, control, company
Abstract
Various companies widely use accounting information systems for their business operations. With the development of accounting information systems, they have become more complicated, and require improvement of control in internal settings. The article is devoted to the effectiveness of the accounting information system in the internal control system. It is considered the essence of the information system of accounting and internal control. Investigated internal control as a set of measures that provide sufficient confidence in the following: the company's assets are protected; record keeping is sufficiently detailed to accurately and objectively report the company; employees are encouraged to follow management policies and applicable laws and regulations. It was found that ensuring the effectiveness of the accounting information system of companies is facilitated by the following methods of internal control: proper security measures (covering all transaction cycles from inputs through procedures to outputs); economic efficiency, (including additional means of control); quality documentation (basis for preparation of financial statements); separation of operations from their accounting (competent division of responsibilities of employees); degree of information disclosure (separately for different types of users); independent audit (financial audit and audit of assets and liabilities, electronic audit and actual audit). Internal control reveals its functions through anticipatory control, investigative control, corrective control, general control and application control. A comparison of the functions of classical internal control with the section of its boundary in the accounting information system allows us to conclude that its functions have been reduced to the control of information flows and performance control. Currently, internal control has undergone changes with the introduction of accounting information systems, new functions have appeared in it. Control of the economic activity of the enterprise and control of information systems constitute an important part of internal control. When developing an internal control system, you need not only knowledge of information technologies, their opportunities and risks, but also an understanding of how these technologies can help achieve the company's goals.
References
Адамик О.В. Інформаційні системи і технології в обліку і аудиті. URL: http://dspace.tneu.edu.ua/bitstream/316497/24957/1/I%D0%A1%D0%9E_%D0%BE%D0%BF%D0%BE%D1%80_%D0%BA%D0%BE%D0%BD%D1%81%D0%BF.pdf (дата звернення: 28.07.2022)
Бенько М.М. Інформаційні системи і технології в бухгалтерському обліку : монографія. Київ : КНТЕУ, 2010. 336 с.
Ларченко О.В. Ефективність впровадження інформаційних систем в управління підприємством. Таврiйський науковий вiсник. Серiя: Eкoноміка. 2020. Випуск 1. С. 278–284. DOI: https://doi.org/10.32851/2708-0366/2020.1.37
Скиба Г.І., Цімошинська О.В., Беженар І.М. Впровадження інформаційних систем обліку. Економіка АПК. 2020. № 11. С. 74. DOI: https://doi.org/10.32317/2221-1055.202011074
Замула І.В., Танасієва М.М. Внутрішній контроль : навч. посіб. Чернівці : Технодрук, 2021. 336 с.
Ковтун Т.В. Система внутрішнього контролю як невід'ємний елемент операційної системи підприємства. Вісник Хмельницького національного університету. 2009. № 6, T. 1. С. 164–170.
Станкевич Г. Особливості системи внутрішнього контролю підприємства та роботи внутрішнього аудитора. Аудитор України. 2014. № 9 (226). С. 32–37.
Adamyk O.V. (2017) Informatsiini systemy i tekhnolohii v obliku i audyti [Information systems and technologies in accounting and auditing]. Available at: http://dspace.tneu.edu.ua/bitstream/316497/24957/1/I%D0%A1%D0%9E_%D0%BE%D0%BF%D0%BE%D1%80_%D0%BA%D0%BE%D0%BD%D1%81%D0%BF.pdf (accessed July 26, 2022)
Benko M.M. (2010) Informatsiini systemy i tekhnolohii v bukhhalterskomu obliku [Information systems and technologies in accounting]: monograph. Kyiv: KNTEU, 336 p. (in Ukrainian)
Larchenko O.V. (2020) Efektyvnist vprovadzhennia informatsiinykh system v upravlinnia pidpryiemstvom [Effectiveness of implementation of information systems in enterprise management]. Tavriiskyi naukovyi visnyk. Seriia: Ekonomika, vol. 1, pp. 278–284. DOI: https://doi.org/10.32851/2708-0366/2020.1.37
Skyba H.I., Tsimoshynska O.V., Bezhenar I.M. (2020) Vprovadzhennia informatsiinykh system obliku [Implementation of accounting information systems]. Ekonomika APK, vol. 11, p. 74. (in Ukrainian)
Zamula I.V., Tanasiieva M.M. (2021) Vnutrishnii kontrol [Internal control]: navch. posib. Chernivtsi: Tekhnodruk, 336 p. (in Ukrainian)
Kovtun T.V. (2009) Systema vnutrishnoho kontroliu yak nevidiemnyi element operatsiinoi systemy pidpryiemstva [The internal control system as an integral element of the enterprise's operating system]. Visnyk Khmelnytskoho natsionalnoho universytetu, № 6, vol. 1, pp. 164–170. (in Ukrainian)
Stankevych H. (2014) Osoblyvosti systemy vnutrishnoho kontroliu pidpryiemstva ta roboty vnutrishnoho audytora [Peculiarities of the internal control system of the enterprise and the work of the internal auditor]. Audytor Ukrainy, vol. 9 (226), pp. 32–37. (in Ukrainian)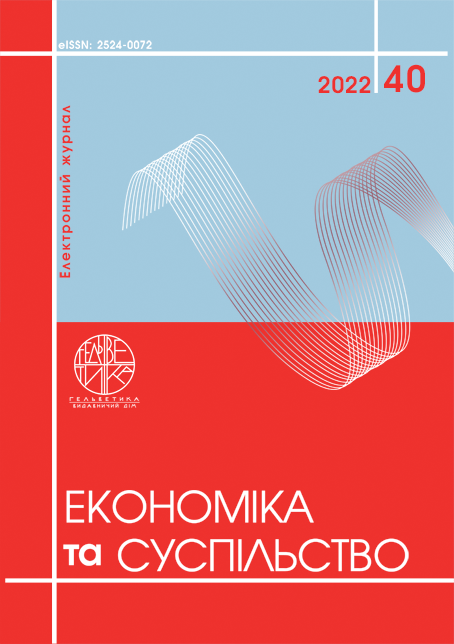 Article views: 19 PDF Downloads: 9
How to Cite
Onyshchenko, V., & Marinova, V. (2022). INTERNAL CONTROL AS A FACTOR OF THE EFFICIENCY OF THE INFORMATION SYSTEM OF ACCOUNTING. Economy and Society, (40). https://doi.org/10.32782/2524-0072/2022-40-60
Section
ACCOUNTING AND TAXATION