POST-WAR TOURISM: EXPERIENCE FOR UKRAINE
Keywords:
tourist activities, recovery after military events
Abstract
The article is devoted to highlighting the state of tourism development after the COVID-19 pandemic, which is considered the biggest economic and social crisis. Because of the global quarantine (border closures and other restrictions) for April 2020, 96% of all world destinations, including Ukraine, have introduced travel restrictions. The tourism sphere has been put on hold. However, a full-scale military invasion by Russia practically nullifies the development of tourism in Ukraine. Therefore, after the end of hostilities, it will be important to restore tourism. The purpose of the article is to consider examples of rapid recovery of tourism in countries affected by military conflicts and to find out the promising areas of tourism recovery for the Ukrainian tourist market. Theoretical basis for the study were statistical data of the European Tourism Commission, the State Agency for Tourism Development of Ukraine, scientific publications of Ukrainian researchers, data from the Internet. General scientific and special methods of scientific research: analysis, synthesis, generalization, comparison were used to solve the objectives. The paper examines examples of effective renewal of the tourism sector in countries after large-scale military conflicts. The experience of countries such as Egypt, Israel, Serbia, Croatia and Cyprus shows that once the conflict is over, both domestic and foreign tourism can recover as quickly as possible. Domestic tourism will develop through new content programs, primarily to the legendary places that resisted the aggressor, such as Bucha, Chоrnobaivka, Snake Island, etc. This kind of dark tourism will be in demand in both domestic and foreign tourist markets. However, it is very important to avoid mono-specialization of the foreign tourism market only in dark tourism. It is necessary to actively promote health, skiing, gastronomic and ecological tourism in the regions that remain outside the zone of occupation. The domestic market will actively develop varieties of relax tourism, helping to restore mental and physical strength, trips to places with outstanding history and traditions of Ukraine.
References
International Tourism Highlights, 2020 Edition. 24 p. URL: https://www.e-unwto.org (дата звернення 24.07.2022)
Strong outlook for European tourism recovery but staff shortages and cost of living crisis loom. URL: https://etc-corporate.org/news/strong-outlook-for-european-tourism-recovery-but-staff-shortages-and-cost-of-living-crisis-loom/ (дата звернення 24.07.2022)
Война в Украине может помешать восстановлению туризма. URL: https://news.un.org/ru/story/2022/03/1420802 (дата звернення 24.07.2022)
Экономическое развитие. Экономика РФ сократится на 10 процентов, Украины – на 30-50 процентов. URL: https://news.un.org/ru/story/2022/05/1424082 (дата звернення 22.07.2022)
Drop in Russian Outbound Tourism to Remove USD7 Billion from Global Tourism. URL: https://www.euromonitor.com/article/drop-in-russian-outbound-tourism-to-remove-usd7-billion-from-global-tourism (дата звернення 24.07.2022)
Egypt source markets. Arabian travel market series / January 2020. URL: www.httpATM-Series-GCC-Source-Market-Egypt-January-2020. (дата звернення 24.07.2022)
Маджумар Ольга, Гончарова Катерина. Повстати з руїн. Які країни після війни стали популярними у туристів. РБК-Україна. URL: https://www.rbc.ua/ukr/travel/-1647724135.html (дата звернення 22.07.2022)
Война в Южной Осетии нанесла удар по туризму в Грузии. URL: https://www.dw.com/ru -3594321 (дата звернення 23.07.2022)
Як війна в Україні вплинула на європейський туризм? Державне агентство розвитку туризму. URL: https://www.tourism.gov.ua/blog/yak-viyna-v-ukrayini-vplinula-na-ievropeyskiy-turizm (дата звернення 22.07.2022)
Як війна змінить мандрівки Україною після перемоги над ворогом. РБК-Україна. URL: www.rbc.ua/ukr/travel/novaya-stranitsa-voyna-izmenit-puteshestviya -1649942226.html (дата звернення 20.07.2022)
International Tourism Highlights, 2020 Edition. 24 p. Retrieved from: https://www.e-unwto.org (accessed July 24, 2022)
Strong outlook for European tourism recovery but staff shortages and cost of living crisis loom. Retrieved from: https://etc-corporate.org/news/strong-outlook-for-european-tourism-recovery-but-staff-shortages-and-cost-of-living-crisis-loom/ (accessed July 24, 2022)
Voyna v Ukraine mozhet pomeshat vosstanovleniyu turizma. [The war in Ukraine may hinder the recovery of tourism]. Retrieved from: https://news.un.org/ru/story/2022/03/1420802(accessed July 22,2022) (in Ukrainian)
Ekonomicheskoe razvitie. Ekonomika RF sokratitsya na 10 protsentov, Ukrainy – na 30-50 protsentov [Economic development. The economy of the Russian Federation will shrink by 10 percent, Ukraine – by 30-50 percent]. Retrieved from: https://news.un.org/ru/story/2022/05/1424082 (accessed July 22, 2022) (in Ukrainian)
Drop in Russian Outbound Tourism to Remove USD7 Billion from Global Tourism. Retrieved from: https://www.euromonitor.com/article/drop-in-russian-outbound-tourism-to-remove-usd7-billion-from-global-tourism (accessed July 24, 2022)
Egypt source markets. Arabian travel market series / January 2020. Retrieved from: https://www.ATM-Series-GCC-Source-Market-Egypt-January-2020. (accessed July 24, 2022)
Madzhumar Olga, Goncharova Katerina (2022). Povstati z ruin. Yakі kraini pіslya vіyni stali populyarnimi u turistіv. Rise from the ruins. Which countries became popular with tourists after the war. RBK-Ukraina – PBC-Ukraine. Retrieved from: https://www.rbc.ua/ukr/travel/-1647724135.html (accessed July 22, 2022) (in Ukrainian)
Voyna v Yuzhnoy Osetii nanesla udar po turizmu v Gruzii. The war in South Ossetia dealt a blow to tourism in Georgia. Retrieved from: https://www.dw.com/ru-3594321 (accessed July 23, 2022) (in Ukrainian)
Yak vіyna v Ukrainі vplinula na evropeyskiy turizm? [How did the war in Ukraine affect European tourism?]. State Tourism Development Agency Retrieved from: https://www.tourism.gov.ua/blog/yak-viyna-v-ukrayini-vplinula-na-ievropeyskiy-turizm (accessed July 22, 2022) (in Ukrainian)
Yak vіyna zmіnit mandrіvki Ukrainoyu pіslya peremogi nad vorogom [How the war will change travel in Ukraine after the victory over the enemy] RBK-Ukraїna – PBC-Ukraine. Retrieved from: www.rbc.ua/ukr/travel/novaya-stranitsa-voyna-izmenit-puteshestviya-1649942226.html (accessed July 20, 2022) (in Ukrainian)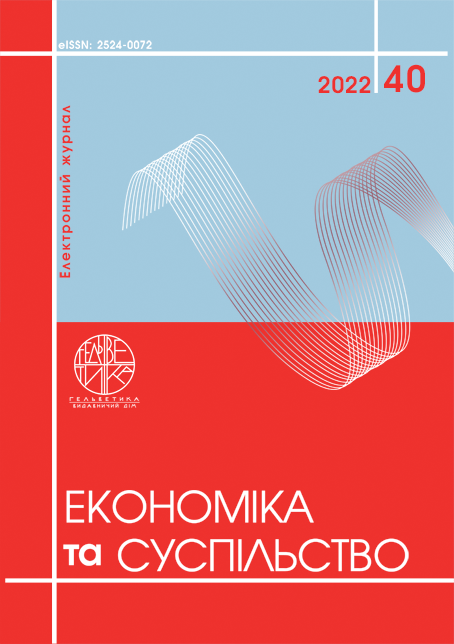 Article views: 37 PDF Downloads: 28
How to Cite
Fastovets, O. (2022). POST-WAR TOURISM: EXPERIENCE FOR UKRAINE. Economy and Society, (40). https://doi.org/10.32782/2524-0072/2022-40-43