MODERN METHODS OF PROMOTING AND STIMULATING THE SALE OF TOURIST PRODUCTS THROUGH SOCIAL NETWORKS
Keywords:
tourism, sales of a tourist product, promotion tourist product, social network Instagram
Abstract
In conditions of fierce competition both between tour operators and between their sales networks of travel agencies, traditional methods of promoting and selling of travel services are becoming less effective, which encourages companies to seek new tools. The analysis of innovative methods of promotion and realization of a tourist product by means of social networks is presented in the work. The functional capabilities of Instagram as a business platform for a tourist enterprise are considered, the main advantages of using modern tools for the implementation of marketing strategy are analyzed. Instagram can inform potential customers about the company's activities and travel products in the most multimedia, active, visual and easy for the perception form of photo and video. Ability to get feedback from the audience, analyze the result and quickly adjust advertising messages, communication with followers makes Instagram very useful to research the response of the target audience, to find trendchanges and new marketing ideas. Formation of the company's image, increasing brand awareness, building communication with subscribers and raising of customer loyaltycan be achieved easily due to specific confidential form of communication. Instagram has powerful tools for a thorough study of the target audience, ranging from standard age, gender, location and up to such important details as online time, reactions to the topic of posts, preferences and comments of subscribers. It has mechanisms for measuring the effectiveness of activities in the form of statistics, comparative tables, graphs of different configurations and forms for selected periods of time. These features make Instagram very precise and powerful instrument for the close communication with potential customers with measurable performance indicators and rich panel of marketing tools and services. Instagram's unconditional superiority for travel product promotion has been proven, thanks to the current multimedia form of information presentation, the ability to actively communicate with customers, quick response to their preferences, the formation of a positive company image and customer loyalty.
References
Горіна Г.О. Розвиток ринку туристичних послуг в Україні в умовах просторової поляризації: дисертац. ... д-ра екон. наук, 08.00.03 – економіка та управління національним господарством. Дніпро, 2017. 493 с.
Козубова Н.В. Туристичні послуги як об'єкт ринкових відносин в Україні. Інноваційна економіка. 2014. № 2. С. 137–143.
Коль О.Д. Маркетинг в туристской индустрии : учебник и практикум для академического бакалавриата. Москва : Издательство Юрайт, 2018. 355 с.
Мальська М.П., Рутинський М.Й., Білоус С.В., Мандюк Н.Л. Економіка туризму: теорія та практика. Київ : Центр учб. л-ри, 544 с.
Музичка Є.О. Управління збутовою діяльністю туристичних підприємств: автореф. ... канд. екон. наук 08.00.04 – економіка та управління підприємствами (за видами екон. діяльності). Київ, 2015. 25 с.
Gorina G.O. (2017) Rozvytok rynku turystychnykh posluh v Ukraini v umovakh prostorovoi poliaryzatsii [Development of the market of tourist services in Ukraine in the conditions of spatial polarization]. Dnipro, 493 p.
Kozubova N.V. (2014) Turystychni posluhy yak obiekt rynkovykh vidnosyn v Ukraini [Tourist services as an object of market relations in Ukraine]. Innovatsiina ekonomika, no 2, pp. 137–143.
Kol' O.D. (2018) Marketing v turistskoy industrii [Tourism Industry Marketing]. St. Petersburg: Yurayt Publishing House, 355 p.
Malska M.P., Rutynskyi M.Y., Bilous S.V., Mandiuk N.L. (2014) Ekonomika turyzmu: teoriia ta praktyka [Ekonomika turyzmu: teoriia ta praktyka]. Kyiv: Tsentr uchb.(in Ukrainian), 544 p.
Muzychka E.A (2015) Upravlinnia zbutovoiu diialnistiu turystychnykh pidpryiemstv [Management of sales dialnesty of tourist enterprises]. Ekonomika ta upravlinnia pidpryiemstvamy. Kyiv, 08.00.04, 25 p.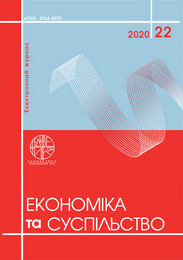 Article views: 255 PDF Downloads: 636
How to Cite
Babych, J., & Prymak, T. (2020). MODERN METHODS OF PROMOTING AND STIMULATING THE SALE OF TOURIST PRODUCTS THROUGH SOCIAL NETWORKS. Economy and Society, (22). https://doi.org/10.32782/2524-0072/2020-22-80