THE INFLUENCE OF INNOVATIVE TECHNOLOGIES ON THE PROFITABILITY OF AGRICULTURAL COMPLEX ENTERPRISES
Keywords:
innovative technologies, agro-industrial complex, agricultural enterprises, net profit, financial results, agriculture
Abstract
This article examined the impact of innovative technologies on the growth of profits of agricultural enterprises in Ukraine. Innovative development is a necessary condition for the long-term sustainable functioning of enterprises of the agro-industrial complex. The activation of the innovation process, considered as a necessary prerequisite for economic growth, is constrained by the lack of a formalized decision-making apparatus and assessment of their consequences. It is innovative technologies that are a hidden source of increasing the profits of enterprises, because, using modern technologies in the manufacture of products, enterprises save millions of resources on wages for workers, replacing the latter with machines. We have studied the main approaches to the analysis of the innovative development of the agro-industrial complex of Ukraine. We determined that the level of innovative technologies in Ukrainian agriculture is insignificant, despite the fact that it is a key industry of our state. Next, the key problems faced by enterprises in the implementation of innovations were studied. One of the main problems, in our opinion, is the low level of financial support from the state. State support for innovative development was very scarce and indicates the imperfection of the state mechanism for investing in innovation. The Ukrainian government needs to think about this problem, because every third dollar of Ukrainian exports is accounted for by the export of agricultural products. As a result, the use of modern technologies was analyzed using the example of Ukrainian agricultural enterprises and their impact on the growth of net profit, which is the main indicator of effective financial and economic activity, and based on the analysis of which it is possible to determine whether this enterprise is effective or not, was determined. We have determined that it is innovation that is the basis for increasing the profitability of agricultural enterprises, because as information technologies develop, their correct application will make it possible to use resources more efficiently, minimize costs and increase the profitability of products.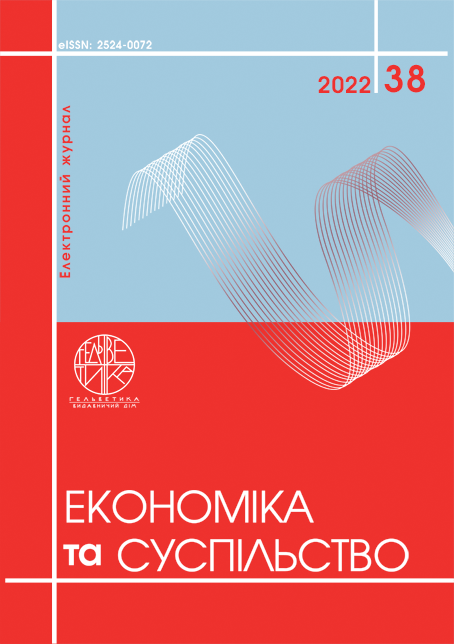 Article views: 47 PDF Downloads: 29
How to Cite
Polishchuk, S., & Piatachenko, S. (2022). THE INFLUENCE OF INNOVATIVE TECHNOLOGIES ON THE PROFITABILITY OF AGRICULTURAL COMPLEX ENTERPRISES. Economy and Society, (38). https://doi.org/10.32782/2524-0072/2022-38-73