MARKETING MANAGEMENT ON THE BACKGROUND OF ENTREPRENEURIAL ACTIVITY IN UKRAINE
Keywords:
marketing, management, marketing management, entrepreneurial activity, entrepreneurial activity in Ukraine
Abstract
The article is devoted to topical questions of realization of marketing management on a background entrepreneurial activity in Ukraine. Marketing management is the process of planning and realization of conceptions of pricing, advancement and distribution of ideas, commodities and services, sent to realizations of exchanges, that satisfy both individual and organizational aims. Marketing management is based on functions of management, including ideas, commodities, services as basic categories, its main task lies in achievement of feeling of satisfaction of all parties of exchange. The conception of strategic marketing is based on effective allocation of limited resources in the process of transformation of marketing information into marketing actions. Development and bringing a new commodity or a service to the market are conditioned by such factors: by necessity to protect a company from the consequences of inevitable process of aging of commodities, caused by a competition or obsolescence. Decline of profitability of commodities that produce, or services that give, it is possible to compensate in a long-term plan only due to introduction of a new commodity (service) that would have demand for a consumer. Manufacturing of a new product or a service to the assortment is needed for defence of the facilities already inlaid in a company; by necessity to extend a production more rapid rates, than it maybe at the narrow range of goods that produce, distribute a commercial risk on more wide spectrum of commodities and services, to diminish influence of competition on the separate sphere of activity of company; - by necessity to provide quicker and gradual increase of the general profitability of company, expressed by attitude of profit toward the inlaid capital, by maintenance and increase of competitiveness, more rational use. Planning of assortment entails coordination of a whole number of associate types of activity: scientifically technical researches and development of market, organization of motion of a commodity, sales and advertisement promotion researches. Maximal efficiency is arrived at not so due to optimization of every element separately, as by the sum of component parts.
References
Решетілова Т.Б., Довгань С.М. Маркетингові дослідження. Дніпропетровськ : НГУ. 2015. URL: http://nmu.org.ua
Ольшанський О.В. Аналіз методів удосконалення бізнес-процесів підприємств торгівлі. Держава та регіони. Серія : економіка та підприємництво. 2019. № 2. URL: http://nbuv.gov.ua/UJRN/drep_20-19_2_20
Красняк О.П., Амонс С.Е. Маркетингові дослідження ринку і його структурних елементів: теоретичний аспект. Електронний журнал «Ефективна економіка». 2020. № 5. doi: https://doi.org/10.32702/2307-2105-2020.5.106. URL: http://www.economy.nayka.com.ua/?op=1&z=7926/
Ануфрієва О.Л., Пальчевська Т.Г., Лагоцька Г.М. Підприємницька діяльність. Навчальний посібник. Івано-Франківськ : Лілея-НВ. 2014. С. 138-156. URL: http://umo.edu.ua/images/content/depozitar/navichki_pracevlasht/pidpryemn_diyaln.pdf
Reshetilova T.B., Dovgan S.M. (2015) Marketyngovi doslidzhennya. [Marketing researches]. Dnipropetrovsk: NGU. Available at: http://nmu.org.ua (in Ukrainian)
Olshanskyj O.V. (2019) Analiz metodiv udoskonalennia biznes-protsesiv pidpryiemstv torhivli Information systems and technologies in the management of the enterprise activity [Analysis of methods for improving the business processes of trade enterprises]. Derzhava ta rehiony, no. 2. Available at: http://nbuv.gov.ua/UJRN/drep_2019_2_20 (in Ukrainian)
Krasnyak O.P., Amons S.E. (2020) Marketyngovi doslidzhennya rynku i joho strukturnykh elementiv: teoretychnyj aspect [Marketing researches of market and its structural elements: theoretical aspect]. Efektyvna ekonomika [Online], no. 5. doi: https://doi.org/10.32702/2307-2105-2020.5.106. Available at: http://www.economy.nayka.com.ua/?op=1&z=7926/ (in Ukrainian)
Anufrieva O.L., Palchevska T.H., Lahotska H.M. (2014) Pidpryemnytska diyalnist' [Entrepreneurial activity]. [Tutorial]. Ivano-Frankivsk: Lileya-NV. Available at: http://umo.edu.ua/images/content/depozitar/na-vichki_pracevlasht/pidpryemn_diyaln.pdf (in Ukrainian)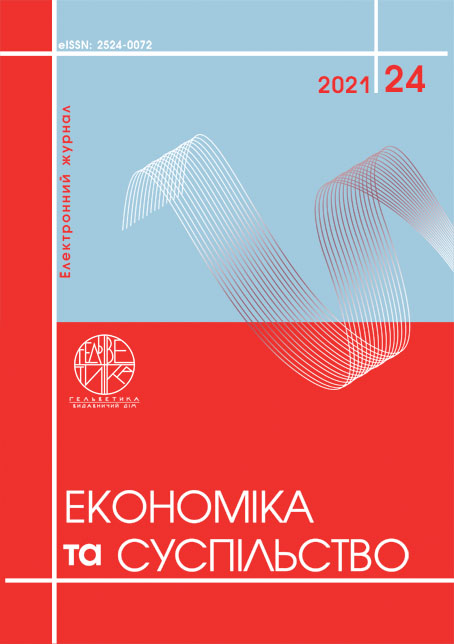 Article views: 193 PDF Downloads: 114
How to Cite
Polyschuk, S., & Vitchenko, E. (2021). MARKETING MANAGEMENT ON THE BACKGROUND OF ENTREPRENEURIAL ACTIVITY IN UKRAINE. Economy and Society, (24). https://doi.org/10.32782/2524-0072/2021-24-8