SYNERGY OF DIGITALIZATION AND TOURIST ATTRACTIVENESS IN CREATIVE MANAGEMENT OF CULTURAL AND HISTORICAL HERITAGE OF WESTERN UKRAINE IN THE CONDITIONS OF COVID 19
Keywords:
creative management, cultural and historical heritage, digitalization, tourist attractiveness, synergy, Western Ukraine, COVID-19
Abstract
The article is devoted to the problem of management of national cultural and historical heritage through its preservation and disclosure for the world community. In the context of the COVID-19 pandemic, the complexity of the implementation of normal regulation by these processes was noted. The possibilities of creative management tools utilization in the new conditions of human existence are shown. Such new opportunities allow us to focus on key areas: the use of digital technologies and the discovery of the tourist attractiveness of individual objects and complexes of cultural and historical heritage. Variants of a synergetic combination of three resources (cultural and historical centers, tourist attractive areas and digital innovative products) in influencing the organization of positive socio-economic development of the Western region of Ukraine, generously provided with all the indicated types of resources, are considered. In the process of identifying areas of common interest, the elements of zones of mutual interest in the cultural sphere and the tourist attractiveness of the territory have been specified. At the regional level, possible components of managerial influences are analyzed: institutional support, strategic documents, implementation tools and sources of funding. Much attention is paid to the study of the positive creative practices of managers of the micro- and meso-level of Lviv region in the development of strategies, development programs and specific projects of interaction between the digital, tourist and cultural-historical spheres, modified to take into account new conditions, in particular the impact of COVID-19. The positive features of a synergistic combination of culture and tourism are revealed both in the form of a powerful new movement of economic development of the territory, and through the information and communication phenomenon of creative transformation of the local and world community through expanding horizons, gaining new knowledge, establishing new cultural ties and preserving cultural and historical heritage. Additional advantages in such synergy are added by various manifestations of digitalization, which at the same time pose certain challenges for the slow development of the internal institutional environment and make it possible to use the advantages of the Lviv IT cluster, among which the main ones are: digitizing the cultural heritage of Ukraine, increasing its popularity and preservation, activating internal and external virtual tourism and online popularization of local cultural and historical attractions for world cultural tourism.
References
Про охорону культурної спадщини. Закон України. № 1805-ІІІ. За ост. ред. 24.07.2021. URL: https://zakon.rada.gov.ua/laws/show/1805-14.
Концепція державної політики реформування сфери охорони нерухомої культурної спадщини – 2020. Міністерство культури України: офіційний сайт. URL: http://195.78.68.75/mcu/control/uk/publish/article?art_id= 245358162&cat_id=244993460
Коронавірус в Україні і туризм: ЄБРР та ЄС поновили дорожню карту розвитку (23/06/2020). URL: https://www.unian.ua/tourism/news/koronavirus-v-ukrajini-i-turizm-yebrr-i-yes-ponovili-dorozhnyu-kartu-novini-11047922.html
Future Possibilities Report – 2020. UNIDO. URL: https://www.un.org/sites/un2.un.org/files/20200720_un75_uae_futurepossibilitiesreport.pdf
Державна стратегія регіонального розвитку на 2021-2027 роки. Постанова КМУ від 5 серпня 2020 р. № 695. URL: https://www.kmu.gov.ua/
Про затвердження Державної програми стимулювання економіки для подолання негативних наслідків, спричинених обмежувальними заходами щодо запобігання виникненню і поширенню гострої респіраторної хвороби COVID-19, спричиненої коронавірусом SARS-CoV-2, на 2020-2022 роки. Постанова КМУ від 27 травня 2020 р. № 534. URL: https://www.kmu.gov.ua/
Туризм в Україні. Cтатистика найбільшого туристичного порталу України ua.igotoworld.com за 2019 рік. URL: https://ua.igotoworld.com/projects/stat2019/
Аналітика. Асоціація індустрії гостинності України: офіційний сайт. URL: http://aigu.org.ua/analitika/
Український державний інститут культурної спадщини. URL: https://www.spadshina.org.ua
Центр культурного менеджменту. URL: https://www.kultura.org.ua
Софій О., Мацелюх А., Шимків І., Шинаровська О. (2020). Сприяння розвитку культури в Україні: дослідження зв'язків культурно-мистецької сфери та туристичної привабливості територій. Київ : ВЦ Українського культурного фонду, 2020. 200 c. URL: http://dialog.lviv.ua/spriyannya-rozvitku-kulturi-v-ukrayini-doslidzhennya-zv-yazkiv-kulturno-mistetskoyi-sferi-ta-turistichnoyi-privablivosti-teritoriy-2/
Pedersen, A. Managing Tourism at World Heritage Sites: a Practical Manual for World Heritage Site Managers. Paris: UNESCO World Heritage Centre, 2020. URL: https://whc.unesco.org/uploads/activities/documents/activity-113-2.pdf
Трегуб Г. Мовою пікселів та байтів. Тиждень. № 37 (617). 12 вересня 2019 р. URL: https://tyzhden.ua/Culture/235178
Pro okhoronu kulturnoi spadshchyny [On the protection of cultural heritage] (2021). Zakon Ukrainy [Law of Ukraine]. № 1805-III. For the rest. ed. from July 24, 2021. Available at: https://zakon.rada.gov.ua/laws/show/1805-14 (in Ukrainian)
Kontseptsiia derzhavnoi polityky reformuvannia sfery okhorony nerukhomoi kulturnoi spadshchyny – 2020 [The concept of state policy of reforming the protection of immovable cultural heritage – 2020] (2020). Ministerstvo kultury Ukrainy: ofitsiinyi sait [Ministry of Culture of Ukraine: official website]. Available at: http://195.78.68.75/mcu/control/uk/publish/article?art_id=245358162 &cat_id=244993460 (in Ukrainian)
Koronavirus v Ukraini i turyzm: YeBRR ta YeS ponovyly dorozhniu kartu rozvytku [Coronavirus in Ukraine and tourism: EBRD and EU update roadmap] (2020). Available at: https://www.unian.ua/tourism/news/koronavirus-v-ukrajini-i-turizm-yebrr-i-yes-ponovili-dorozhnyu-kartu-novini-11047922.html (in Ukrainian)
Future Possibilities Report – 2020 (2020). UNIDO. Available at: https://www.un.org/sites/un2.un.org/files/20200720_un75_uae_futurepossibilitiesreport.pdf
Derzhavna stratehiia rehionalnoho rozvytku na 2021–2027 roky [State strategy of regional development for 2021-2027]. Postanova KMU [Resolution of the Cabinet of Ministers of Ukraine]. № 695. August 5, 2020. Available at: https://www.kmu.gov.ua/ (in Ukrainian)
Pro zatverdzhennia Derzhavnoi prohramy stymuliuvannia ekonomiky dlia podolannia nehatyvnykh naslidkiv, sprychynenykh obmezhuvalnymy zakhodamy shchodo zapobihannia vynyknenniu i poshyrenniu hostroi respiratornoi khvoroby COVID-19, sprychynenoi koronavirusom SARS-CoV-2, na 2020-2022 roky [On approval of the State program of economic stimulation to overcome the negative effects caused by restrictive measures to prevent the occurrence and spread of acute respiratory disease COVID-19 caused by coronavirus SARS-CoV-2, for 2020-2022. Postanova KMU [Resolution of the Cabinet of Ministers]. № 534. May 27, 2020. Available at: https://www.kmu.gov.ua/ (in Ukrainian)
Turyzm v Ukraini [Tourism in Ukraine] (2019) Statystyka naibilshoho turystychnoho portalu Ukrainy ua.igotoworld.com [Statistics of the largest tourist portal of Ukraine ua.igotoworld.com]. Available at: https://ua.igotoworld.com/projects/stat2019/ (in Ukrainian)
Analityka [Analytics] (2021) Asotsiatsiia industrii hostynnosti Ukrainy: ofitsiinyi sait [Hospitality Industry Association of Ukraine: official site]. Available at: http://aigu.org.ua/analitika/ (in Ukrainian)
Ukrainskyi derzhavnyi instytut kulturnoi spadshchyny [Ukrainian State Institute of Cultural Heritage] (2021). Available at: https://www.spadshina.org.ua (in Ukrainian)
Tsentr kulturnoho menedzhmentu [Cultural Management Center] (2021). Available at: https://www.kultura.org.ua (in Ukrainian)
Sofii, O., Matseliukh, A., Shymkiv, I., & Shynarovska, O. (2020) Spryiannia rozvytku kultury v Ukraini: doslidzhennia zviazkiv kulturno-mystetskoi sfery ta turystychnoi pryvablyvosti terytorii [Promoting the development of culture in Ukraine: a study of the links between the cultural and artistic sphere and the tourist attractiveness of the territories]. Kyiv: Vyd-vo Ukrainskoho kulturnoho fondu. 200 p. Available at: http://dialog.lviv.ua/spriyannya-rozvitku-kulturi-v-ukrayini-doslidzhennya-zv-yazkiv-kulturno-mistetskoyi-sferi-ta-turistichnoyi-privablivosti-teritoriy-2/ (in Ukrainian)
Pedersen, A. (2020) Managing Tourism at World Heritage Sites: a Practical Manual for World Heritage Site Managers. Paris: UNESCO World Heritage Centre. Available at: https://whc.unesco.org/uploads/activities/documents/
Trehub, H. (2019) Movoiu pikseliv ta baitiv [In the language of pixels and bytes]. Tyzhden [Week]. № 37 (617). September 12. Available at: https://tyzhden.ua/Culture/235178 (in Ukrainian)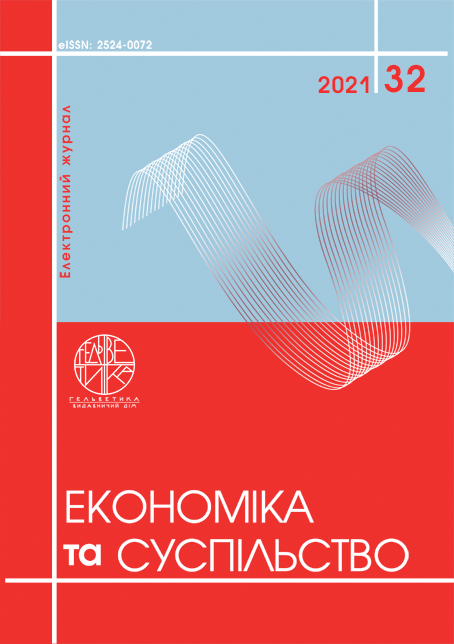 Article views: 72 PDF Downloads: 41
How to Cite
Kulinich, T., & Mazurak, G. (2021). SYNERGY OF DIGITALIZATION AND TOURIST ATTRACTIVENESS IN CREATIVE MANAGEMENT OF CULTURAL AND HISTORICAL HERITAGE OF WESTERN UKRAINE IN THE CONDITIONS OF COVID 19. Economy and Society, (32). https://doi.org/10.32782/2524-0072/2021-32-32