THE PROBLEM OF BRAND PROTECTION AS AN OBJECT OF INTELLECTUAL PROPERTY IN TOURISM
Keywords:
trade mark, intellectual property rights, travel brands
Abstract
The article is devoted to the issues of protection of the tourist product brand, which should be resolved by national enterprises when entering foreign markets. The contradictions are highlighted that arise in the case of accidental identity of brand elements the of companies resident in different countries. The aim of the article is to develop a methodical approach to the choice of strategy for the promotion of tourism services in foreign markets based on the analysis of formal procedures for ensuring intellectual property rights. The main task is to develop recommendations for Ukrainian travel companies that plan to export their own brand and expand the range of proposals, based on the analysis of the process of trade mark registration and the scope of existing brands in the field of tourism and hospitality in the EU. The study analyses the procedure of trade mark registration in the EU; identifies the peculiarities of brand elements for tourist products and consumer requirements for textual and graphical representation (it is noted that for most goods and services the name can be chosen without descriptive reference, i.e. accurate semantic identification of the product, and in the field of leisure services, a certain set of keywords is commonly used, which significantly narrows the alternatives for presenting a product or a company); examples of lawsuits filed by EU residents for infringement of intellectual property rights and cases of refusal to register a trade mark, the reason for which is the existence of supranational jurisdiction. Using the database of the EU Intellectual Property Office, the composition and structure of issued certificates containing the most common semantic units were analysed (the words "tourism", "travel", "resort", "recreation", "hotel" and "hospitality" were chosen as an example); the keywords "hotel" and "travel" were found to be the most commonly used in the sample, while "tourism" and "hospitality" accounted for less registered trade marks. The register includes, in addition to EU countries, other world states, but their range is still narrow. The need to pre-determine the information field of brand uniqueness before the formal registration procedure is emphasised, namely, the domain names semantic analysis is recommended, both in the product type and geographical scope.
References
Мельниченко С., Ведмідь Н., Авдан О. Бренд туристичного підприємства: реєстрація його елементів. Маркетинг як основа формування стратегії соціально-економічного розвитку прикордонного регіону: матеріали Міжнародної науково-практичної конференції, (м. Чернівці, Україна – м. Сучава, Румунія, 11-12.11.2020 р.). Чернівці : Технодрук, 2020. C. 18–21.
Боєнко О.Ю. Середовище формування бренда через призму економічних, правових та соціально-культурних аспектів. Економіка і організація управ-ління. 2018. № 1(29). С. 43–51.
Романюк І.А. Удосконалення управління розвитком суб'єктів сільського зеленого туризму. Л.І. Антошкіна, Н.В. Рунчева, О.Л. Горяча (Ред.). Пріоритетні напрями соціально-економічного розвитку України. Київ : Талком, 2020. С. 124–130.
Ілляшенко С.М., Проскурня О.М., Попов М.О. Інтелектуально-інноваційний розвиток туристичних підприємств. Законодавство України у сфері інтелектуальної власності та його правозастосування: національні, європейські та міжнародні виміри : матеріали 7-ї Всеукраїнської науково-практичної конференції (м. Київ, 27.09.2019 р.). 2019. C. 94–100. URL: http://repository.kpi.kharkov.ua/handle/KhPI-Press/43505
EUIPO. URL: https://euipo.europa.eu/ohimportal/en
Melnychenko, S., Vedmid, N., & Avdan, O. (2020). Brend turystychnoho pidpryiemstva: reiestratsiia yoho elementiv [Brand of the tourism enterprise: registration of its elements]. In Proceedings from: Mizhnarodna naukovo-praktychna konferentsiia "Marketynh yak osnova formuvannia stratehii sotsialno-ekonomichnoho rozvytku prykordonnoho rehionu" – International scientific-practical conference "Marketing as a basis for forming a strategy for socio-economic development of the border region" (Chernivtsi, Ukraine – Suchava, Romania, 11-12.11.2020). (P. 18–21). Chernivtsi : Tekhnodruk. (in Ukrainian)
Boienko, O. Y. (2018). Seredovyshche formuvannia brenda cherez pryzmu ekonomichnykh, pravovykh ta sotsialno-kulturnykh aspektiv [Brand environment formation through the prism of economic, legal and socio-cultural aspects]. Ekonomika i orhanizatsiia upravlinnia, 1(29), 43–51. (in Ukrainian)
Romaniuk, I. A. (2020). Udoskonalennia upravlinnia rozvytkom subiektiv silskoho zelenoho turyzmu [Improving the development management of the rural green tourism entities]. In L. I. Antoshkina, N. V. Runcheva & O. L. Horiacha (Eds.), Priorytetni napriamy sotsialno-ekonomichnoho rozvytku Ukrainy – Priority areas of socio-economic development of Ukraine (p. 124–130). Kyiv : Talkom. (in Ukrainian)
Illiashenko, S. M., Proskurnia, O. M., & Popov, M. O. (2019). Intelektualno-innovatsiinyi rozvytok turystychnykh pidpryiemstv [Intellectually innovative development of tourist enterprises]. In Proceedings from: 7-ma Vseukrainska naukovo-praktychna konferentsiia "Zakonodavstvo Ukrainy u sferi intelektualnoi vlasnosti ta yoho pravozastosuvannia: natsionalni, yevropeiski ta mizhnarodni vymiry" – 7th All-Ukrainian scientific-practical conference "Legislation of Ukraine in the field of intellectual property and its law enforcement: national, European and international dimensions" (Kyiv, 27.09.2019). (P. 94–100). Retrieved from: http://repository.kpi.kharkov.ua/handle/KhPI-Press/43505 (in Ukrainian)
EUIPO. Retrieved from: https://euipo.europa.eu/ohimportal/en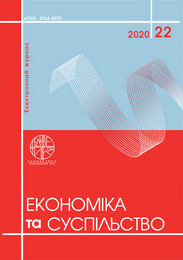 Article views: 141 PDF Downloads: 101
How to Cite
Dekhtyar, N. (2020). THE PROBLEM OF BRAND PROTECTION AS AN OBJECT OF INTELLECTUAL PROPERTY IN TOURISM. Economy and Society, (22). https://doi.org/10.32782/2524-0072/2020-22-23