FORMATION OF MARKETING POLICY OF THE ENTERPRISE AS A BASIS FOR IMPROVING THE SALES SYSTEM
Keywords:
sales, sales cost optimization, marketing, marketing policy, marketing tools
Abstract
The article considers the importance of the sales system in conditions of market saturation. The main tasks of sales activity are determined. Sales activities are all of the actions, sales practices, and strategies that sales reps and managers do daily to move prospects and customers through the sales process. All of these activities directly lead to deals being closed and sales goals being met. Once you get into sales activity management and you are tracking activities, these broad categories of activities can be broken down even further to gain more insight. For example, visits/meetings can be broken down to determine the number of visits that were first-time sales meetings with a prospect, or product demo meetings, or follow up visits with existing customers. There are also some things that sales reps spend their time on each day that would be considered sales activities, but they can only be measured by their result. One example would be prospecting. The effectiveness of a sales rep's prospecting efforts is evident in the number of new leads that they are adding to the sales funnel. So, the leads themselves are not the sales activity, the prospecting is. The outcome of sales activities also allows an opportunity to look at ways to streamline each activity as well as the consequent activities related to it. For sales managers, sales activities, from a broad perspective, provide insight into how the sales team as a whole is doing, provide an overall picture of sales performance, offer a way to motivate the competitiveness of reps, and give insight into customer satisfaction. It is important to understand that you have direct control over input from sales activities. The more you improve sales activities the more you will improve sales effectiveness. The sales process in the economic activity of the enterprise is described. Factors influencing the sales strategy are investigated. The stages of formation of marketing sales policy are analyzed. Methods for cooperation between intermediaries in the process of sales activities are studied. The importance of sales promotion tools is described. Target groups and types of incentives are identified. Strategic measures aimed at optimizing sales management costs are identified. The importance of finding the optimal level of service is substantiated. The justification of all costs related to market research, advertising and sales promotion in order to ensure a high competitive status of the enterprise is considered. Recommendations for sales promotion are given.
References
Балабанова Л.В., Холод В.В., Балабанова І.В. Маркетинг підприємства : навч. посіб. Київ : Центр учбової літератури, 2012. 612 с.
Балабанова Л.В., Сардак О.В. Діагностика конкурентоспроможності бренду підприємства-роботодавця. Економічний часопис-ⅩⅪ. 2014. № 1–2(1). С. 94–97. URL: http://nbuv.gov.ua/UJRN/ecchado_2014_1-3(1)__25 (дата звернення 07.10.2021).
Ільченко Т.В. Актуальні аспекти формування ефективної маркетингової комунікаційної політики підприємства. Науковий вісник Ужгородського національного університету. Міжнародні економічні відносини та світове господарство. 2018. № 18. С. 29–33. URL: http://www.visnyk-econom.uzhnu.uz.ua/archive/18_2_2018ua/8.pdf (дата звернення: 07.10.2021).
Юрченко А.І. Економічна сутність та склад витрат на збут. Розвиток системи обліку, аналізу та аудиту в Україні: теорія, методологія, організація : зб. тез. доп. учасників ⅩⅧ всеукр. наук. конф., м. Київ, 2020. С. 97–100.
Balabanova L.V., Kholod V.V., Balabanova I.V. (2012) Marketynh pidpryiemstva [Enterprise marketing]. Kyiv: Tsentr uchbovoi literatury [in Ukrainian].
Balabanova L.V., Sardak O.V. (2014) Diahnostyka konkurentospromozhnosti brendu pidpryiemstva-robotodavtsia [Diagnosis of the competitiveness of the brand of thr employer]. Economic Journal-ⅩⅪ (electronic journal), vol. 1–2(1). Retrieved from: http://nbuv.gov.ua/UJRN/ecchado_2014_1-3(1)__25
Ilchenko T.V. (2018) Aktualni aspekty formuvannia efektyvnoi marketynhovoi komunikatsiinoi polityky pidpryiemstva [Actual aspects of formation of effective marketing communication policy of the enterprise]. Scientific Bullentin of Uzhhorod National University. International economic relations and the world economy (electronic journal), vol. 18. Retrieved from:http://www.visnyk-econom.uzhnu.uz.ua/archive/18_2_2018ua/8.pdf
Yurchenko A.I. (2020) Ekonomichna sutnist ta sklad vytrat na zbut [Current aspects of foemation of effective marketing enterprise communication policy]. Development of the system of accounting, analysis and audit in Ukraine (electronic journal), vol. 1(35). Retrieved from: http://194.44.12.92:8080/jspui/bitstream/123456789/4887/1/1%20%2835%29.pdf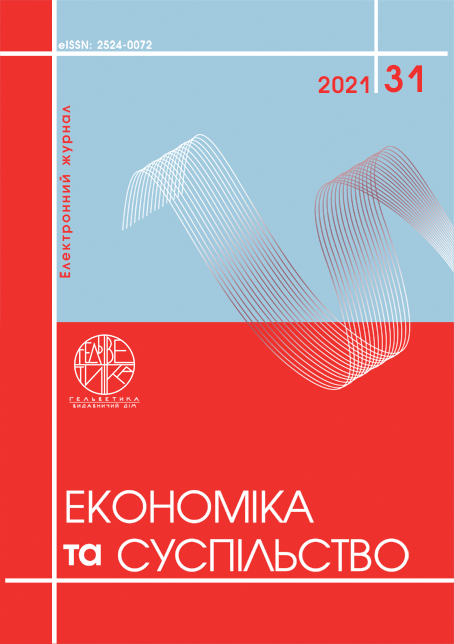 Article views: 123 PDF Downloads: 107
How to Cite
Gurina, N., & Bestiuk, A. (2021). FORMATION OF MARKETING POLICY OF THE ENTERPRISE AS A BASIS FOR IMPROVING THE SALES SYSTEM. Economy and Society, (31). https://doi.org/10.32782/2524-0072/2021-31-8
Section
ACCOUNTING AND TAXATION