ECOLOGICAL TAX AND ENVIRONMENTAL EXPENDITURES OF UKRAINIAN LOCAL BUDGETS
Keywords:
environmental tax, local budget revenues, local budget expenditures, decentralization, local finances,
Abstract
The article is devoted to the issue of environmental taxation at the level of local budgets and their financing of environmental measures. The environmental issue is key on a global scale. Regardless of the level of economic development, each of the countries notes the importance of solving it. Like each of the world-class problems, the problem of the improper state of the environment as a result of human economic activity consists of problems at the level of specific production, plant, local reservoir, landfill. The revenues of local budgets from environmental payments, the impact of changes to the Tax and Budget Code in terms of environmental taxation on the amount of corresponding revenues to local budgets are analyzed. Expenditures on environmental activities are compared with revenues from the environmental tax, the structure of the environmental tax is analyzed in terms of types of environmental payments by type of pollution, the frequency of environmental tax in the overall structure of local budget revenues. A number of problems at the level of local budgets that hinder the solution of ecologically important issues are outlined. Ways to increase revenues from environmental taxation, increase its efficiency and implement the functions assigned to it have been proposed. The conclusion is made about the need to change the proportions of the distribution of environmental tax between the State and local budgets, return the carbon tax to the list of those distributed between the State and local budgets, increase environmental tax rates for all types of environmental pollution and the need to credit all accumulated environmental tax. to a special fund or trust fund. Given the severity of the topic of ecology for Ukraine, a real assessment of revenues in terms of types of environmental tax allowed us to assess their role in the formation of income that could potentially be used for environmental activities. Comparing the amounts of revenues from environmental taxation and expenditures on environmental activities, there is a noticeable imbalance in their ratio, which indicates the need to reconsider the approach to planning environmental measures in amounts commensurate with revenues from environmentally harmful activities.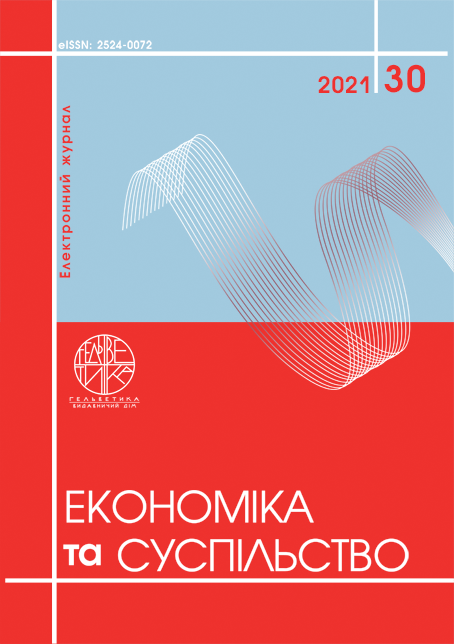 Article views: 108 PDF Downloads: 115
How to Cite
Suchek, S. (2021). ECOLOGICAL TAX AND ENVIRONMENTAL EXPENDITURES OF UKRAINIAN LOCAL BUDGETS. Economy and Society, (30). https://doi.org/10.32782/2524-0072/2021-30-55
Section
FINANCE, BANKING AND INSURANCE