INTERNATIONAL TOURISM IN A PANDEMIC: PROBLEMS AND WAYS FOR FURTHER DEVELOPMENT
Keywords:
trends, tourism, COVID-19 pandemic, challenges, problems
Abstract
The article examines the analysis of trends in the development of the tourism sector in modern conditions and the impact of COVID-19 on the tourism industry. It is determined that the tourism industry is important for the development of the state. Trends in the development of international tourism are determined by the influence of external and internal factors on the industry, the prevailing market conditions of demand for services. In the previous decade, the Ukrainian tourism industry has demonstrated a steady development of both domestic tourism and foreign tourism. Tourism is an important area of socio-economic activity and brings significant contribution to state budget revenues in many countries. But in 2020, due to the consequences of the COVID-19 pandemic, a negative situation has developed for the industry. Economic processes in all sectors, including tourism, related to the epidemiological security of the countries of the world. The tourism industry, hotel business and food industry establishments in today's conditions are faced with enormous problems (all these areas are suspended, and subsequently may be liquidated). The need was identified not only to support the subjects of the industry, but also to create conditions for the successful restoration of their activities in the long term. The global and local context of the outbreak, its aftermath and proposals for rapid recovery (strategic and tactical goals) are reflected in this article. The research is based on analytical, statistical and forecast materials of the World Tourism Organization (UNWTO), Organization for Economic Cooperation and Development (OECD), World Travel and Tourism Council (WTTC). The following research methods were used: system analysis – a method that is a sequence of actions to establish structural links between various elements of the system under study. Synthesis is the process of combining separate things and concepts into one whole. Induction is a research method in which a general conclusion is built on the basis of individual elements. Comparison, for the purpose of which the similarity and difference of objects and phenomena are established according to essential characteristics.
References
Державний комітет статистики України. URL: http://www.ukrstat.gov.ua/
Дивись.info. URL: https://dyvys.info/2020/05/14/turyzm-pislya-karantynu-yak-pandemiya-vplynula-na-galuz-i-zminyla-yiyi/
Дутка Г. Я., Гальків Л. І., Козак Б. Б. Наукові дослідження з проблем міжнародного туризму: статистична бібліографія наукових статей. Ефективна економіка. 2018. № 12. URL: http://www.economy.nayka.com.ua/?op=1&z=6724; DOI: https://doi.org/10.32702/2307-2105-2018.12.2.
Красовський С. О. Дослідження міжнародного туризму в дисертаційних роботах українських науковців. Українська культура: минуле, сучасне, шляхи розвитку. Культурологія. 2017. Вип. 25. С. 208–213.
МОЗ опублікувало рекомендації щодо організації роботи бізнесу з 11 травня. URL: https://buhgalter911.com/uk/news/news-1050204.html?utm_source=gravitec&utm_medium=push&utm_campaign=Push:13.05.2020
Названі найнебезпечніші країни для туризму в 2020 році. URL: https://ua.korrespondent.net/lifestyle/travel/4239328-nazvani-naibezpechnishi-krainy-dlia-turyzmu-v-2020-rotsi
UNWTO. World Tourism Organization. URL: https://www.unwto.org/tourism-covid-19
Derzhavnyi komitet statystyky Ukrainy. Retrieved from: http://www.ukrstat.gov.ua/ (in Ukrainian)
Dyvys.info [See.info]. Retrieved from: https://dyvys.info/2020/05/14/turyzm-pislya-karantynu-yak-pandemiya-vplynula-na-galuz-i-zminyla-yiyi/ (in Ukrainian)
Dutka H. Ya., Halkiv L. I., Kozak B. B. (2018) Naukovi doslidzhennia z problem mizhnarodnoho turyzmu: statystychna bibliohrafiia naukovykh statei [Scientific research on the problems of international tourism: statistical bibliography of scientific articles]. Efektyvna ekonomika. № 12. Retrieved from: http://www.economy.nayka.com.ua/?op=1&z=6724; DOI: https://doi.org/10.32702/2307-2105-2018.12.2 (in Ukrainian)
Krasovskyi S. O. (2017) Doslidzhennia mizhnarodnoho turyzmu v dysertatsiinykh robotakh ukrainskykh naukovtsiv [Research of international tourism in dissertations of Ukrainian scientists]. Ukrainska kultura: mynule, suchasne, shliakhy rozvytku. Kulturolohiia, 25, 208–213. (in Ukrainian)
MOZ opublikuvalo rekomendatsii shchodo orhanizatsii roboty biznesu z 11 travnia [The Ministry of Health has published recommendations on the organization of business from May 11]. Retrieved from: https://buhgalter911.com/uk/news/news-1050204.html?utm_source=gravitec&utm_medium=push&utm_campaign=Push:13.05.2020 (in Ukrainian)
Nazvani nainebezpechnishi krainy dlia turyzmu v 2020 rotsi [Named the most dangerous countries for tourism in 2020]. Retrieved from: https://ua.korrespondent.net/lifestyle/travel/4239328-nazvani-naibezpechnishi-krainy-dlia-turyzmu-v-2020-rotsi (in Ukrainian)
UNWTO. World Tourism Organization. Retrieved from: https://www.unwto.org/tourism-covid-19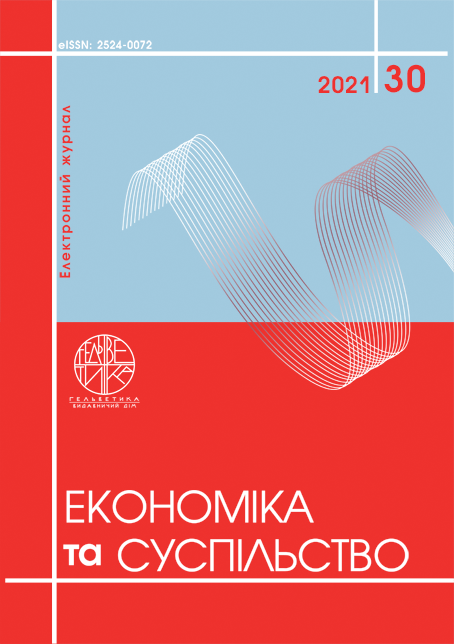 Article views: 140 PDF Downloads: 242
How to Cite
Tiurina, D. (2021). INTERNATIONAL TOURISM IN A PANDEMIC: PROBLEMS AND WAYS FOR FURTHER DEVELOPMENT. Economy and Society, (30). https://doi.org/10.32782/2524-0072/2021-30-32