EXPORT OF YOUNG LABOR FROM UKRAINE TO POLAND: MAIN ECONOMIC FACTORS AND RISKS
Keywords:
labor migration, young labor force, labor market, migration factors, economic risks
Abstract
The article is devoted to the matter of young labor force export from Ukraine to Poland. The relevance of research is attributable to active participation of young people in migration abroad for the purpose of employment. The purpose of investigation is to determine key factors in the export of labor force of the demographic group "youth" from Ukraine to Poland, and risks for the national economy. The main trends of international labor migration and the place of Ukraine in this process are characterized. The number of international migrants to Poland from different countries is analyzed. The main factors of movement of the Ukrainian youth as a labor resource to the Polish labor market are considered. The reasons that contribute to such migration of young people in comparison with other countries of the European Union are substantiated. The negative phenomena in the sphere of youth employment in Ukraine are characterized, with attention on the analysis of informal employment dynamics. The investigation of dynamics of labor migration to Poland in terms of the most attractive regions is carried out. The spectrum of the most in-demand professions is considered. The main risks that are caused by the employment of young Ukrainians in Poland and their potential non-return in several aspects are identified. A significant risk is associated with reduction in labor resources and in their contribution to the development of the country's economy. Financial risks are stemming from shortfalls in payments to the nation's budget and Ukrainian pension fund. A potential demographic threat for the country is a potential decline in population reproduction. To minimize risks, it is proposed to consider measures to increase the competitiveness of young people in the national labor market, which are aimed at creating new jobs with decent wages. The importance of creating favorable conditions for career guidance of young people in the sectors of the national economy is noted. The practical significance of the research is in the argumentation for making managerial decisions in the field of regulation of the national labor market.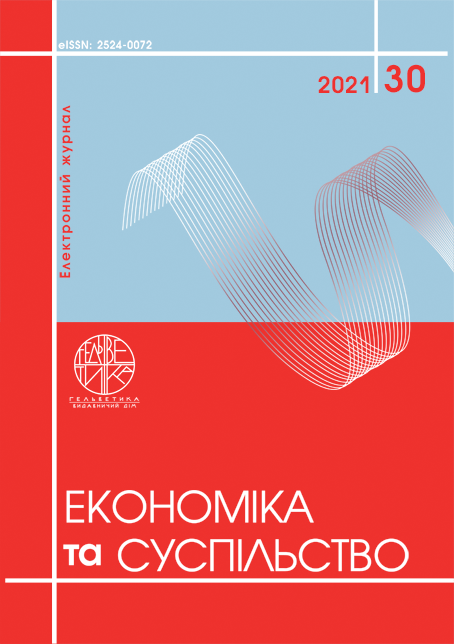 Article views: 144 PDF Downloads: 99
How to Cite
Arovina, M. (2021). EXPORT OF YOUNG LABOR FROM UKRAINE TO POLAND: MAIN ECONOMIC FACTORS AND RISKS. Economy and Society, (30). https://doi.org/10.32782/2524-0072/2021-30-3