THE EVOLUTIONARY WAY OF CHANGING THE HUMANS ROLE IN THE DEVELOPMENT OF PUBLIC PRODUCTION
Keywords:
human, human capital, labor, social production, evolution, factors of production, intellect
Abstract
The article examines changes in the nature and development of labor as a key factor of production. The evolution of labor has been followed, which continued just as the evolution of human society. The main approaches in economic theory regarding the importance of labor in the development of social production are defined. The views of economic schools and directions from the classical period to the present are shown on the issue of the role of man and his work in the formation and further development of the market economy. The influence of global transformations on the new standards of development of human civilization and the transformation of social production is substantiated. The importance of the fact that an increasing number of people on the planet are involved in the labor sphere is shown, their dependence on the opportunity to carry out labor activity is growing. The formed labor process in the scientific sense is an expedient human activity aimed at turning natural resources into finished products designed to meet the needs of people. Reasons have been formed that make it necessary to consider the labor sphere more deeply and in detail, but not in isolation from other social systems, but in aggregate and mutually determined processes. The importance of connecting and coordinating all production factors (actual labor, objects of labor and means of labor) into a single system is demonstrated. The phenomenon is comprehended that everything in a person's life changes, develops, therefore his role and place in economic theory is not something given once and for all, especially today, because the category «human capital» has arisen and has been working for quite a long time. The reflection of the new position of a person in the process of production and social life is shown, when an economic person (homo economicus) develops into a creative person (homo creator). The features of human development in the world and domestic economic practice and theory are considered. The ways of increasing human capital are shown from two positions as the main asset of national wealth, as well as the main driving force of socio-economic progress. The conditions under which it is possible to ensure the rapid development of human intelligence and the reverse impact on the development of the economy and society are proposed.
References
Прушківська Е. В., Переверзєва А. В. Людський капітал : проблеми та перспективи. Економiчний вісник НГУ. 2007. № 3. С. 17–24.
Чухно А. А., Юхименко П. І., Леоненко П. М. Сучасні економічні теорії : підручник. Київ : Знання, 2007. 878 с.
Базилевич В. Д. Історія економічних вчень : підручник. У 2 ч. Ч. 1 Київ : Знання, 2000. 582 с.
Дубиніна С. М. Стратегія управління витратами виробництва за рахунок оптимізації продуктивності праці промислового підприємств. Науковий вісник Херсонського державного ун-ту. Випуск 38. 2020. С. 32–36.
Сучасна зарубіжна соціальна філософія : хрестоматія. Київ : Либідь, 1996. 384 с.
Панчук Л. В. Транснаціональні корпорації: соціально-економічна сутність. Формування ринкової економіки.: зб. наук. пр. : у 2 ч. Київ : КНЕУ, 2011. Вип. 26, ч. 2. С. 51–58.
Prushkivska E. V., Pereverzieva A. V. (2007) Liudskyi capital : problemy ta perspektyvy [Human capital : problems and prospects]. Ekonomichnyi visnyk NHU – Economic Herald of NMU, 3, 17–24. (in Ukrainian)
Chukhno A. A., Yukhymenko P. I., Leonenko P. M. (2007) Suchasni ekonomichni teorii [Modern economic theories]. Kyiv: Znannia. (in Ukrainian)
Bazylevych V. D. (2000) Istoriia ekonomichnykh vchen [History of economic teachings]. Kyiv: Znannia. (in Ukrainian)
Dubynina S. M. (2020) Stratehiia upravlinnia vytratamy vyrobnytstva za rakhunok optymizatsii produktyvnosti pratsi promyslovoho pidpryiemstv [Production cost management strategy for optimizing labor productivity in industrial enterprises]. Naukovyi visnyk Khersonskoho derzhavnoho universytetu – Scientific Bulletin of Kherson State University, 38, 32–36. (in Ukrainian)
Suchasna zarubizhna sotsialna filosofiia (1996) [Modern foreign social philosophy]. Kyiv: Lybid. (in Ukrainian)
Panchuk L. V. (2011) Transnatsionalni korporatsii : sotsialno-ekonomichna sutnist [Transnational corporations: socio-economic essence. Formation of market economy]. Formuvannia rynkovoi ekonomiky – Formation of market economy. (ssue 26, part 2, pp. 51–58. Kyiv: KNEU. (in Ukrainian)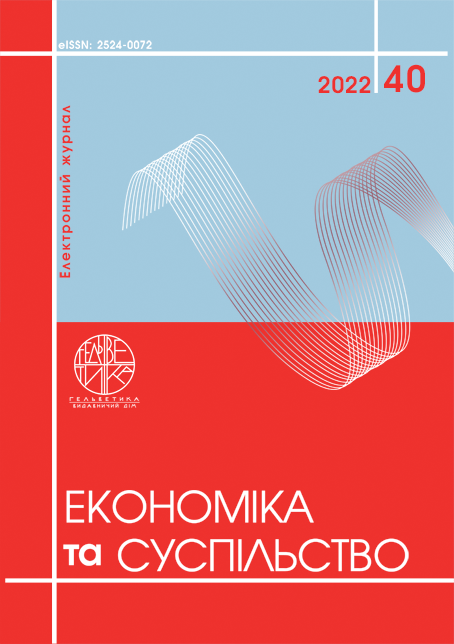 Article views: 32 PDF Downloads: 22
How to Cite
Paustovska, T., & Bondarchuk, O. (2022). THE EVOLUTIONARY WAY OF CHANGING THE HUMANS ROLE IN THE DEVELOPMENT OF PUBLIC PRODUCTION. Economy and Society, (40). https://doi.org/10.32782/2524-0072/2022-40-39