MOTIVES, INTERESTS, INCENTIVES, INDUCEMENTS AS THE MAIN CATEGORIES REVEALING THE ESSENCE OF WORK MOTIVATION
Keywords:
work motivation, motives, interests, incentives, stimulation
Abstract
The article is devoted to the improvement of labour motivation means using the categories revealing it. The relevance of the research is due to the importance of work motivation for development and realization of human capital, which is the most important resource of any organization. The purpose of the article is to develop recommendations for increasing work motivation of personnel, which will contribute to the success and development of the organization. In order to achieve the purpose the essence of such concepts as "motives", "interests", "incentives" and "stimulation" was defined during the research. Based on the results of the disclosure of the essence of the main categories of motivation, its main objective was determined. Based on the results of foreign and domestic experience, recommendations for increasing labour motivation in domestic organisations are offered. The methods of analysis, synthesis, induction, analogy and deduction are used in the research. The article shows for the first time practical recommendations, the observance of which will help to increase labour motivation in domestic enterprises. According to the results of the scientific literature study it has been established that labour motivation is a process of stimulating various activities necessary to achieve certain organizational goals. The main purpose of labour motivation is to obtain the maximum effect of labour resources. For its increase the system of labour motivation is being constructed taking into account the interests of employees, their motives and stimuli. It provides creative approach to material stimulation, social guarantees, comfortable workplace organization, satisfaction of physiological and aesthetic needs, possibility to study and improve skills, ensuring equality regardless of positions, rewarding in the form of bonuses, management praise, introduction of 4-day working week. The practical value of the study lies in the possibility to use the obtained results by domestic organizations, regardless of their activities and forms of ownership in order to increase work motivation.
References
Волгина Н. А., Одегова Ю. Г. Экономика труда (социально-трудовые отношения). Москва : Экзамен. 2003. 736 с.
Ожегов С. И. Словарь русского языка. Москва : Русский язык. 1983.
Кваша О. С. Світові моделі мотивації праці на підприємствах: уроки для України. Глобальні та національні проблеми економіки. 2014. Випуск 1. С. 88–89.
Терешков Д. А. Оплата труда в системе мотивации. Вестник ТГАСУ. 2005. № 2. С. 35–42.
Українці задоволені роботою, але не зарплатою. Eba.com.ua. 2022. URL: https://eba.com.ua/ukrayintsi-zadovoleni-robotoyu-ale-ne-zarplatoyu/
Як хочуть навчатися українські пошукачі? Grc.ua. 2019. URL: https://grc.ua/article/25846?hhtmFrom=article_27124
Чим приваблюють керівні посади пошукачів? Grc.ua. 2019. URL: https://grc.ua/article/24606?hhtmFrom=article_27124
Що мотивує працювати більше: результати дослідження. Grc.ua. 2020. URL: https://grc.ua/article/27124
50 найкращих роботодавців 2022. Forbes.ua. 2022. URL: https://forbes.ua/ratings/50-naykrashchikh-robotodavtsiv-2022-13012022-3179
Толуб Н. Курси, турбота про ментальне здоров'я та накопичення балів. Thepage.ua. 2021. URL: https://thepage.ua/ua/business/socialni-paketi-dlya-spivrobitnikiv-v-ukrayinskih-ta-zakordonnih-kompaniyah
Носарєв М. Операція мотивація: як оформити опціони для співробітника. Mind.ua. 2021. URL: https://mind.ua/openmind/20232728-operaciya-motivaciya-yak-oformiti-opcioni-dlya-spivrobitnika
Хожаінова В. Чотириденний робочий тиждень: як на нього переходить світ і чи можливо таке в Україні. Suspilne.media. 2021. URL: https://suspilne.media/146221-cotiridennij-robocij-tizden-ak-na-nogo-perehodit-svit-i-ci-mozlivo-take-v-ukraini/
Volgina, N. A, Odegova, Y. G. (2003). Ekonomika truda (sotsialno-trudovyye otnosheniya) [Labor economy (social labor relations]. Moscow, 736. (in Russian)
Ozhegov, S. I. (1983). Slovar russkogo yazyka [Dictionary of the Russian language]. Moscow. (in Russian)
Kvasha, O. S. (2014). Svitovi modeli motyvatsiyi pratsi na pidpryyemstvakh: uroky dlya Ukrayiny [World models of labor motivation at enterprises: lessons for Ukraine]. Hlobalni ta natsionalni problemy ekonomiky, 88–89. (in Ukrainian)
Tereshkov, D. A. (2005). Oplata truda v systeme motyvatsyy [Labor compensation in the motivation system]. Vestnyk THASU, 2, 35–42. (in Russian)
Ukrayintsi zadovoleni robotoyu, ale ne zarplatoyu. (2022). [Ukrainians are satisfied with work, but not with salary]. Retrieved from: https://eba.com.ua/ukrayintsi-zadovoleni-robotoyu-ale-ne-zarplatoyu/ (in Ukrainian)
Yak khochut navchatysya ukrayinsʹki poshukachi? (2019). [How do Ukrainian searchers want to learn?]. Retrieved from: https://grc.ua/article/25846?hhtmFrom=article_27124 (in Ukrainian)
Chym pryvablyuyut kerivni posady poshukachiv? (2019). [What attracts searchers to management positions?]. Retrieved from: https://grc.ua/article/24606?hhtmFrom=article_27124 (in Ukrainian)
Shcho motyvuye pratsyuvaty bilshe: rezultaty doslidzhennya. (2020). [What motivates to work more: research results]. Retrieved from: https://grc.ua/article/27124 (in Ukrainian)
50 naykrashchykh robotodavtsiv 2022. (2022). [Top 50 employers 2022]. Retrieved from: https://forbes.ua/ratings/50-naykrashchikh-robotodavtsiv-2022-13012022-3179 (in Ukrainian)
Tolub, N. (2021). Kursy, turbota pro mentalne zdorovya ta nakopychennya baliv. (2021). [Courses, care for mental health and accumulation of points]. Retrieved from: https://thepage.ua/ua/business/socialni-paketi-dlya-spivrobitnikiv-v-ukrayinskih-ta-zakordonnih-kompaniyah (in Ukrainian)
Nosaryev, M. Operatsiya motyvatsiya: yak oformyty optsiony dlya spivrobitnyka. (2021). [Operation motivation: how to issue options for an employee]. Retrieved from: https://mind.ua/openmind/20232728-operaciya-motivaciya-yak-oformiti-opcioni-dlya-spivrobitnika (in Ukrainian)
Khozhainova, V. (2021). Chotyrydennyy robochyy tyzhden: yak na noho perekhodyt svit i chy mozhlyvo take v Ukrayini [Four-day work week: how the world is transitioning to it and whether it is possible in Ukraine]. Retrieved from: https://suspilne.media/146221-cotiridennij-robocij-tizden-ak-na-nogo-perehodit-svit-i-ci-mozlivo-take-v-ukraini/ (in Ukrainian)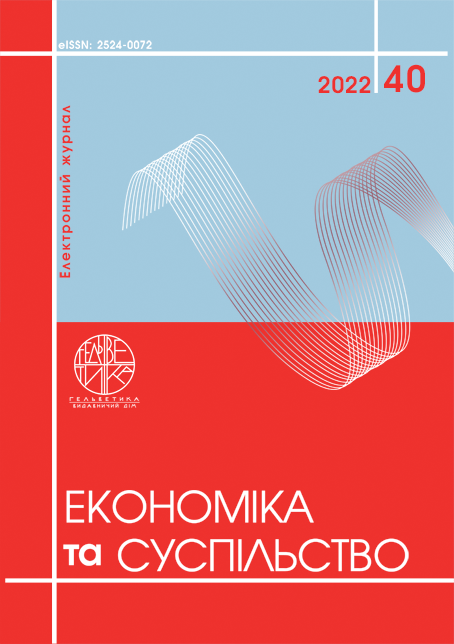 Article views: 42 PDF Downloads: 29
How to Cite
Herasymenko, A. (2022). MOTIVES, INTERESTS, INCENTIVES, INDUCEMENTS AS THE MAIN CATEGORIES REVEALING THE ESSENCE OF WORK MOTIVATION. Economy and Society, (40). https://doi.org/10.32782/2524-0072/2022-40-30