DEVELOPMENT OF LABOR POTENTIAL IN THE SYSTEM OF EFFECTIVE MANAGEMENT OF THE ORGANIZATION
Keywords:
development, labor potential, system, effective management, organization
Abstract
The article summarizes the features of labor potential development in the system of effective management of the organization. Since the haste of business does not depend so much on equipment and technology as on labor potential, the research topic is quite relevant. The main research methods are monographic and abstract-logical. Among the results obtained are the following. The main functions of labor potential management are highlighted: personnel needs planning, selection, hiring of personnel and formation of personnel reserve; staff training and evaluation; social guarantees and social package, creating a comfortable microclimate in the team; effective use of creative and labor potential of employees; development and implementation of strategic and tactical goals; analysis of available human resources, planning of its development; staff motivation. The main functions of labor potential management and methods of ensuring the implementation of these functions (interview; questionnaire; resume; exclusive search; head hunting; screening; E-recruitment; mass recruitment; outstaffing; preliminaring; brainteaser interview; physiognomy; shock interview) are summarized. The methods of personnel development (case-training, secondment, sahadowing, budding, basketball-method) are updated, the methods of material and intangible motivation of employees are generalized, the possibilities of application of outplacement method and method of "increasing requirements" in case of staff dismissal are emphasized. labor potential can be defined as a process carried out by managers and associated with the effective use of personnel, and as an activity aimed at the efficient use of human resources of the organization. the most accurate data n personality and its professional qualities in order to qualitatively select potential candidates. To achieve the greatest effect, it is recommended to combine methods of tangible and intangible motivation. The use of these methods of staff development allows employees to gain new skills that they may need in case of non-standard business situations.
References
Болотова О. О. Сутність організаційно-економічного забезпечення ефективності менеджменту персоналу. Управління розвитком. 2018. № 2 (192). С. 119–125.
Гнатенко І. А., Кулікова Ю. Е. Перспективні напрями вдосконалення управління персоналом в організації. Науковий вісник Херсонського державного університету. Економічні науки. 2016. № 16. С. 55–58.
Денисенко М. П. Особливості формування та оцінки трудового потенціалу підприємства в сучасних умовах. Агросвіт. 2017. № 6. С. 21–27.
Зось-Кіор М. В., Скидан С. В. Особливості мотивації персоналу в умовах нестабільного бізнес-середовища. Економічний форум. 2020. № 3. С. 143–148.
Маркина И. А., Зось-Киор Н. В., Сёмич Н. И. Развитие персонала в системе корпоративного тайм-менеджмента. Формирование организационно-экономических условий эффективного функционирования АПК: сборник научных статей XII Международной научно-практической конференции (Минск, 28–29 мая 2020 года). Минск: БГАТУ, 2020. С. 74–79.
Олексенко Р. І. Управління персоналом у сучасних умовах господарювання. АгроСвіт. 2018. № 14. С. 41–45.
Терещенко Л. В. Розробка механізму забезпечення ефективності менеджменту персоналу в процесі організаційних змін. Інфраструктура ринку. 2017. № 9. С. 118–122.
Чавичалов І. І. Методи оцінки ефективності управлінського персоналу підприємства. Інвестиції: практика та досвід. 2018. № 1. С. 41–44.
Bolotova O. O. (2018) Sutnistʹ orhanizatsiyno-ekonomichnoho zabezpechennya efektyvnosti menedzhmentu personalu [The essence of organizational and economic support for the effectiveness of personnel management]. Upravlinnya rozvytkom. no 2 (192). pp. 119–125.
Gnatenko I. A., Kulikova Y. E. (2016) Perspektyvni napryamy vdoskonalennya upravlinnya personalom v orhanizatsiyi [Promising areas for improving personnel management in the organization]. Naukovyy visnyk Khersonsʹkoho derzhavnoho universytetu. Ekonomichni nauky. no 16. pp. 55–58.
Denisenko M. P. (2017) Osoblyvosti formuvannya ta otsinky trudovoho potentsialu pidpryyemstva v suchasnykh umovakh [Features of the formation and assessment of labor potential of the enterprise in modern conditions]. Ahrosvit. no 6. pp. 21–27.
Zos-Kior M. V., Skidan S. V. (2020) Osoblyvosti motyvatsiyi personalu v umovakh nestabilʹnoho biznes-seredovyshcha [Features of staff motivation in an unstable business environment]. Ekonomichnyy forum. no 3. pp. 143–148.
Markina I. A., Zos-Kior N. V., Semich N. I. (2020) Razvitiye personala v sisteme korporativnogo taym-menedzhmenta [Personnel development in the corporate time management system]. Formirovaniye organizatsionno-ekonomicheskikh usloviy effektivnogo funktsionirovaniya APK: a collection of scientific articles of the XII International scientific-practical conference (Minsk, May 28–29, 2020). Minsk : BGATU, pp. 74–79. (in Ukrainian)
Oleksenko R. I. (2018) Upravlinnya personalom u suchasnykh umovakh hospodaryuvannya [Personnel management in modern business conditions]. Ahrosvit. no 14. pp. 41–45.
Tereshchenko L. V. (2017) Rozrobka mekhanizmu zabezpechennya efektyvnosti menedzhmentu personalu v protsesi orhanizatsiynykh zmin [Development of a mechanism to ensure the effectiveness of personnel management in the process of organizational change]. Infrastruktura rynku. no 9. pp. 118–122.
Chavichalov I. I. (2018) Metody otsinky efektyvnosti upravlinsʹkoho personalu pidpryyemstva [Methods for assessing the effectiveness of management personnel of the enterprise]. Investytsiyi: praktyka ta dosvid. no 1. pp. 41–44.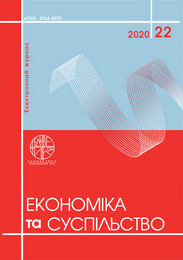 Article views: 136 PDF Downloads: 105
How to Cite
Zos-KiorМ., Ilin, V., & Svirida, E. (2020). DEVELOPMENT OF LABOR POTENTIAL IN THE SYSTEM OF EFFECTIVE MANAGEMENT OF THE ORGANIZATION. Economy and Society, (22). https://doi.org/10.32782/2524-0072/2020-22-78