PROBLEMS OF ACCOUNTING ASSESSMENT OF BUYERS' ACCOUNTS RECEIVABLE IN THE FINANCIAL STATEMENTS OF ENTERPRISES
Keywords:
settlements with debtors, receivables, accounting estimate of receivables, bad debt, reserve of doubtful debts
Abstract
In a market economy, the financial condition of business entities depends on their relationships with other entities, their solvency, the fulfillment of contractual obligations, payment discipline, etc. Among the complex problems of interaction of business structures was the problem of excessive volumes of receivables, which is a consequence of instability and lack of certainty of the functioning of enterprises in a crisis of non-payment and inefficient management. The analysis of the state of receivables, aimed at optimizing its size and ensuring control over the calculations of counterparties, becomes a component of the asset management policy. Properly organized accounting of receivables will contribute to the inadmissibility of late payment deadlines and bringing the debt to a state of hopeless. The effectiveness of keeping records of current receivables depends on its recognition and assessment, which proves the relevance of the subject of the study. The purpose of writing the article is to find out the peculiarities of assessing receivables on settlements with buyers and customers for its reliable reflection in the reporting as an indicator that affects the solvency of the enterprise. The article investigates the problematic issues of accounting assessment of receivables for products (goods, works, services) arising from accountants during its initial recognition and reflection as part of the indicators of financial statements; the principles of accounting assessment of receivables of buyers and customers of the enterprise are disclosed; the problems of recognizing doubtful and bad debts and the peculiarities of their solution in domestic and foreign practice; the methods of calculating the reserve of doubtful debts, the advantages and disadvantages of each of the methods and the feasibility of their use at different enterprises are considered; the directions of improving the accounting of receivables in the direction of detailing the elements of accounting policy on settlements with debtors and the formation of an integrated approach in determining the reserve of doubtful debts, taking into account the specifics of the business entity, are outlined.
References
Матицина Н. Основні засади регулювання розрахункових відносин через управління дебіторською заборгованістю. Бухгалтерський облік і аудит. 2015. № 12- С. 38–42.
Нашкерська Г. Особливості визнання та оцінки поточної дебіторської заборгованості за продукцію, товари, роботи і послуги. Бухгалтерський облік і аудит. 2009. № 11. С. 31–37.
Положення (стандарт) бухгалтерського обліку 10 «Дебіторська заборгованість»: затверджено наказом МФУ від 8.10.1999 № 237. URL: : http://zakon.rada.gov.uaю (дата звернення: 03.05.2022).
Положення (стандарт) бухгалтерського обліку 13 «Фінансові інструменти»: затверджено наказом Міністерства фінансів України від 30.11.2001 р. № 559. URL:: http://zakon.rada.gov.ua (дата звернення: 05.05.2022).
Міжнародні стандарти бухгалтерського обліку та фінансової звітності : навч. довід. посіб. / [Цалко, Ю.С., Кірєйцев, Г.Г., Луканьов І.В. та ін.]. Житомир : ПП «Рута», 2011. 707 с.
Фаренюк О.П., Таранюк К.М., Бровко О.Т. Особливості поточної дебіторської заборгованості за продукцію, товари, роботи і послуги. URL: http://intkonf.org/farenyuk-op-taranyuk-km-brovko-ot-osoblivosti-potochnoyi-debitorskoyi-zaborgovanosti-za-produktsiyu-tovari-roboti-i-poslugi/ (дата звернення: 12.05.2022).
Зелікман В.Д., Ерьоміна О.Л., Безгодкова А.Щ. Облік у зарубіжних країнах : Навч. посібник. Дніпро : НМетАУ, 2017. 131 с.
Білова Н., Бобро А., Винокуров Д. Справжній бухоблік. Xарків : Видавничий дім «Фактор» 2005. 1072 с.
Подолянюк Р.В. Актуальні проблеми обліку дебіторської заборгованості. Управління розвитком. 2012. № 4. С. 114–116.
Matisina N. (2015) Osnovni zasady regulyuvannya rozrahunkovyh vidnosyn cherez upravlinnya debitorskoyu zaborgovanistyu [The basic principles of regulation of settlement relations through the management of receivables]. Buhgalterskij oblik i audyt, no 12, pp. 38–42. (in Ukrainian)
Nashkerska G. (2009) Osoblyvosti vyznannya ta ocinky potochnoi debitorskojy zaborgovanosti za produkciyu, tovary, roboty, poslugy [Features of recognition and evaluation of current receivables for products, goods, works and services]. Buhgalterskij oblik i audyt, no 11, pp. 31–37. (in Ukrainian)
Polozhennya (standart) byhgalterskogo obliku 10 "Debitorska zaborgovanist": zatverdzheno nakazom Ministerstva finansiv Ukrainy vid 08.10.1999, no 237. Available at: : http://zakon.rada.gov.ua (accessed May 3, 2022) (in Ukrainian)
Polozhennya (standart) byhgalterskogo obliku 13"Finansovi instrumenty" zatverdzheno nakazom Ministerstva finansiv Ukrainy vid 30.11.2001 р., no 559. Available at: : http://zakon.rada.gov.ua (accessed May 5, 2022) (in Ukrainian)
Calko Yu.S., Kirejcev G.G., Lukanev & in. (2011) Mizhnarodni standarty byhgalterskogo obliku ta finansovojy zvitnosti: navch.dovid. posibnyk [International standards of accounting and financial reporting: textbook]. Zhytomyr: PP "Ryta", p. 707. (in Ukrainian)
Farenyuk O.P., Taranyuk K.M., Brovko O.T. Osoblyvosti potochnojy debitorskojy zaborgovanosti za produkciyu, tovary, roboty, poslugy [Features of current receivables for products, goods, works and services]. Available at: http://intkonf.org/farenyuk-op-taranyuk-km-brovko-ot-osoblivosti-potochnoyi-debitorskoyi-zaborgovanosti-za-produktsiyu-tovari-roboti-i-poslugi/ (accessed May 12, 2022) (in Ukrainian)
Zelikman V.D., Ierjomina O.L., Bezgodkova A.O. (2017) Oblik u zarubizhnyh krainah: Navch. posibnyk [Accounting in foreign countries: Tutorial]. Dnipro: ТMetAU, 131 p. (in Ukrainian)
Bilova N., Bobro A., Vinokurov D. (2005) Spravzhnij buhoblik [Real accounting]. Kharkiv: Vydavnychyj dim "Faktor", 1072 p. (in Ukrainian)
Podolyanyuk R.V. (2012) Aktualni problemy obliku debitorskojy zaborgovanosti [Actual problems of accounting for receivables]. Upravlinnya rozvydkom, no 4, pp. 114–116. (in Ukrainian)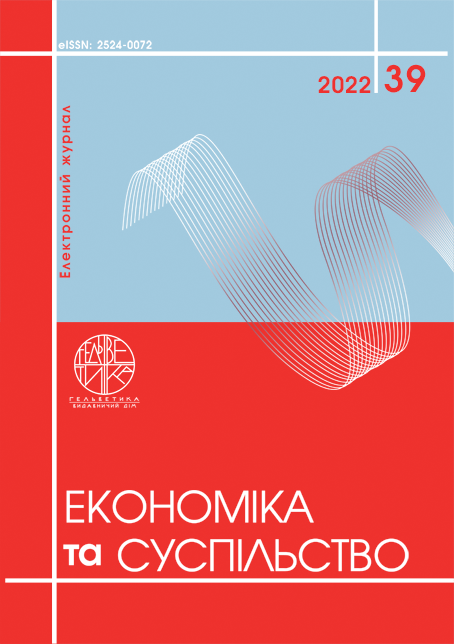 Article views: 24 PDF Downloads: 15
How to Cite
Hlushash, Y. (2022). PROBLEMS OF ACCOUNTING ASSESSMENT OF BUYERS' ACCOUNTS RECEIVABLE IN THE FINANCIAL STATEMENTS OF ENTERPRISES. Economy and Society, (39). https://doi.org/10.32782/2524-0072/2022-39-40
Section
ACCOUNTING AND TAXATION