SOCIAL ENTREPRENEURSHIP AS A MODERN VECTOR OF ECONOMIC DEVELOPMENT
Keywords:
social entrepreneurship, economy, innovations, digital economy, social capital
Abstract
The article is devoted to topical issues of defining social entrepreneurship as a modern vector of economic development. It is determined that a social enterprise is a complex category that characterizes the mission and direction of the enterprise, on the one hand, and the nature of business processes – on the other. Social entrepreneurship is a kind of business revolution, a consequence of the genesis of economic activity, the latest approach to the functioning of not only profitable but also non-profit organizations. The positive consequences of the use of social entrepreneurship and examples of its successful implementation in Ukraine are outlined, in particular, the project "Promoting the development of social entrepreneurship", which aims to spread social entrepreneurship in Ukrainian society and provide social entrepreneurs seeking to develop. their business, access to free legal, financial and advisory assistance. Despite the fact that in the expert, scientific and legal field of Ukraine there is no single view and definition of social business, this phenomenon of socio-economic life of Ukrainian society exists and develops. The lack of a common view creates very large quantitative and qualitative differences in research and conclusions. It should be noted that the development of social entrepreneurship as a separate area of business has a significant impact on the digital transformation of the economy. The digital economy breaks the usual models of industry markets and increases the competitiveness of their participants. The international experience of financial support of social business is studied, it is noted that the leaders of the European region in the development of social entrepreneurship are the United Kingdom, as well as Poland, Italy, the Netherlands and Ireland. The main obstacles to the development of social entrepreneurship in Ukraine have been identified, including the lack of a clear legal framework, lack of financial resources for the creation and development of social enterprises, public ignorance of the nature, mechanism and prospects of this business. The directions of development of social entrepreneurship in Ukraine are outlined.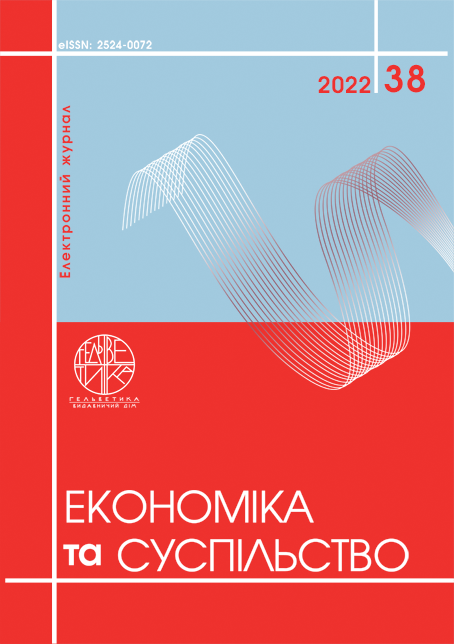 Article views: 38 PDF Downloads: 21
How to Cite
Braunahel, A., & Anfilov, D. (2022). SOCIAL ENTREPRENEURSHIP AS A MODERN VECTOR OF ECONOMIC DEVELOPMENT. Economy and Society, (38). https://doi.org/10.32782/2524-0072/2022-38-71