DEVELOPMENT OF CREATIVITY OF PERSONNEL OF THE ENTERPRISE AS A STRATEGIC CONDITION FOR COMPETITIVENESS OF THE COMPANY
Keywords:
creativity, creativity development program, staff, competitiveness, enterprise, company competitiveness
Abstract
The article is dedicated to topical issues of the company competitiveness increasing through the development staff's creativity skills, due to the fact that the growth of competition leads to the complexity of market processes, the need for innovation, which depends on the qualification level of staff, their creativity, ability to respond quickly to environmental challenges, potential readiness to implement these processes. The purpose of the article is to study the theoretical and methodological features of the stuff creativity in modern conditions and to develop recommendations for improving this process in order to increase the competitiveness of the enterprise. Factors that contribute to or hinder the innovative development of the company in modern conditions are identified and analyzed. It is emphasized that the basis of innovation activity is determined by: first, the presence of progressive staff of the enterprise, and secondly, conditions and space in the company for creativity development. Particular attention is paid to the introduction of early stages of "design thinking" innovation to change a corporate culture, especially in conditions of uncertainty. The strategic choice for many companies in Europe is the involving of the entire business ecosystem in customer-oriented solutions. The study shows that staff creativity is a condition for effective work of creative teams and basis for the formation of human capital of the enterprise, but also provides additional freedom, control reducing, decision-making independence. It is proved that human capital strengthens the company's human resources, increase its competitiveness, creates competitive advantages. The main directions and recommendations for organizing the work of the Assessment Center for the implementation of the program of creativity development are identified, the basic principles are formulated, the tasks and components of such training program are defined. Crucial place in the training program is occupied by tasks: firstly, assessing the competencies of potential employees in recruitment process, secondly - systematic work on the development of necessary competencies, providing recommendations for further personal development, and thirdly, programming and training and personal development of staff.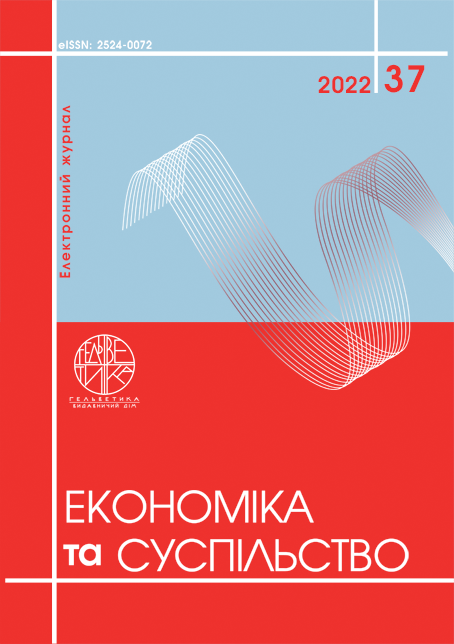 Article views: 49 PDF Downloads: 32
How to Cite
Tanasiuk, I., & Kirsho, S. (2022). DEVELOPMENT OF CREATIVITY OF PERSONNEL OF THE ENTERPRISE AS A STRATEGIC CONDITION FOR COMPETITIVENESS OF THE COMPANY. Economy and Society, (37). https://doi.org/10.32782/2524-0072/2022-37-76