FORMATION OF INTEGRATED COMMUNICATIONS AS THE BASIS OF MARKETING STRATEGIES OF MODERN BUSINESS
Keywords:
integrated marketing communication, synergy, advertising, sales promotion, strategic analysis, personal selling consumer behavior
Abstract
The article highlights the issues of modern approach to the organization of effective communication activities of the enterprise, which should consist of integrated marketing communications in the implementation of the communication concept, due to the shift of the concept in the market from price to communication format. Also, the process of organizing the effective promotion of goods and services in the modern market through the use of integrated marketing communications, the peculiarities of the process of their modeling and the role in shaping the commercial success of the enterprise. It is proved that marketing interactions, which reflect the essence of the market paradigm of modern economy, determine the movement of marketing communications in the direction of their integration, and that this trend is manifested in the formation of integrated communications, and the process of implementing integrated marketing communications is a process of introducing a new marketing paradigm. An analysis of the economic situation and the conclusion that in recent years in the field of financial relations are significant and profound changes, which are increasingly pronounced and with extraordinary speed and catalyst for such changes in addition to scientific and technological progress, has become a new round of global financial crisis. the world economy has not yet finally overcome. The tendencies of modern business are studied and it is proved that separate use of different means of marketing communications becomes impossible, and therefore there is a need for simultaneous application and combination of several complex means which at successful combination mutually increase efficiency of everyone, giving effect of synergy. The main task of communication activity of the enterprise is defined, which consists in improvement of technical and economic indicators and more effective work of all links of the enterprise for the purpose of realization of marketing strategy and formation of commercial success of the enterprise, maintenance of its investment attractiveness and dynamics of development.
References
Хмарська І.А. Сутність та значення комплексу маркетингових комунікацій підприємств. Вісник Хмельницького національного університету. 2011. № 6, т. 2. С. 114–118.
Крылов В.И. Директ-маркетинг в системе интегрированных маркетинговых коммуникаций [Электронный ресурс]: слайды // Международная конференция по ДМ Международный почтамт, Москва, 29-30 мая 2002. 19 с.
Бернет Дж. Маркетинговые коммуникации: интегрированный подход / Дж. Бернет, С. Мориарти ; пер. с англ. под ред. С. Г. Божук. СПб : Питер, 2001. 864 с.
Janet Smith. Integrated Marketing Communications Changes with he Times. Marketing Tools, November 1995.
Балабанова Л. В. Маркетинг : підручник [2-е вид., перероб. і доп.]. Київ : Знання-Прес, 2004. 645 с.
Khmarska I.A. (2011), Sutnist ta znachennia kompleksu marketynhovykh komunikatsiy pidpryiemstv [The nature and meaning of the complex of enterprise marketing communications]. Visnyk Khmelnytskoho natsionalnoho universytetu, no. 6, vol. 2, pp. 114–118.
Krylov V.I. (2002) Direct-marketing v sisteme integrirrovanykh marketingovykh kommunikatsiy [Direct marketing in the system of integrated marketing communications]. Proceedings of the po DM Mejdynarodniy pochtamt, Moskow, 29-30 maya. p. 19.
Bernet J., Moriarti S. (2001) Marketingovye kommunikatsii: integrirovannyiy podkhod [Marketing communications:integrated approach]. St.Petersburg: Piter, 864 p.
Janet Smith. (1995), Integrated Marketing Communications Changes with he Times. Marketing Tools, November.
Balabanova L.V. (2004), Marketyng [Marketing] 2-nd ed. Kyiv: Znannia-Pres, 645 p.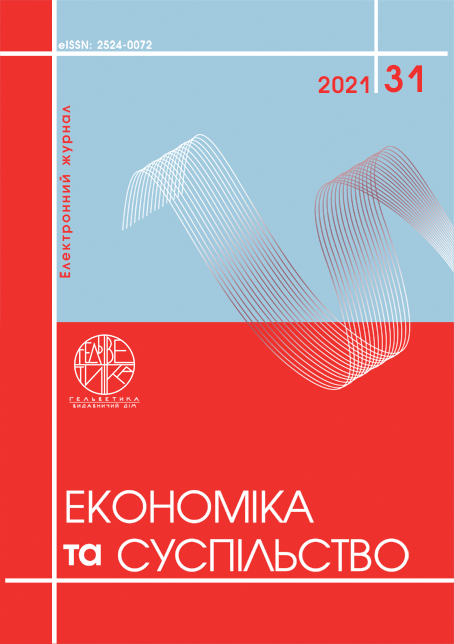 Article views: 62 PDF Downloads: 249
How to Cite
Lyshko, S. (2021). FORMATION OF INTEGRATED COMMUNICATIONS AS THE BASIS OF MARKETING STRATEGIES OF MODERN BUSINESS. Economy and Society, (31). https://doi.org/10.32782/2524-0072/2021-31-40