FOREIGN EXPERIENCE OF CORPORATE FINANCE MANAGEMENT AND ASSESSMENT OF ITS APPLYING IN UKRAINE
Keywords:
corporate finance, corporate management models, corporate finance management concepts, share capital, financing of the companies
Abstract
Studying, analysis and application of the fundamental practices of economically developed countries is the basis for forming an objective knowledge of world economic development, its laws and trends, historical stages and stages of financial management, both inside and outside the country. In our view, drawing on the corporate management foreign experience of advanced countries, it would be possible to identify the main methodological concepts that will improve the efficiency of capital management and increase the market value of the enterprise as a whole. At the same time the study of the current state of Ukrainian corporate management allows us to assess the possibilities by applying the best global practices of financial management in the domestic enterprises' activities. The aim of the article is studying the essence and features of global models of corporate management, making their comparative characteristics and the assessment of the possibility of using them in Ukraine. In this article were used methods of theoretical generalization, synthesis, analysis, comparison and systematization for the study of the essence features of global corporate models of corporate finance management and the possibilities of their application in the practice of domestic enterprises. The article examined the essence and characteristics of global models of corporate management. It was represented a comparative analysis of the Anglo-American, Japanese and German models of corporate finance management. It was defined the main criteria on which the basic principles of construction of foreign models of corporate governance are based. They are system of social values, basic methods of financing, cost of capital, its structure and capital market. It is studied peculiarities of financial management at domestic companies. It is estimated the possibilities of implementation of foreign experience in domestic practice of corporate finances.
References
Blank, I.O., Sytnyk, H.V., Andriiets, V.S. (2018). Upravlinnia finansamy pidpryiemstv [Enterprise financial management]. Pidruchnyk [a textbook]. Kyiv: KNEU, 791 p. (in Ukrainian)
Tereshchenko, O.O., Babiak, N.D., Ivashchenko, A.I., Kornyliuk, A.V., Kulish, A.P., Poddierohin, A.M., et.al. (2017). Innovatsiinyi rozvytok korporatyvnykh finansiv: tendentsii ta perspektyvy: monohrafiia [Innovative development of corporate finance: trends and prospects]. Monohrafiya [a monograph]. Kyiv: KNEU, 495 p. (in Ukrainian)
Shershnova, Z.Y. (Ed.). (2015). Instytuty korporatyvnoho upravlinnia v umovakh innovatsiinoi ekonomiky [Institutions of corporate governance in an innovative economy]. Kyiv: KNEU, 371 p. (in Ukrainian)
Zhylenko, K.M. (2018). Suchasni aspekty transnatsionalizatsii: teoriia, metodolohiia, praktyka [Modern aspects of transnationalization: theory, methodology, practice]. Monohrafiya [a monograph]. Dnipro: Bila K.O. [Ed.] 295 p. (in Ukrainian)
Abdulaiev, K.N. (2015). Korporatyvne upravlinnia: protsesy, stratehii, tekhnolohii [Corporate management: processes, strategies, technologies]. In Shaposhnykova K.S., Soloviovoi N.I., Stankevych Y.Y. (Ed.). Monohrafiya [a monograph]. Kherson: Helvetyka, 535 p. (in Ukrainian)
Lieonov, S.V., Pihul, N.H., Boiarko, I.M. (2013). Upravlinnia finansamy aktsionernoho tovarystva [Financial management of a joint stock company]. Navchalnyi posibnyk [a tutorial]. Sumy: SHEE "UAB NBU", 305 p. (in Ukrainian)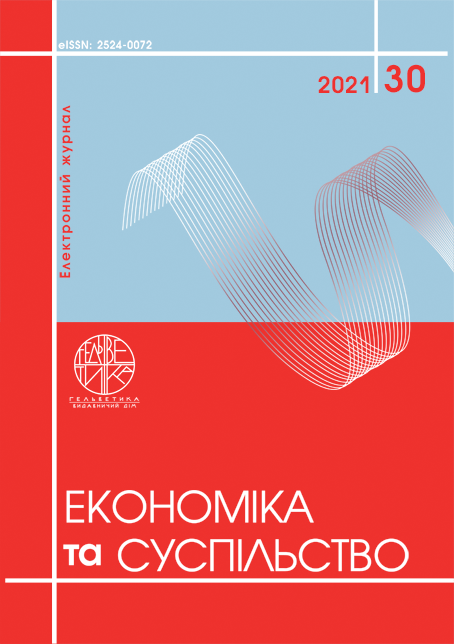 Article views: 86 PDF Downloads: 102
How to Cite
Melnyk, K. (2021). FOREIGN EXPERIENCE OF CORPORATE FINANCE MANAGEMENT AND ASSESSMENT OF ITS APPLYING IN UKRAINE. Economy and Society, (30). https://doi.org/10.32782/2524-0072/2021-30-52
Section
FINANCE, BANKING AND INSURANCE