DEVELOPMENT OF NOSTALGIC TOURISM WITHIN THE FRAMEWORK OF THE FESTIVAL MOVEMENT
Keywords:
nostalgic tourism, festival movement, ethnic culture, diaspora, Jewish people
Abstract
The article examines the main trends in the development of nostalgic tourism in the context of strengthening its role in maintaining and intensifying various contacts with foreign compatriots in the framework of the development of the festival movement. Festivals are a rapidly developing phenomenon, that is why they are often studied in different sciences. They play an important role in the development of tourism; therefore, it is important to conduct a comprehensive study of festivals within the framework of nostalgic tourism. The main thing in the festival is the feeling of celebration, which it gives to all its participants and visitors. It is thе atmosphere that attracts tourists from all over the world, which determines the exclusivity of festivals among other areas of nostalgic tourism. Nostalgic trips with a visit the festival can be quite attractive in the tourist market, especially for young people. Festivals are closely related to people and are widely perceived by human culture. As for tourism, festivals are studied as part of the cultural, urban and tourist spheres. The organization of festivals has great importance for the conservation of a unique cultural space of the country. When choosing a venue for festivals, they are usually guided by the historical past of these places. For example, for a festival dedicated to the memory of the Second World War, a park where there is an obelisk or a monument installed in memory of the Second World War is better suited. It is necessary to develop an idea and a plan, linking them with historical events, this will create the right mood that will most accurately reflect the goals and ideas of the festival. As an example, the festival "Jewish Open Space", which is visited almost annually by a huge number of tourists, including nostalgic ones, was considered. The article also examines the main potential of the clients base of consumers of nostalgic tours. Statistical data on the migration of Ukrainian Jews abroad is presented. It is concluded that the festival movement was not only one of the factors of preserving the elements of the ethnic culture of the Jewish people, but also contributed to the activation of the development of the tourism sector.
References
Кляп М.П. Сучасні різновиди туризму : Навчальний посібник. Київ : Знання, 2011. 334 с.
Пуцентейло П.Р. Економіка і організація туристично-готельного підприємництва : Навчальний посібник. Київ : Центр учбової літератури, 2007. 344 с.
Tomczewska-Popowycz Natalia. Eтнічний туризм та інші близькі форми туризму в східноєвропейській літературі. Przegląd Wschodnioeuropejski. 2017. Vol. 8, nr 1 (2017), s. 271–280.
Вікіпедія. URL: https://www.uk.wikipedia.org/wiki/Євреї
Офіційний сайт фестивалю. URL: https://www.jewishpeople.in.ua
Асоціація єврейських організацій та общин України. URL: https://www.vaadua.org
Стратегія повернення українців. URL: https://www.zn.ua
Klyap M.P. (2011) Suchasni riznovydy turyzmu: Navchalniy posibnik [Modern varieties of tourism: Tutorial]. Kyiv: Znannya, 334 p. (in Ukrainian)
Putsenteilo P. (2007) Economica i organizatsiya turistic-gotelnogo pidpryemnitsa: Navchalny posibnyk [Economics and organization of tourist and hotel entrepreneurship: Tutorial]. Kyiv: Tsentr uchbovoy literature, 344 p. (in Ukrainian)
Tomczewska-Popowycz Natalia (2017) Active tourism and other close forms of tourism in Eastern European literature [Etnichny turism tha inshi blizki form tourism vie skhidnoyevropeysky literature]. "Przegląd Wschodnioeuropejski", Vol. 8, nr 1, pp. 271–280. (in Ukrainian)
Wikipedia. Available at: https://www.uk.wikipedia.org/wiki/Євреї
Official website of the festival. Available at: https://www.jewishpeople.in.ua
Association of Jewish Organizations and Communities of Ukraine. Available at: https://www.vaadua.org
Strategy for the return of Ukrainians. Available at: https://www.zn.ua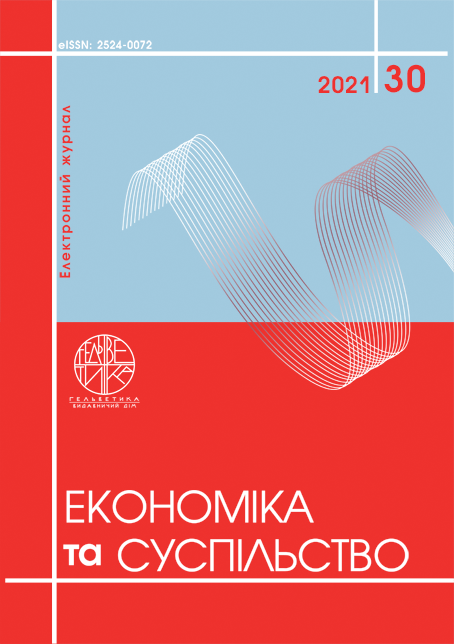 Article views: 76 PDF Downloads: 66
How to Cite
Pudrovska, M. (2021). DEVELOPMENT OF NOSTALGIC TOURISM WITHIN THE FRAMEWORK OF THE FESTIVAL MOVEMENT. Economy and Society, (30). https://doi.org/10.32782/2524-0072/2021-30-47