INFLUENCE OF DEVELOPMENT OF THE SPHERE OF PROGRAMMING ON LABOR PROPOSALS OF THE UKRAINIAN LABOR MARKET
Keywords:
hard skill, soft skill, IT industry, labour market, labour demands, digital world, availability of information, self-taught specialist
Abstract
The article investigates the main effects of programming development on the labour market and labour demands of Ukrainians. Based on theoretical analysis, it is established that more and more professions will be replaced by software work, which will result in the beginning of building positive dynamics of the digital world. An inverse correlation between the development of programming and the need for educational institutions can be traced through the analysis of the availability of information. However, based on the survey on the criteria of man's choice of profession, it was investigated that the IT branch is a comfortable prospect for development of man as a specialist. Because of which, it was deduced that as a result of the large flow of self-starters, measures of enrolment of job applicants will be adopted and redesigned, by changing the orientation from hard skills to personal soft skills of the individual. It is this reason that dispels the myth that educational institutions are unnecessary and serves as a counter-reinforcement for their continued validation. After all, educational institutions will no longer be seen as the only source of knowledge, but as a place for the all-round development of the individual, where the professional is not a separate entity, but an active social actor whose work is aimed at collective goal achievement and team cooperation. Thus, the development of the IT industry will continue to grow and open new vacancies due to the fact that the Ukrainian labor market provides a basis for the implementation of more effective software management processes. Moreover, the prosperity of the programming sector is a step to reassess the formation of labor demands in the Ukrainian labor market. At the same time, it is an opportunity for everyone, based on their own views and preferences, to achieve a high level of qualification in comfortable conditions, as remote working conditions and sufficient wages will increase the number of initial specialists and open new opportunities to solve previously unknown problems. So, all the facts stated above make it possible to state that the development of programming sphere is a new stage in the history of labor market's labor requirements formation and both personal and professional qualities of a person can be reevaluated.
References
Тернова І. А. Роль IT-сектору України у розвитку зовнішньоекономічної діяльності. Соціальна економіка. 2016. № 1. С. 69–76.
Касян С. Я. Е-послуги – Моделі та напрямки розвитку електронних послуг, ринок цифрових послуг. Дніпровський національний університет імені Олеся Гончара. 2019. № 8. С. 200–203.
Шелест О., Кутовий Я., Самоходський І. Розвиток української ІТ-індустрії. Аналітичний звіт / ред. О. Кубраков. Київ, 2018. 63 с. URL: https://ko.com.ua/files/u125/Ukrainian_IT_Industry_Report_UKR.pdf (дата звернення: 13.07.2021).
Білоус-Сергєєва С. О., Сафонова К. С. Проблема трудової міграції в Україні. її вплив на економіку країни. Вісник Приазовського державного технічного університету. Серія : Економічні науки. 2017. № 34. С. 327–335.
Как технологии изменят рынок труда к 2030 году. Інтерфакс-Україна. URL: https://delo.ua/business/kak-tehnologii-izmenjat-rynok-truda-k-2030-godu-359319/ (дата звернення: 22.07.2021).
Karen G. Hiring managers want to see you showcase these skills in your next job interview. CNBS. URL: https://www.cnbc.com/2020/01/27/career-advice-how-to-demonstrate-soft-skills-in-a-job-interview.html (date of access: 09.08.2021).
Ternova, I. A. (2016). Rol' IT-sektoru Ukrayiny u rozvytku zovnishn'oekonomichnoyi diyal'nosti [The role of the IT sector of Ukraine in the development of foreign economic activity]. Sotsial'na ekonomika, (1), 69–76. (in Ukrainian)
Kasyan, S. Ya. (2019). E-posluhy – Modeli ta napryamky rozvytku elektronnykh posluh, rynok tsyfrovykh posluh [E-services - Models and direct development of electronic services, market of digital services]. Dniprovs'kyy natsional'nyy universytet imeni Olesya Honchara, (8), 200–203. (in Ukrainian)
Shelest, O., Kutovyy, Ya., & Samokhods'kyy, I. (2018). Rozvytok ukrayins'koyi IT-industriyi. Analitychnyy zvit [Development of the Ukrainian IT industry. Analytical report] (O. Kubrakov, Red.). Available at: https://ko.com.ua/files/u125/Ukrainian_IT_Industry_Report_UKR.pdf (accessed 13 July 2021) (in Ukrainian)
Bilous-Serhyeyeva, S. O., & Safonova, K. S. (2017). Problema trudovoyi mihratsiyi v Ukrayini. yiyi vplyv na ekonomiku krayiny [The problem of labor migration in Ukraine. its impact on the country's economy]. Visnyk Pryazovs'koho derzhavnoho tekhnichnoho universytetu. Seriya : Ekonomichni nauky, (34), 327–335. (in Ukrainian)
Kak tekhnologii izmenyat rynok truda k 2030 godu [How technology will change the labor market by 2030]. (2019). Interfaks-Ukrayina. Available at: https://delo.ua/business/kak-tehnologii-izmenjat-rynok-truda-k-2030-godu-359319/ (accessed 22 July 2021) (in Russian)
Karen, G. (2020). Hiring managers want to see you showcase these skills in your next job interview. CNBS. Available at: https://www.cnbc.com/2020/01/27/career-advice-how-to-demonstrate-soft-skills-in-a-job-interview.html (accessed 09 August 2021) (in Ukrainian)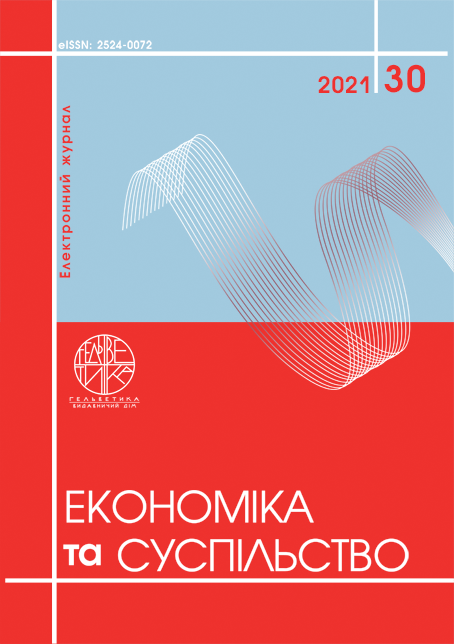 Article views: 109 PDF Downloads: 53
How to Cite
Burleev, O., Vasylenko, O., & Zaichenko, V. (2021). INFLUENCE OF DEVELOPMENT OF THE SPHERE OF PROGRAMMING ON LABOR PROPOSALS OF THE UKRAINIAN LABOR MARKET. Economy and Society, (30). https://doi.org/10.32782/2524-0072/2021-30-21