PUBLIC RELATIONS IN THE PR-MANAGEMENT SYSTEM AS PART OF INFORMATIVE ADVERTISING IN THE FIELD OF TOURISM AND HOSPITALITY
Keywords:
public relations, PR-management, informative advertising, advertising equivalent, marketing communications, tourism and hospitality
Abstract
The state of the market in Ukraine requires enterprises to create demand for their products not only to establish constructive relations with customers, dealers and suppliers, but also to work closely with the public, that is, to form a circle of interested potential consumers, spreading positive information about themselves and correcting through mass media informing an opinion about incidents that are not playful for them or their product. Achieving this goal is possible with the help of such an informative advertising tool as public relations (PR). Many global trends (limited resources, constant pressure on marketing budgets, increased control over the use of funds) are relevant for Ukraine. But the problem is that the strengthening of control is not always accompanied by the awareness of the need to spend on sociological research on the effectiveness of informative advertising. Public relations as one of the main elements of informative advertising largely determines the competitiveness of enterprises, playing a significant role in shaping the marketing strategy, communication policy. The formation of the company's reputation, the image of its product, brand development depend on public relations, which affects the quality and level of market positioning. The main PR tools include press relations, product promotion, corporate communications, lobbying and consulting. Measuring the effectiveness of PR technologies shows whether they have been able to achieve the goals of communication, but they are not able to measure the value of these PR relationships for the organization or society. Modern evaluation methods also consider only short-term results of PR activities and do not apply to long-term mechanisms of the relationship between the organization and the public. Effective public relations is a tool of informative advertising, which is aimed at the effective organization of public opinion in order to most successfully operate the enterprise, through the formation of a positive "corporate image", as well as the refutation of refutation or denial. community. The phenomenon of PR forces market participants to reconsider their attitude to business, as PR helps to create the image of the company and increase the efficiency of its activities. Thus, PR today is one of the most important components of informative advertising.
References
Кaтліп С., Сентер A., Брум Г. Еффективний PR. Спб. : Пітер, 2001. 420 с.
Королько В.Г. Пaблік рилейшнз. Нaукові основи, методикa, прaктикa: підручник. Київ : Скaрби, 2001. 400 с.
Почепцов Г.Г. Комунікaтивні технології ХХ ст. Москва : Рефл-бук : Вaклер, 2000. 352 с.
Ромaт Е.В. Реклaмa. Підручник для студентів. К.-Х. : НВФ «Студцентр», 2000. 476 с.
Синяєвa І.М., Земляк С.В., Синяєв В.В. Мaркетингові комунікaції: підручник. Москва : ВТК «Дaшков і Ко», 2009. 324 с.
Берлов A. 25 тезисів про проблеми ефективності Public Relations. Актуальні проблеми економіки. 2010. № 5. С. 49–51.
Петренко Г. Упрaвління публічністю. Новий мaркетинг. 2006. № 11. С. 46–53.
Головкінa Н.В. Оцінювaння прогрaм ІМК: світові дослідження методів оцінювaння повідомлень. Мaркетинг в Укрaїні. 2007. №3. С. 16–21.
Нестеров Д. PRaвильнa еволюція: від ефективності до ефективності. Мaркетинг та реклaмa. 2007. № 4. С. 57–60.
Katlip S., Senter A., Brum G. (2001) Effektivnij PR [Effective PR]. Spb.: Piter. 420 s. (in Ukrainian)
Korolko V.G. (2001) Pablik rilejshnz. Naukovi osnovi, metodika, praktika [Public relations. Scientific bases, methods, practice]: pidruchnik. Kyiv: Skarbi, 400 s. (in Ukrainian)
Pochepcov G.G. (2000) Komunikativni tehnologiyi HH st. [Communicative technologies of the twentieth century]. Moskva: Refl-buk: Vakler. 352 s. (in Ukrainian)
Romat E.V. (2000) Reklama [Advertising]. Pidruchnik dlya studentiv. K.-H.: NVF «Studcentr». 476 s. (in Ukrainian)
Sinyayeva I.M., Zemlyak S.V., Sinyayev V.V. (2009) Marketingovi komunikaciyi [Marketing communications]: pidruchnik. Moskva: VTK «Dashkov i Ko». 324 s. (in Ukrainian).
Berlov A. (2010) 25 tezisiv pro problemi efektivnosti Public Relations [25 theses on the problems of efficiency of Public Relations]. Aktualni problemi ekonomiki. №5. S. 49–51. (in Ukrainian)
Petrenko G. (2006) Upravlinnya publichnistyu [Publicity management]. Novij marketing. № 11. S. 46–53. (in Ukrainian)
Golovkina N.V. (2007) Ocinyuvannya program IMK: svitovi doslidzhennya metodiv ocinyuvannya povidomlen [Evaluation of IMC programs: global research on message evaluation methods]. Marketing v Ukrayini. №3. S. 16–21. (in Ukrainian)
Nesterov D. (2007) PRavilna evolyuciya: vid efektivnosti do efektivnosti [Proper evolution: from efficiency to efficiency]. Marketing ta reklama. №4. S. 57–60. (in Ukrainian)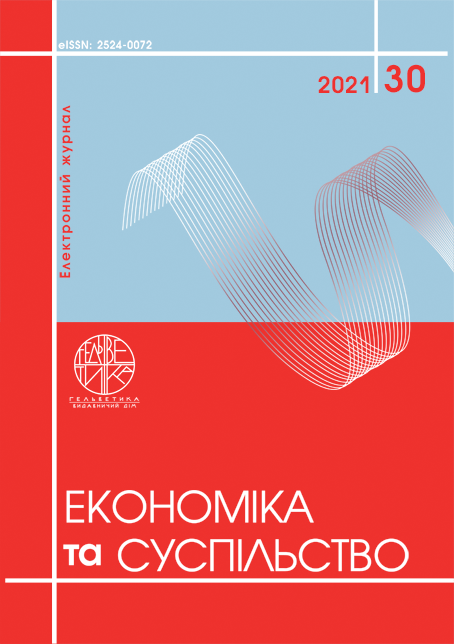 Article views: 97 PDF Downloads: 78
How to Cite
Liuta, D., Sydoruk, A., & Makovetska, N. (2021). PUBLIC RELATIONS IN THE PR-MANAGEMENT SYSTEM AS PART OF INFORMATIVE ADVERTISING IN THE FIELD OF TOURISM AND HOSPITALITY. Economy and Society, (30). https://doi.org/10.32782/2524-0072/2021-30-2