CONCEPT OF IMPLEMENTATION OF REGIONAL POLICY OF SMART-SPECIALIZATION IN UKRAINE ON THE PRINCIPLES OF STRUCTURAL AND TECHNOLOGICAL RECONSTRUCTION
Keywords:
regional development, smart specialization, intellectualization and digitalization, economic structure, strategizing
Abstract
The article is devoted to the aspects of formation and implementation of the state policy of smart specialization of regional development. It is shown that in the EU smart specialization is based on a partnership between representatives of business, government, scientific and technical institutions and the public in the development of key sectors of specialization in the region. At the same time, the priority is to stimulate projects aimed at ensuring the intellectualization and digital transformation of regional economies and society. It is argued that in Ukraine the implementation of smart specialization policy will be much more effective if it focuses on accelerating innovation and technological development, digitalization and intellectualization, as well as improving the structural characteristics of regional economic systems. The shortcomings of the processes of implementation of the regional policy of smart specialization and structural and technological restructuring in the regions of Ukraine are pointed out. In particular, such obstacles as insufficient level of infrastructure development of innovation and research, digitalization and implementation of its results in the real economy, the need for affordable investment, resistance of a number of actors to the introduction of modern information technologies, orientation of information and telecommunications for outsourcing, etc. The system of strategic tools of the state policy of smart specialization of regions is substantiated. It is argued on the need for institutionalization and implementation in Ukraine of the National Digital Literacy Program, the Program of Priority Actions for Entry into the Information Society, the Program of Measures to Combat Cyber Fraud in the Financial Sphere. The scientific novelty of the research results lies in the further development of conceptual provisions of strategic planning for the implementation of smart specialization policy in the regions of the state on the basis of structural and technological restructuring, in particular taking into account the typification of regions by level of innovation and technological development. The practical significance of the research results is that, depending on the degree of digitalization and intellectualization of regional economies, the appropriate type of strategy for further smart specialization with its own goals, objectives and means of achieving them is chosen.
References
Давимука С. А., Куйбіда В. С., Федулова Л. І. Тенденції розвитку нової регіональної політики країн-членів Європейського Союзу. Регіональна економіка. 2019. № 1 (91). С. 76–87.
Васильців Т. Г., Лупак Р. Л., Рудковський О. В. Роль сектору інформаційно-комунікаційних технологій у формуванні та реалізації потенціалу smart-спеціалізації на регіональному рівні. Держава та регіони. 2019. № 5 (110). С. 162–169.
Лупак Р. Л., Штець Т. Ф. Стратегічне програмування державної політики цифровізації реального сектору економіки України. Економіка та держава. 2020. № 1. С. 33–39.
Лупак Р. Л., Штець Т. Ф., Пришляк О. П. Інституціональні аспекти державного регулювання розвитку цифрової економіки України. Бізнес Інформ. 2020. № 1. С. 271–277.
Сербін О., Галаган Л. Інновації в науці як чинник розвитку знаннєвого середовища. Вісник Книжкової палати. 2012. № 5. С. 1–2.
Вахович І. М., Чуль О. М. Розвиток креативної економіки в умовах транскордонного співробітництва. Проблеми економіки. 2014. № 3. С. 182–186. URL: http://nbuv.gov.ua/UJRN/Pekon_2014_3_24.
Поснова Т. В., Химорода О. П., Тершак Н. А. Креативна економіка: сутність, особливості та передумови формування. Международный научный журнал «Интернаука». 2018. № 3 (43), 2 т. С. 81–87.
Тімонін О. М., Сиваш Ю. М. Креативність як чинник інноваційної діяльності підприємств. Причорноморські економічні студії. 2016. Вип. 11. С. 177–181.
Davymuka, S. A., Kyibida, V. S. & Fedulova, L. І. (2019). Tendenciyi rozvytku novoyi regionalnoyi polityky krayin-chleniv Evropeyskogo soyuzu [Trends in the development of new regional policies of the European Union member states]. Regional economy, 1 (91), 76–87. DOI: https://doi.org/10.36818/1562-0905-2019-1-9 (in Ukrainian)
Vasyltsiv, T. G., Lupak, R. L. & Rudkovskyi, О. V. (2019). Rol sektoru informaciyno-komunikaciynyh tehnologiy u formuvanni ta realizaciyi potencialu smart-specializaciyi na regionalnomu rivni [The role of the information and communication technology sector in the formation and implementation of the potential of smart specialization at the regional level]. State and regions, 5 (110), 162–169. DOI: https://doi.org/10.32840/1814-1161/2019-5-30 (in Ukrainian)
Lupak, R. L. and Shtets, T. F. (2020). Strategichne programuvannia derzhavnoyi polityky cyfrovizaciyi realnogo sektoru ekonomiky Ukrainy [Strategic programming of the state policy of digitalization of the real sector of the economy of Ukraine]. Economy and state, 1, 33–39. DOI: https://doi.org/10.32702/2306-6806.2020.1.33 (in Ukrainian)
Lupak, R. L., Shtets, T. F. & Pryshliyak, O. P. (2020). Instutycionalni aspekty derzhavnogo regulyuvannia rozvytku cyfrovoyi ekonomiky Ukrainy [Institutional aspects of state regulation of digital economy development in Ukraine]. Biznes-Inform, 1, 271–277. DOI: https://doi.org/10.32983/2222-4459-2020-1-271-277 (in Ukrainian)
Serbin, О. and Galagan, L. (2012). Innovaciyi v nauci yak chynnyk rozvytku znannyevogo seredovyshcha [Innovations in science as a factor in the development of the knowledge environment]. Bulletin of the Book Chamber, no. 5, 1–2. Available at: http://nbuv.gov.ua/UJRN/vkp_2012_5_12 (in Ukrainian)
Vakhovych, I. M. & Chul, O. M. (2014). Rozvytok kreatyvnoyi ekonomiky v umovah transkordonnogo spivrobitnytstva [Development of creative economy in conditions of cross-border cooperation]. Problems of economy, 3, 182–186. Available at: http://www.problecon.com/export_pdf/problems-of-economy‑2014-3_0-pages‑182_186.pdf (in Ukrainian)
Posnova, Т. V., Hymoroda, О. P. & Tershak, N. А. (2018). Kreatyvna ekonomika: sutnist, osoblyvosti ta peredumovy formuvannia [Creative economy: essence, features and preconditions of formation]. International science journal «Internauka», 3 (43), 81–87. Available at: http://nbuv.gov.ua/UJRN/mnj_2018_3%282%29__21 (in Ukrainian)
Timonin, О. М. and Syvash, Yu. М. (2016). Kretyvnist yak chynnyk innovaciynoyi diyalnosti pidpryemstv [Creativity as a factor of innovative activity of enterprises]. Prychornomorian economical studies, 11, 177–181. Available at: http://nbuv.gov.ua/UJRN/bses_2016_11_40 (in Ukrainian)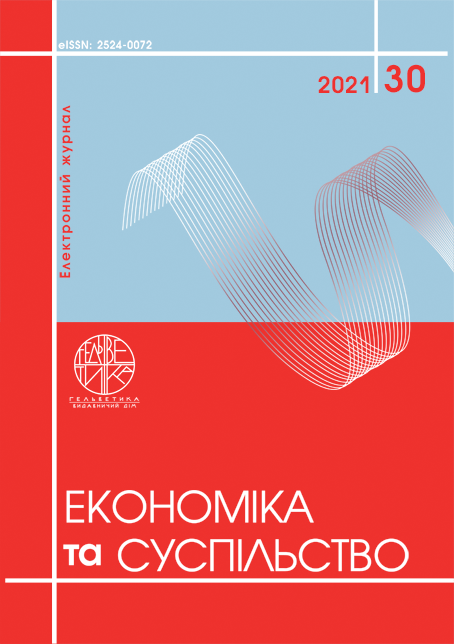 Article views: 221 PDF Downloads: 183
How to Cite
Vasyltsiv, T., & Levytska, lha. (2021). CONCEPT OF IMPLEMENTATION OF REGIONAL POLICY OF SMART-SPECIALIZATION IN UKRAINE ON THE PRINCIPLES OF STRUCTURAL AND TECHNOLOGICAL RECONSTRUCTION. Economy and Society, (30). https://doi.org/10.32782/2524-0072/2021-30-1