RESHAPING THE REGIONAL ECONOMIC INTEGRATION: THE CASE OF NAFTA-USMCA TRANSFORMATION
Keywords:
integration, regional trade agreement, NAFTA, economic integration, free trade agreement
Abstract
Global trends indicate that the activation of integration processes characterize the state-of-the-art situation of the world economy. The WTO statistics show the constant growth in the number of regional trade agreements (RTA). These RTAs are not the static entities of the global economy but dynamic actors which are reshaping all the time (Brexit, NAFTA-USMCA transformation, Ukraine's exit from the CIS can prove this). The objective of this study is the recent change in the NAFTA agreement as one of the most influential RTA in the world. According to The World Bank data in 2019 global GDP consisted of NAFTA's GDP on 28 %, global export consisted of NAFTA's export on 12 %, meanwhile, NAFTA's import was 19 % of the global one. The investigation shows that all of the NAFTA countries took the advantage of the deal and had their benefits. Separately they would never have achieved such astounding results in quite a short period of time.
References
World Trade Organization: Regional Trade Agreements Database. URL: http://rtais.wto.org/UI/PublicMaintainRTAHome.aspx
United States International Trade Commission "U.S. Mexico Canada Trade Agreement: Likely Impact on the U.S. Economy and on Specific Industry Sectors" URL: https://www.usitc.gov/publications/332/pub4889.pdf
Mary E. Burfisher, Frederic Lambert, and Troy Matheson, (2019) "NAFTA to USMCA: What is gained?" IMF Working Paper. URL: https://www.imf.org/en/Publications/WP/Issues/2019/03/26/NAFTA-to-USMCA-Whatis-Gained-46680
USITC "Potential Impact on the U.S. Economy and Selected Industries of the North American Free-Trade Agreement". (1993). URL: https://www.usitc.gov/publications/332/pub2596.pdf
Zylkin, T. (2016). Beyond Tariffs: Quantifying Heterogeneity in the Effects of Free Trade Agreements. GPN Working Paper, Global Production Networks Centre, College of Arts & Social Sciences, National University of Singapore. URL: http://www.tomzylkin.com/uploads/4/1/0/4/41048809/beyondtariffs web_.pdf
The World Bank Database. URL: https://www.worldbank.org/
World Integrated Trade Solutions. URL: https://wits.worldbank.org/CountryProfile/en/Country/CAN/Year/2018/Summary
The Economist Intelligence Unit Database. URL: https://www.eiu.com/n/
Office of the United States Trade Representative. "Mexico". URL: https://ustr.gov/countries-regions/americas/mexico
Office of the United States Trade Representative. "Canada". URL: https://ustr.gov/countries-regions/americas/canada
Global Affairs Canada "The CanadaUnited States-Mexico Agreement: Economic Impact Assessment". URL: https://www.international.gc.ca/trade-commerce/assets/pdfs/agreements-accords/cusma-aceum/CUSMA-impact-repercussion-en.pdf
Amadeo, K. (2018). Why NAFTA's Six Advantages Outweigh Its Six Disadvantages. The Balance. URL: https://www.thebalance.com/nafta-pros-and-cons-3970481
Parsons, C. NAFTA and the Environment in Mexico. Modern Latin America. URL: https://library.brown.edu/create/modernlatinamerica/chapters/chapter-12-strategies-for- economic-developmen/nafta-free-trade-and-the-environment-in-mexico/
Sierra Club. NAFTA's Impact on Mexico. URL: http://vault.sierraclub.org/trade/downloads/nafta-and-mexico.pdf
United States International Trade Commission. The Year in Trade 2018 Operation of the Trade Agreements Program. URL: https://www.usitc.gov/publications/332/pub4986.pdf
Congressional Research Service. "The North American Free Trade Agreement (NAFTA)". URL: https://crsreports.congress.gov/product/pdf/R/R42965
U.S. International Trade Commission. URL: https://www.usitc.gov/
International Trade Administration's Office of Textiles and Apparel. URL: https://otexa.trade.gov/
U.S. Department of Agriculture. URL: https://www.usda.gov/
OECD. URL: https://www.oecd.org/
Kirby, J. (2020). USMCA, Trump's new NAFTA deal, explained in 600 words. Vox. URL: https://www.vox.com/2018/10/3/17930092/usmca-mexico-nafta-trump-trade-deal-explained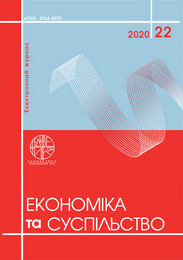 Article views: 760 PDF Downloads: 271
How to Cite
Fedorova, N., Ziubanov, H., & Ladushyna, O. (2020). RESHAPING THE REGIONAL ECONOMIC INTEGRATION: THE CASE OF NAFTA-USMCA TRANSFORMATION. Economy and Society, (22). https://doi.org/10.32782/2524-0072/2020-22-10
Section
INTERNATIONAL ECONOMIC RELATIONS