TOOLS FOR EVALUATION OF QUALITY AND EFFECTIVENESS OF VOCATIONAL EDUCATION
Keywords:
vocational education, quality management, social partnership, analytical tools, external monitoring
Abstract
The article is devoted to relevant issues of improving the quality and effectiveness of vocational education in the context of decentralization, digitalization and social partnership development. Modern approaches and tools for assessing the quantitative and qualitative characteristics of vocational training are analyzed and systematized. Domestic and international experience in organizing internal (module-rating assessment of student performance, computer testing, internal monitoring, self-examination by vocational institutions, internal audits) and external (licensing, accreditation, state supervision, external monitoring of the vocational education system, independent assessment of the quality of vocational training, rankings, professional-skill competitions and public accreditation of educational programs) evaluation of vocational education is studied. The possibilities of expanding analytical tools by using innovative ones, that can comprehensively assess the key parameters of the vocational training development in order to further plan, manage, ensure and improve quality, as well forecast the personnel needs in the labour market, are outlined. A continuous external monitoring of the quality of vocational training and the efficiency of graduates' employment is one of effective tools widely used in many countries. In this context, it is advisable for Ukraine to strengthen the participation of various stakeholders in the process of evaluating the quality and effectiveness of vocational education at all levels. This might initiate social dialogue and encourage companies interested in qualified labour force to cooperate with vocational education institutions; secondly, to track the needs for new professions and specialties, as well as take part in the development of a national system of qualifications and standards for vocational education, work plans and training programs. Moreover, there is the need for establishing special independent commissions composed of the representatives of stakeholders to conduct independent attestation of vocational education graduates. All the tools mentioned are supposed to become a reliable basis for effective strategizing of vocational training development and for significant changing of the image and perception of vocational education by increasing its prestige.
References
EU4Skills: кращі навички для сучасної України / Міністерство освіти і науки України. URL: https://mon.gov.ua/ua/tag/eu4skills (дата звернення: 14.07.2021)
Оцінка та прогноз потреби в кадрах для підприємств Львівської області: Звіт про виконання наукового проекту на замовлення Львівської ОДА / У.Я. Садова, О.С. Гринькевич, О.З. Сорочак, О.В. Махонюк, О.М. Вільчинська та ін. Львів 2017, 48 c.
Гринькевич О.С., Левицька О.О. Інституційне середовище забезпечення якості системи вищої освіти: міжнародний і національний аспекти. Наук. вісн. Ужгород. нац. ун-ту. Сер.: Міжнар. екон. відносини та світове господарство. Ужгород, 2017. Вип. 15(1). С. 84-90. URL: http://www.visnyk-econom.uzhnu.uz.ua/archive/15_1_2017ua/21.pdf (дата звернення: 20.07.2021)
Формування підходу до забезпечення якості у відповідності до системи EQAVET. Рекомендації для закладів професійно-технічної освіти / Секретаріат EQAVET, Дублін, 2012. 8 с.
Грень Л.М. Управління професійно-технічною освітою на державному та регіональному рівнях: зарубіжний досвід. Публічне управління та митне адміністрування. 2019, № 3 (22), С. 47-56. DOI: https://doi.org/10.32836/2310-9653-2019-3-47-56
Децентралізація професійно-технічної освіти (ПТО) в Україні – поштовх до дій. Зелена книга для спрямування обговорень щодо реформ та здібностей, необхідних для побудови досконалої та привабливої системи ПТО в Україні / Європейський фонд освіти, Міністерство освіти і науки України, 2017. 88 с. URL: https://mon.gov.ua/storage/app/media/pto/materialy/06/1-zelena-knigaukr.pdf (дата звернення: 14.07.2021)
Савченко І.М., Волкова Т.В. Зарубіжний досвід інноватики в сфері взаємодії професійно-технічних навчальних закладів з роботодавцями та науковими установами: методичні рекомендації. К.: ІПТО НАПН України, 2011. 60 с. URL: https://lib.iitta.gov.ua/8026/1/ZAR_DOSVID.pdf (дата звернення: 15.07.2021)
EU4Skills: krashchi navychky dlya suchasnoyi Ukrayiny [EU4Skills: the best skills for modern Ukraine]. Available at: https://mon.gov.ua/ua/tag/eu4skills (accessed 14 July 2021)
Sadova U., Hrynkevych O., Sorochak O., Makhonyuk O., Vilchynska O. et al. (2017) Otsinka ta prohnoz potreby v kadrakh dlya pidpryyemstv Lʹvivsʹkoyi oblasti [Assessment and forecast of personnel needs for enterprises of Lviv region]. Zvit pro vykonannya naukovoho proektu na zamovlennya Lʹvivsʹkoyi oblasnoyi derzhavnoyi administratsiyi [Report on the implementation of a research project commissioned by the Lviv Regional State Administration]. Lviv, 48 p. (in Ukrainian)
Hrynkevych O.S., Levytska O.O. (2017) Instytutsiyne seredovyshche zabezpechennya yakosti systemy vyshchoyi osvity: mizhnarodnyy i natsionalʹnyy aspekty [Institutional environment for quality assurance in higher education system: international and national aspects]. Naukovyy visnyk Uzhhorodsʹkoho natsionalʹnoho universytetu, vol. 15(1). pp. 84-90. Available at: http://www.visnyk-econom.uzhnu.uz.ua/archive/15_1_2017ua/21.pdf (accessed 20 July 2021)
Formuvannya pidkhodu do zabezpechennya yakosti u vidpovidnosti do systemy EQAVET [Building a quality assurance approach in line with the EQAVET-framework]. Rekomendatsiyi dlya zakladiv profesiyno-tekhnichnoyi osvity [Guidelines for VET-providers]. EQAVET Secretariat, Dublin, 2012. 8 p.
Hren L.M. (2019) Upravlinnya profesiyno-tekhnichnoyu osvitoyu na derzhavnomu ta rehionalʹnomu rivnyakh: zarubizhnyy dosvid [Management of vocational education at the state and regional levels: foreign experience]. Publichne upravlinnya ta mytne administruvannya, no 3(22), pp. 47-56. DOI: https://doi.org/10.32836/2310-9653-2019-3-47-56.
Detsentralizatsiya profesiyno-tekhnichnoyi osvity (PTO) v Ukrayini – poshtovkh do diy [Decentralization of vocational education (VE) in Ukraine – a push to action]. Zelena knyha dlya spryamuvannya obhovorenʹ shchodo reform ta zdibnostey, neobkhidnykh dlya pobudovy doskonaloyi ta pryvablyvoyi systemy PTO v Ukrayini [Green Paper to guide discussions on the reforms and capabilities needed to build a perfect and attractive VE system in Ukraine]. ETF, MES of Ukraine, 2017, 88 p. Available at: https://mon.gov.ua/storage/app/media/pto/materialy/06/1-zelena-knigaukr.pdf (accessed 14 July 2021)
Savchenko I.M., Volkova T.V. (2011) Zarubizhnyy dosvid innovatyky v sferi vzayemodiyi profesiyno-tekhnichnykh navchalʹnykh zakladiv z robotodavtsyamy ta naukovymy ustanovamy [Foreign experience of innovation in the field of interaction of vocational schools with employers and research institutions]. Metodychni rekomendatsiyi [Guidelines]. Kyiv: IPTO NAPN, 60 p. Available at: https://lib.iitta.gov.ua/8026/1/ZAR_DOSVID.pdf (accessed 15 July 2021)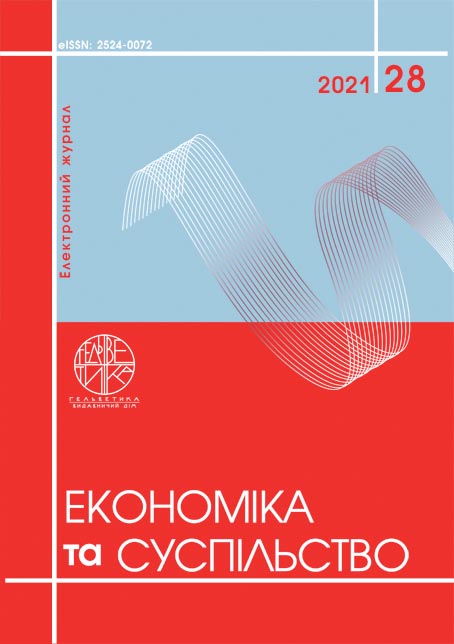 Article views: 116 PDF Downloads: 75
How to Cite
Levytska, O. (2021). TOOLS FOR EVALUATION OF QUALITY AND EFFECTIVENESS OF VOCATIONAL EDUCATION. Economy and Society, (28). https://doi.org/10.32782/2524-0072/2021-28-41