ACCOUNTING AND ANALYTICAL SUPPORT FOR VOLUNTARY STATEMENTS OF INTERNATIONAL STARTUP BUSINESS
Keywords:
accounting, reporting, voluntary statements, innovations, international startup business
Abstract
The paper article discusses the nature of voluntary reporting and reveals its place in the system of accounting and analytical support of international startup project management. The paper proposes and grounds understanding the concept of " voluntary statements" as statements, prepared by business entities, their units and associations for dissemination of quality information selected by the governing bodies of reporting entities and recognized as expedient for development and reaching goals in the economic, social and / or research spheres. In order to substantiate methodological approaches to the integration processes of formation and usage of voluntary statements in the system of accounting and analytical management of innovative enterprises, the progressive experience of foreign companies was analyzed, so the paper proposes the directions of its application to increase innovative attractiveness of domestic start-up projects.
References
Gale W., Brown S. (2013) Small business, innovation, and tax policy: A review. Innovation, and Tax Policy: A Revie, Available at: https://mpra.ub.uni-muenchen.de/57384/1/1001675-Small-Business-Innovation-and-Tax-Policy-A-Review.pdf
Global Map of Startup Ecosystems. Available at: https://www.startupblink.com/
Hrechko, A., Ocheretiana, O. (2021). Non-financial reports as a tool to increase the investment attractiveness of the enterprise. Economy and Society, no 25. Available at: https://economyandsociety.in.ua/index.php/journal/article/view/274/262
Matteo La Torre (2018) Harmonising non-financial reporting regulation in Europe: Practical forces and projections for future research. Meditari Accountancy Research . Available at: https://www.semanticscholar.org/paper/Harmonising-non-financial-reporting-regulation-in-Torre-Sabelfeld /25dbd84269017282a3c600d48ea635a63aa90794?p2df (accessed 31 May 2021)
Perrini F. (2006) The practitioner's perspective on non-financial reporting. California Management Review, no 48.2 P. 73-103. Available at: https://iris.unibocconi.it/handle/11565/51635#.YLUZzKj7RPY
Stolowy H., Paugam L. (2018) The expansion of non-financial reporting: an exploratory study. Accounting and Business Research no 48.5. P. 525-548. Available at: https://www.tandfonline.com/doi/pdf/10.1080/00014788.2018.1470141
Vakulchyk O.M., Sabarska Ye.V. (2019) Vykorystannia mizhnarodnykh standartiv finansovoi zvitnosti subiektamy maloho biznesu v Ukraini [Use of international financial reporting standards by small businesses in Ukraine]. Skhidna Yevropa: ekonomika, biznes ta upravlinnia - Eastern Europe: Economy, Business and Management, no 1 (18). Available at: http://www.easterneurope-ebm.in.ua/journal/18_2019/46.pdf
WIPO. The Global Innovation Index Ranking 2020. Available at: https://www.wipo.int/edocs/pubdocs/en/wipo_pub_gii_2020.pdf
Gale W., Brown S. (2013) Small business, innovation, and tax policy: A review. Innovation, and Tax Policy: A Revie, URL: https://mpra.ub.uni-muenchen.de/57384/1/1001675-Small-Business-Innovation-and-Tax-Policy-A-Review.pdf
Global Map of Startup Ecosystems. URL: https://www.startupblink.com/
Hrechko, A., Ocheretiana, O. (2021). Non-financial reports as a tool to increase the investment attractiveness of the enterprise. Economy and Society, no 25. URL: https://www.economyandsociety.in.ua/index.php/journal/article/view/274/262
Matteo La Torre (2018) Harmonising non-financial reporting regulation in Europe: Practical forces and projections for future research. Meditari Accountancy Research . URL: https://www.semanticscholar.org/paper/Harmonising-non-financial-reporting-regulation-in-Torre-Sabelfeld /25dbd84269017282a3c600d48ea635a63aa90794?p2df
Perrini F. (2006) The practitioner's perspective on non-financial reporting. California Management Review, no 48.2 P. 73-103. URL: https://iris.unibocconi.it/handle/11565/51635#.YLUZzKj7RPY
Stolowy H., Paugam L. (2018) The expansion of non-financial reporting: an exploratory study. Accounting and Business Research no 48.5. P. 525-548. URL: https://www.tandfonline.com/doi/pdf/10.1080/00014788.2018.1470141
Вакульчик О.М. Сабарська Є.В. Використання міжнародних стандартів фінансової звітності суб'єктами малого бізнесу в Україні. Східна Європа: економіка, бізнес та управління. 2019. № 1 (18). С. 279-287. URL: http://www.easterneurope-ebm.in.ua/journal/18_2019/46.pdf
WIPO. The Global Innovation Index Ranking 2020. URL: https://www.wipo.int/edocs/pubdocs/en/wipo_pub_gii_2020.pdf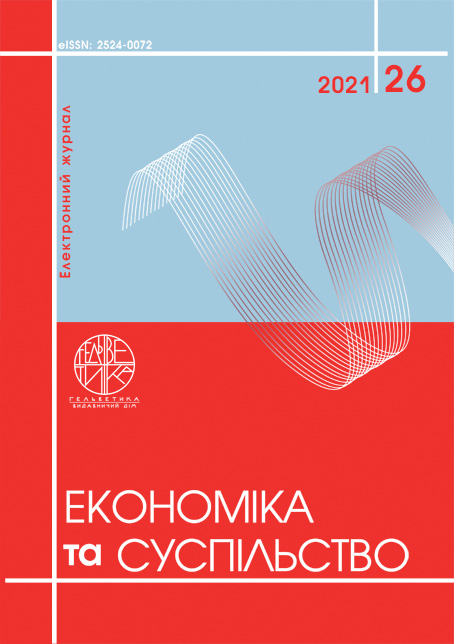 Article views: 94 PDF Downloads: 152
How to Cite
Prokopishyna, O. (2021). ACCOUNTING AND ANALYTICAL SUPPORT FOR VOLUNTARY STATEMENTS OF INTERNATIONAL STARTUP BUSINESS. Economy and Society, (26). https://doi.org/10.32782/2524-0072/2021-26-77
Section
ACCOUNTING AND TAXATION