THE VALUE AND ROLE OF BUDGET CONTROL IN THE SYSTEM OF THE BUDGET PROCESS
Keywords:
budget control, Constitution of Ukraine, budget funds, budget legislation, state sector, state administration
Abstract
In Ukraine, budget control brings up questions of effectiveness of the use of budget funds as financial management, and its results are almost not used in budgeting and management decisions. The author notes that control over the targeted use of budget funds, compliance with budget legislation, condition and use of state and municipal property should become more effective, focused not only on detection but mainly on prevention of financial offenses, should create a basis for specific management decisions. An effective system of budgetary control can be created only on this basis in the state sector. The need for budget control, its essence and significance are determined by the state system and the Constitution of Ukraine. When analyzing the Budget Code of Ukraine, the question arises as to whether control is a stage of the budget process. According to the author, budget control is not an independent stage of the budget process, as it takes place at all stages of the budget process and accompanies the entire process of formation, distribution and use of a centralized fund of funds - state and local budgets. The article states that budget control is a necessary procedure to support the stage of preparation, review and approval of the Budget Declaration or local budget forecast, drafting the budget, review and approval of the budget, budget execution, as well as preparation, review and approval of the report on the budget.
References
Бюджетний кодекс України від 8 липня 2010 р. № 2456-VI / Офіційний вісник України : [збірник нормативно-правових актів]. Київ : Українська правова інформація, 2010. С. 9–84.
Гетманець О.П. Напрямки удосконалення внутрішнього бюджетного контролю. Вісник господарського судочинства. 2007. № 4. С. 91–94.
Лопушняк Г.С., Дем'янишин В.Г. Системи забезпечення та технології бюджетного процесу : [навч.-метод. посіб.]. Тернопіль : Економічна думка, 2006. 175 с.
Письменна Т. Принципи бюджетного контролю: теоретична інтерпретація та практика виконання. Світ фінансів. 2011. № 4. С. 115–127.
Чернадчук В.Д. Бюджетний контроль: поняття та сутність. Підприємництво, господарство і право. 2002. № 11. С. 74‒76.
Biudzhetnyi kodeks Ukrainy vid 8 lypnia 2010 r. № 2456-VI / Ofitsiinyi visnyk Ukrainy : [zbirnyk normatyvno-pravovykh aktiv]. Kyiv : Ukrainska pravova informatsiia, 2010. S. 9–84.
Hetmanets O.P. Napriamky udoskonalennia vnutrishnoho biudzhetnoho kontroliu. Visnyk hospodarskoho sudochynstva. 2007. № 4. S. 91–94.
Lopushniak H.S., Demianyshyn V.H. Systemy zabezpechennia ta tekhnolohii biudzhetnoho protsesu : [navch.-metod. posib.]. Ternopil : Ekonomichna dumka, 2006. 175 s.
Pysmenna T. Pryntsypy biudzhetnoho kontroliu: teoretychna interpretatsiia ta praktyka vykonannia. Svit finansiv. 2011. № 4. S. 115–127.
Chernadchuk V.D. Biudzhetnyi kontrol: poniattia ta sutnist. Pidpryiemnytstvo, hospodarstvo i pravo. 2002. № 11. S. 74‒76.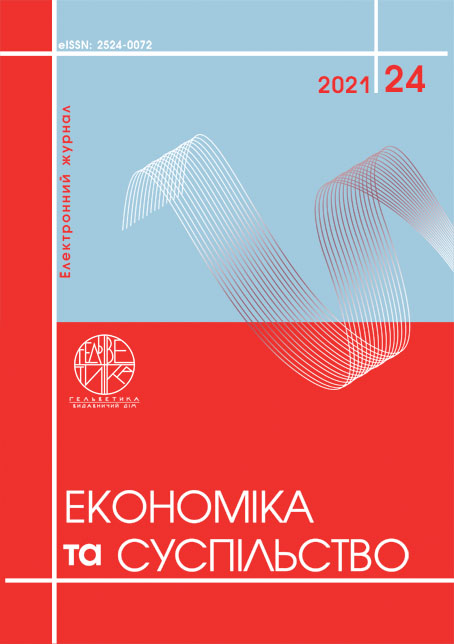 Article views: 302 PDF Downloads: 220
How to Cite
Iliashenko, A. (2021). THE VALUE AND ROLE OF BUDGET CONTROL IN THE SYSTEM OF THE BUDGET PROCESS. Economy and Society, (24). https://doi.org/10.32782/2524-0072/2021-24-33
Section
FINANCE, BANKING AND INSURANCE