TRENDS IN THE DEVELOPMENT OF ENERGY INNOVATION IN IN MODERN CONDITIONS
Keywords:
innovation, energy innovation, renewable energy, The Global energy innovation Index
Abstract
The article is devoted to topical issues of research of tendencies of development of innovations in the energy sphere in modern conditions. The main prerequisites for the implementation of innovations in the energy sector, in particular, the Paris Agreement and the Global Sustainable Development Goals by 2030 were determined. The importance of determining technological and organizational innovations in the field of energy based on the experience of foreign countries is noted. To determine the leading countries for the introduction of innovative technologies in the energy sector, we analyzed the ranking of countries on the Global Index of Energy Innovation from the organization ITIF. Identified structural elements of the index in the context of functional areas, namely: generation of options (Public Investment in Clean Energy RD&D, Public Investment in Basic Energy Science, Diversity of RD&D by Technology Type, etc.), Scale-Up (Climate Change Mitigation Patent Applications, CCS Demonstrations, High-Impact Cleantech Start-Ups, EY Renewable Energy Country Attractiveness Index, etc.) and social legitimacy (Effective Carbon Price, Incl. Fossil Fuel Subsidies, Fuel Taxes, International Cooperation in Clean Energy RD&D etc.). Visualized and analyzed the ratio of the global index of energy innovation and GDP per capita for 23 countries ranked with the global index of energy innovation. Identified the main countries on the list that invest in energy innovation in direct proportion to GDP (Norway, USA, Denmark, the Netherlands, Austria, China), and countries that invest in the development of innovative technologies in the energy sector regardless of GDP and are countries with high-tech economy. Separately identified those countries that invest more in supporting fossil fuels and can negatively affect the development of environmental innovations in energy. The main measures and programs of countries with a high index of global energy innovation were considered.
References
Colin C., Hart D., The Global Energy Innovation Index. Information Technology and Innovation Foundation, 2019.
World Bank. Open Data. URL: https://data.worldbank.org/ (дата звернення: 14.10.2020).
Ministry of Petroleum and Energy of Norway. The Government's carbon capture and storage strategy. URL: https://www.regjeringen.no/en/topics/energy/carbon-capture-and-storage/the-governments-carbon-capture-and-storage-strategy/id2353948/ (дата звернення: 12.10.2020).
Ministry of Economic Affairs and Employment of Finland. Renewable energy in Finland. URL: https://tem.fi/en/renewable-energy#:~:text=In%20Finland%20renewable%20energy%20sources,cent%20of%20energy%20end%2Dconsumption.&text=The%20most%20important%20forms%20of,wind%20power%20and%20ground%20heat (дата звернення: 12.10.2020).
Strategic Energy Plan of Japan. URL: https://www.enecho.meti.go.jp/en/category/others/basic_plan/5th/pdf/strategic_energy_plan.pdf (дата звернення: 1.10.2020).
Colin Cunliff, D. (2019, August 26). The global energy innovation index: National contributions to the global clean energy innovation system. Retrieved October 10, 2020, from: https://itif.org/publications/2019/08/26/global-energy-innovation-index-national-contributions-global-clean-energy.
Kashiwase, H., Baffes, J., Herzog, T., & Pape, U. (2020, October 14). World bank open data. Retrieved October12, 2020, from: https://data.worldbank.org/
Ministry of Petroleum and Energy of Norway (2020). The government's carbon capture and storage strategy. Retrieved October 12, 2020, from: https://www.regjeringen.no/en/topics/energy/carbon-capture-and-storage/the-governments-carbon-capture-and-storage-strategy/id2353948/
Renewable energy – Ministry of economic affairs and employment (2020). Retrieved October 12, 2020, from: https://tem.fi/en/renewable-energy#:~:text=In%20Finland%20renewable%20energy%20sources,cent%20of%20energy%20end%2Dconsumption.&text=The%20most%20important%20forms%20of,wind%20power%20and%20ground%20heat
Strategic energy plan. (2018). Retrieved October 1, 2020, from: https://www.enecho.meti.go.jp/en/category/others/basic_plan/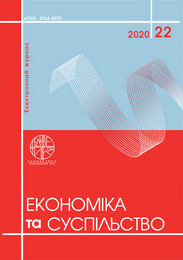 Article views: 168 PDF Downloads: 168
How to Cite
Trofymenko, O. (2020). TRENDS IN THE DEVELOPMENT OF ENERGY INNOVATION IN IN MODERN CONDITIONS. Economy and Society, (22). https://doi.org/10.32782/2524-0072/2020-22-90