LOCAL BRANDS AND THE MECHANISM OF GEOGRAPHICAL INDICATIONS OF FOODS IN A STRATEGY OF THE DEVELOPMENT OF DOMESTIC TOURISM ENTERPRENEURSHIP
Keywords:
gastronomic tourism, food trends, local brands, enogastronomical routes, geographical indications, region image
Abstract
Gastronomic tourism is distinguished as one of the types of tourism industry, what allows to become acquainted with culinary traditions of various cuisines of the world which contain some specificities of the raw materials used, the technology of production, some methods of serving and consumption. Moreover, gastronomic tourism provides the opportunity to learn deeply about the concrete country, its regions, some local features of which have an impact on the culture and the traditions of consumption. Among the other modern trends of production and consumption of food, the enogastronomical roots are starting to gain interest. The article reviews the opportunities of the impact and the practical use of this experience on the operation of domestic tourism businesses. The utilization of protected geographical indicationshas found its effective use in world countries which consider this mechanism being an efficient way to protect national products, brands and manufacturers. Geographical indications, as which can also be seen local food, thanks to their creativity, unique characteristics, the signs of authenticity and belonging to cultural-historical inheritance, the lifestyle of individual regions, areas, ethnicities are capable not only of protection of "the authorship", but also attraction of consumers, tourists, stimulation of the development of individual areas as a whole. Taking into account the existing world experience as well as the trends in food industry and the requirements of modern consumers regarding the services in tourism industry, the article illustrates the organization of enogastronomical routes and the mechanism of geographical indicationsof the products as a capability of innovative development and increasing the competitiveness of domestic tourism industry in country's regions. There are proposed some ways to use the advantages of cultivation and realization of local foods both for local consumers and tourists. The attention is paid to the importance of activization of the processes of the creation of the national products with the status as geographical indications, their modern marketing accompaniment and positioning in order to form the attractive image of the regions, attention to their historical inheritance and modern accomplishments.
References
Корнілова В.В., Корнілова Н.В. Сучасні тенденції розвитку гастрономічного туризму. Ефективна економіка. 2018. № 2. URL: http://www.economy.nayka.com.ua/?op=1&z=6112
Криволапчук В., Филь С. Правова охорона географічних зазначень у контексті угоди про асоціацію між Україною та ЄС. Теорія і практика інтелектуальної власності. 2018. №3.
Ходаківський Є.І., Якобчук В.П., Литвинчук І.Л. Інтелектуальна власність: економіко-правові аспекти : навч. посіб. Київ : Центр учбової літератури, 2017. 504 с.
Мотузенко О.О., Липова М.О. Еногастрономічний туризм як засіб підтримки національного виробника на прикладі Одеської області. Географія та туризм. 2013. № 24. С. 108–119.
Саверіо Савіо: географічні зазначення відкриють в Україні нову туристичну пропозицію. URL: https://zruchno.travel/News/New/4577?lang=ua
Расулова А.М. Потенціал ресторанного бізнесу у розвитку гастрономічного туризму України. Економіка та держава. 2015. № 5. С. 78–83.
Про виконання Угоди про асоціацію між Україною, з однієї сторони, та Європейським Союзом, Європейським співтовариством з атомної енергії і їхніми державами-членами, з іншої сторони: Постанова Кабінет Міністрів України від 25.11.2017 р. № 1106. Офіційний вісник України. 2018. № 24. Ст. 852.
Вдовічен А.А., Зінченко В.А. Основні фактори впливу на інноваційний розвиток туристичного бізнесу в Україні. Вісник Чернівецького торговельно-економічного інституту. Економічні науки. 2018. № 1–2. С. 31–39.
Гулич О.І. Перспективи України та її регіонів у реалізації соціогуманістичної парадигми розвитку туристично-рекреаційного сектору економіки. Регіональна економіка. 2014. №. 3. С. 76–85.
Угода про торговельні аспекти прав інтелектуальної власності. URL: https://zakon.rada.gov.ua/laws/show/981_018 (дата звернення: 02.03.2020).
Kornilova V.V., Kornilova N.V. (2018). Suchasni tendentsii rozvytкu hastronomichnoho turyzmu. [The modern trends of gastronomic tourism development]. Efektyvna ekonomika. – Efficient economy. № 2. Retrieved from: http://www.economy.nayka.com.ua/?op=1&z=6112. (in Ukrainian)
Kryvolapchuk V., Fyl І. (2018). Pravova okhorona heohrafichnykh zaznachen u konteksti uhody pro asotsiatsiiu mizh Ukrainoiu ta YeS. [Legal protection of geographical indications in the context of the Association Agreement between Ukraine and the EU.]. Teoriia i praktyka intelektualnoi vlasnosti. 3. (in Ukrainian)
Khodakivskyi Ye.I., Yakobchuk V.P., Lytvynchuk I.L. (2017). Intelektualna vlasnist: ekonomiko-pravovi aspekty: pidruchnyk [Intellectual Property: economic and legal aspects]. Kyiv: Tsentr uchbovoi literatury, 504 p. (in Ukrainian)
Motuzenko, O.O., and M.O. Lypova. (2013). Enohastronomichnyi turyzm yak zasib pidtrymky natsionalnoho vyrobnyka na prykladi Odeskoi oblasti. [Winegastronomic tourism as a means to support national manufacturer by the example of the Odessa region]. Heohrafiia ta turyzm – Geography and tourism, 24, 108–119. (in Ukrainian)
Saverio Savio: heohrafichni zaznachennia vidkryiut v Ukraini novu turystychnu propozytsiiu: Retrieved from: https://zruchno.travel/News/New/4577?lang=ua
Rasulova A.M. (2015). Potentsial restorannoho biznesu u rozvytku hastronomichnoho turyzmu Ukrainy. [Restaurant business potential in the development of Ukrainian gastronomic tourism]. Ekonomika ta derzhava – Economy and state, 5, 78–83. (in Ukrainian)
Pro vykonannia Uhody pro asotsiatsiiu mizh Ukrainoiu, z odniiei storony, ta Yevropeiskym Soiuzom, Yevropeiskym spivtovarystvom z atomnoi enerhii i yikhnimy derzhavamy-chlenamy, z inshoi storony: Postanova Kabinet Ministriv Ukrainy vid 25.11.2017 r. № 1106. Ofitsiinyi visnyk Ukrainy. № 24. 2018. St. 852. (in Ukrainian)
Vdovichen, A.A., and V.A. Zinchenko. (2018). Osnovni faktory vplyvu na innovatsiinyi rozvytok turystychnoho biznesu v Ukraini. [Main factors of influences upon innovative development of tourism business in Ukraine]. Visnyk Chernivetskoho torhovelno-ekonomichnoho instytutu. Ekonomichni nauky – Bulletin of the Chernivtsi Trade and Economic Institute. Economic sciences, 1–2, 31–39. (in Ukrainian)
Hulych O.I. (2014). Perspektyvy Ukrainy ta yii rehioniv u realizatsii sotsiohumanistychnoi paradyhmy rozvytku turystychno-rekreatsiinoho sektoru ekonomiky. [Prospects of Ukraine and its regions in the implementation of socio-humanistic paradigm of development of tourist and recreational sector of economy]. Rehionalna ekonomika. – Regional economy, 3, 76–85. (in Ukrainian)
Uhoda pro torhovelni aspekty prav intelektualnoi vlasnosti. [Agreement on Trade-Related Aspects of Intellectual Property Rights]. Retrieved from: https://zakon.rada.gov.ua/laws/show/981_018 (in Ukrainian)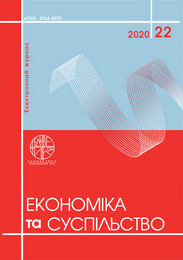 Article views: 122 PDF Downloads: 137
How to Cite
Zakharchyn, R. (2020). LOCAL BRANDS AND THE MECHANISM OF GEOGRAPHICAL INDICATIONS OF FOODS IN A STRATEGY OF THE DEVELOPMENT OF DOMESTIC TOURISM ENTERPRENEURSHIP. Economy and Society, (22). https://doi.org/10.32782/2524-0072/2020-22-70