DEMOGRAPHIC SITUATION IN UKRAINE AT THE PRESENT STAGE: CHALLENGES AND THREATS
Keywords:
demographic situation, population migration, population census, the migration crisis, war in Ukraine, refugees
Abstract
The study examines the problem of the deterioration of the current demographic situation in Ukraine and investigates the trends of labor migration of the Ukrainian population during the war. Population aging is a global process. On the one hand, civilization progress provides for the extension of the human age due to the higher quality of medical services and the pharmaceutical industry, on the other hand, it is a powerful challenge for the economic and pension systems of a country. Today, government policy should be aimed at balancing the extension of the lifespan and the economic capabilities of the country. That is, only a well-thought-out and effective socio-economic policy can contribute to the improvement of the demographic situation. Russian aggression against Ukraine has caused a humanitarian crisis and the fastest exodus of refugees to Europe since World War II. The scale and pace of migration, and significant military and civilian casualties pose a threat to the demographic, economic, and social security of Ukraine. According to the UN, more than 8 million people have left Ukraine since February 24, 2022. Currently, there are almost 5.3 million refugees from Ukraine in Europe. These are mostly women and children. The number of people crossing the border keeps growing. Almost every European country accepts Ukrainians and provides asylum. The main recipient countries of forcibly displaced persons are neighboring Ukraine: Poland, Romania, Slovakia, Hungary, and Moldova. The purpose of the study is to analyze the main reasons affecting the decline in the birth rate in Ukraine and to determine the main trends and directions of migration processes since the beginning of the full-scale invasion of Russia into Ukraine. Considerable attention is focused on determining the consequences of the outflow of the working population of productive age on the Ukrainian economic development in the future and probable government measures to encourage the return of Ukrainian citizens to their homeland. The necessity and basic principles of the population census were also emphasized. Only with the availability of information about the exact number of the population, national and family composition, employment, sources of income, etc., it is possible to determine the main directions of the country's social and economic policy, to implement the high-quality provision of social and economic services and make effective decisions at the government level. After the end of the war, the problem of improving the Ukrainian demographic situation will be extremely urgent.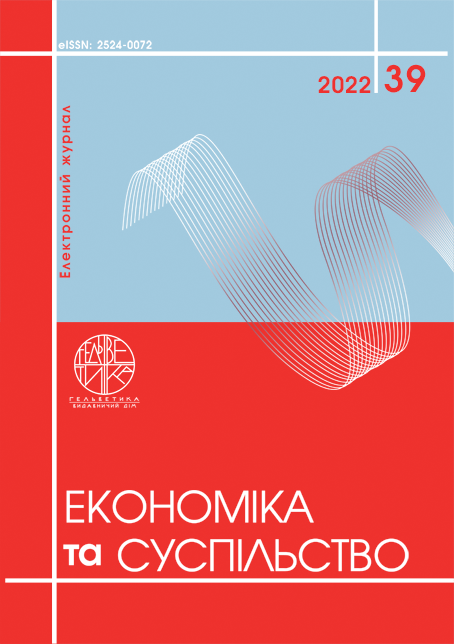 Article views: 28 PDF Downloads: 18
How to Cite
Gerlach, I., & Ukraynets, L. (2022). DEMOGRAPHIC SITUATION IN UKRAINE AT THE PRESENT STAGE: CHALLENGES AND THREATS. Economy and Society, (39). https://doi.org/10.32782/2524-0072/2022-39-83
Section
INTERNATIONAL ECONOMIC RELATIONS