MOTELS OF UKRAINE: SERVICE MARKET RESEARCH
Keywords:
hotel business, motel, accommodation, service, services, booking site
Abstract
The article highlites the motel market as a component of hotel services provided by Ukrainian accommodation companies. Motels are part of the accommodation infrastructure. This segment of hotel establishments, which has certain peculiarities in functioning, is quite promising and has all the prerequisites for further development, even in today's difficult conditions for Ukraine, when many Ukrainians became internally displaced due to hostilities in their homes and faced lack of such accommodation facilities, when traveling in conditions of limited travel time due to the imposed curfew. To determine the ways of development of a particular motel, the key point is to study the services that have already been implemented in the functioning of the accommodation of this type. The purpose of the article is to study the market of motels in Ukraine, analysis and comparison of the available range of services provided in motels of Ukraine. The structural-dynamic analysis of the market of motels of Ukraine as accommodation establishments according to official open sources is carried out. According to the results of the analysis of the data of the booking site Hotels of Ukraine.com, a study of the representation of motels according to the geographical location within the regions of Ukraine, a study of the list of services offered in motels and their distribution among hotels; data on the service provided in motels of Ukraine are analyzed, grouped and generalized in the form of diagrams. The results of the study show that the market of motels in Ukraine is quite diverse, although in general it is a rather small segment of accommodation infrastructure; The presented motels provide a fairly wide range of services, with most of the services provided in motels not dependent on geographical location. The study of the range of additional services of motels in Ukraine in accordance with the preferences of guests, cost-effective options for their implementation and geographical location and the results can be applied in practice to identify development paths for any motel and increase its competitiveness in the hotel services market.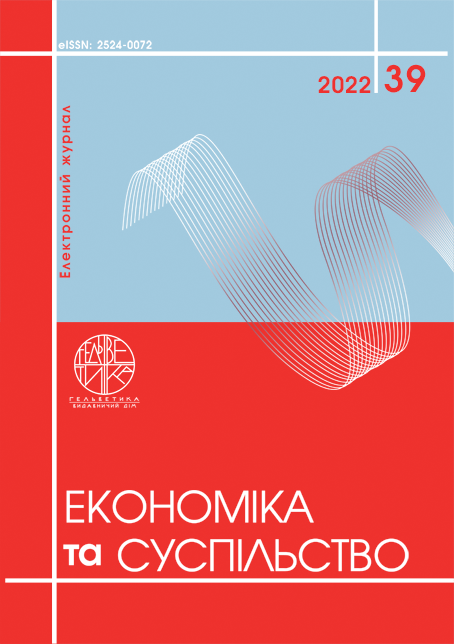 Article views: 33 PDF Downloads: 25
How to Cite
Andrenko, I., & Deikun, T. (2022). MOTELS OF UKRAINE: SERVICE MARKET RESEARCH. Economy and Society, (39). https://doi.org/10.32782/2524-0072/2022-39-74
Section
HOTEL AND RESTAURANT BUSINESS