THE CONCEPT OF FORMING THE MARKETING STRATEGY OF AGRICULTURAL ENTERPRISES
Keywords:
strategy, agricultural enterprise, marketing, concept of formation, market
Abstract
The article is devoted to the topical issues of defining the concept of forming the marketing strategy of agrarian enterprises. Various approaches to the formation and essence of the marketing strategy of enterprises are analyzed. It is noted that the formation of a marketing strategy is the main stage in the process of strategic management of an agricultural enterprise, it plays a significant role in the enterprise's activity. The marketing strategy is considered, which is part of the general corporate strategy of the enterprise and is designed to describe how the enterprise should use its resources in order to increase the profit from economic activity in the long term. The main components of marketing strategy development and formation, which are essential for agricultural enterprises, including information gathering and market research, are analyzed; analysis of external and internal components of agrarian business; creation of action plans and identification of competitive advantage; choosing the best plan that corresponds to the common mission of the enterprise; strategy implementation and evaluation. It is noted that at the current stage, the marketing strategy of enterprises can be focused both on the entire market and on separate target segments, taking into account the main strategic directions: the strategy of mass or undifferentiated marketing, focused on the market as a whole; the strategy of differentiated marketing, the goal of covering the largest possible number of market segments by means of the production of goods specially designed for this is realized; concentrated marketing strategy, efforts and resources of the enterprise are directed to one market segment. It has been proven that the influence of the chosen concept, which must take into account all components of agricultural production, is of particular importance in the formation of a marketing strategy: seasonality and cyclical production, the duration of the operating cycle, the interrelationship of the branches of agricultural production, the price of products, assortment and quality, the direction of product sales and influence of all generalizing factors on managerial decision-making. An important component is that managers of agricultural enterprises recognize the proper importance of marketing, the need to develop a marketing strategy and the conditions for its effective implementation.
References
Куденко Н.В. Стратегічний маркетинг : навч. посіб. Київ, 1998. 152 с.
Решетнікова І.Л. Стратегія маркетингу. Особливості формування на вітчизняних підприємствах : монографія. Луганськ : ВУГУ, 2017. 270 с.
Кіндрацька Г.І. Стратегічний менеджмент. Монографія. Київ : Знання, 2006. 366 с.
Івченко Є.А. Дослідження підходів щодо визначення сутності маркетингової стратегії підприємства. Механізм регулювання економіки. 2009. № 4. С. 90–96.
Федулова Л.І. Сучасні концепції менеджменту : навч. посіб. Київ, 2007. 536 с.
Борисенко О.С., Фісун Ю.В. Маркетинг відносин як сучасна концепція маркетингу. Інфраструктура ринку. 2017. Вип. 7. С. 107–113. URL: http://www.market-infr.od.ua/journals/2017/7_2017_ukr/20.pdf
Kudenko N.V. (1998) Strategichnyi marketing [Strategic marketing]. Kyiv. (in Ukrainian)
Reshetnikova I.L. (2017) Osoblyvosti formuvannya na vitchyznyanykh pidpryyemstvakh [Marketing strategy. Features of formation at domestic enterprises: monograph]. Lugansk: VUGU. (in Ukrainian)
Kindratska G.I. (2006) Stratehichnyj menedzhment [Strategic management]. Kyiv: Znannia. (in Ukrainian)
Ivchenko, E.A. (2009) Doslidzhennia pidkhodiv schodo vyznachennia sutnosti marketynhovoi stratehii pidpryiemstva [Investigation of approaches to determine the essence of enterprise marketing strategy]. Mekhanizm rehuliuvannia ekonomiky, vol. 4, pp. 90–96. (in Ukrainian)
Fedulova L.I. (2007) Suchasni kontseptsii menedzhmentu [Modern conceptions of management]. Kyiv. (in Ukrainian)
Borysenko O.S., Fisun U.V. (2017) Marketing vidnosyn iak suchasna kontseptsiia marketingu [Relationship marketing as a modern marketing contract]. Infrastruktura rynku, no. 7, pp. 107–113. Available at: http://www.market-infr.od.ua/journals/2017/7_2017_ukr/20.pdf (in Ukrainian)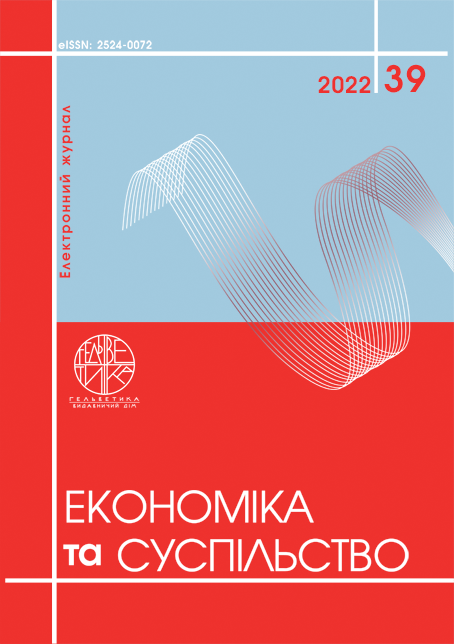 Article views: 20 PDF Downloads: 19
How to Cite
Koval, O. (2022). THE CONCEPT OF FORMING THE MARKETING STRATEGY OF AGRICULTURAL ENTERPRISES. Economy and Society, (39). https://doi.org/10.32782/2524-0072/2022-39-81