CHALLENGES OF THE INTRODUCTION OF THE CENTRAL BANK'S DIGITAL CURRENCY IN THE CONTEXT OF THE NEW EVOLUTIONARY FORM OF MONEY IN UKRAINE: WORLD EXPERIENCE
Keywords:
digital currencies of central banks, fiat money, interbank settlements, bank, e-hryvnia
Abstract
The article is devoted to the study of the modern model of digital currency systems of central banks (CBDC) in order to determine the most promising its introduction in the field of retail payments, wholesale payments and other financial transactions in Ukraine. The rapid growth of the role of digital technologies in the financial sector, the emergence of innovative ways to provide them are the reason for the increased attention of financial regulators to the development of new tools for making faster, safer and more transparent payments. The idea of central banks issuing their own digital currencies currently deserves the mt attention.The author made a SWOT analysis of the CBDC, which identified the disadvantages and advantages of the introduction of digital currency. The stages and experience of CBDC implementation in foreign countries were also described. The state of introduction of digital currency of central banks in Ukraine, in particular e-hryvnia, is considered. According to a survey of financial experts in the percentage of e-hryvnia use, the most potential may be in retail non-cash payments between individuals. Digital money will significantly change the rules for users – banks do not need to know who pays whom and for what, and they will not be the nominal holder of digital money. Banks have invested in modern infrastructure and are likely to try to avoid additional costs in the face of a possible outflow of such cheap resources as current accounts. However, it is concluded that the emergence of digital currencies of central banks is due to the need to improve the efficiency of monetary and payment systems and is aimed at maintaining the role of central banks as issuers of money. Based on this, business leaders can decide how best to locate their institutions in the future by properly allocating investment in cryptocurrencies, risk reduction tools and models. The main advantages of digital currencies for retail payments are the sentence of highly liquid, low-risk and universally available means of payment. The emergence of digital currencies of central banks may lead to a significant transformation of the architecture of the international financial system, the role of public money.
References
Cryptocurrencies and tokens, ECB FXCG update. URL: https://www.ecb.europa.eu/paym/groups/pdf/fxcg/2018/20180906/Item_2a_-_Cryptocurrencies_and_tokens.pdf (дата звернення: 23.04.2022)
Hazik Mohamed. Implementing a Central Bank Issued Digital Currency with Economic Implications Considerations (2020). International Journal of Islamic Economics and Finance (IJIEF). Vol. 3, № 1. URL: https://journal.umy.ac.id/index.php/ijief/article/view/7582 (дата звернення: 23.04.2022)
Хуторна М., Запорожець С., Ткаченко Ю. Цифрові валюти центральних банків: світові тренди та перспективи в Україні. Соціальна економіка. 2021. № 61. С. 123–134. DOI: https://doi.org/10.26565/2524-2547-2021-61-12 (дата звернення: 22.04.2022)
Аналітична записка за результатами пілотного проекту із впровадження платформи «Електронна гривня» та електронних грошей Національного банку України (е-гривні). Національний банк України. 2019. URL: https://www.bank.gov.ua/ (дата звернення: 23.04.2022)
Опитування щодо можливості запровадження е-гривні. Національний банк України. URL: https://promo.bank.gov.ua/euah/ (дата звернення: 23.04.2022)
НБУ визначив три напрями використання е-гривні. Фінансовий клуб. URL: https://finclub.net/ua/news/natsbank-obrav-try-varianty-vykorystannia-ehryvni.html (дата звернення: 23.04.2022)
Про платіжні послуги: Закон України від 30.06.2022 р. № 1591-IХ : станом на 25 квіт. 2022 р. URL: https://zakon.rada.gov.ua/laws/show/1591-20#Text (дата звернення: 25.04.2022)
Таскомбанк та фінтех компанія Bitt запускають пілотний проєкт електронних грошей на блокчейні Stellar. Офіційний сайт Міністерства фінансів України. URL: https://minfin.com.ua/ua/2021/12/15/77362758/ (дата звернення: 25.04.2022)
Гулей А.І. Цифрова трансформація вітчизняного банківського середовища в умовах розвитку фінтех-екосистеми. Український журнал прикладної економіки. 2019. Т. 4, № 1. С. 6–15. URL: http://nbuv.gov.ua/UJRN/ujae_2019_4_1_3 (дата звернення: 27.04.2022)
Cryptocurrencies and tokens, ECB FXCG update, Available at: https://www.ecb.europa.eu/paym/groups/pdf/fxcg/2018/20180906/Item_2a_-_Cryptocurrencies_and_tokens.pdf (accessed April 23, 2022)
Hazik Mohamed (2020) Implementing a Central Bank Issued Digital Currency with Economic Implications Considerations. International Journal of Islamic Economics and Finance (IJIEF). Vol. 3, no №1. Available at: https://journal.umy.ac.id/index.php/ijief/article/view/7582 (accessed April 23, 2022)
Khutorna M., Zaporozhets S., Tkachenko Yu. (2021) Tsyfrovi valiuty tsentralnykh bankiv: svitovi trendy ta perspektyvy v Ukraini. [Digital currencies of central banks: global trends and prospects in Ukraine]. Sotsialna ekonomik, no (61), p. 123–134. DOI: https://doi.org/10.26565/2524-2547-2021-61-12 (accessed April 22, 2022)
Analitychna zapyska za rezultatamy pilotnoho proektu iz vprovadzhennia platformy «Elektronna hryvnia» ta elektronnykh hroshei Natsionalnoho banku Ukrainy (e-hryvni) (2019). Natsionalnyi bank Ukrainy. Available at: https://www.bank.gov.ua/ (accessed April 23, 2022)
Opytuvannia shchodo mozhlyvosti zaprovadzhennia e-hryvni. Natsionalnyi bank Ukrainy. Available at: https://www.bank.gov.ua/ (accessed April 23, 2022)
NBU vyznachyv try napriamy vykorystannia e-hryvni. Finansovyi klub. Available at: https://finclub.net/ua/news/natsbank-obrav-try-varianty-vykorystannia-ehryvni.html (accessed April 23, 2022)
Pro platizhni posluhy: Zakon Ukrainy vid 30 April 2022. № 1591- IХ. Available at: https://zakon.rada.gov.ua/laws/show/1591-20#Text (accessed April 25, 2022)
Taskombank ta fintekh kompaniia Bitt zapuskaiut pilotnyi proiekt elektronnykh hroshei na blokcheini Stellar. Ofitsiinyi sait Minsterstva finansiv Ukrainy. Available at: https://minfin.com.ua/ua/2021/12/15/77362758/ (accessed April 25, 2022)
Hulei A. (2019) Tsyfrova transformatsiia vitchyznianoho bankivskoho seredovyshcha v umovakh rozvytku fintekh-ekosystemy. [Digital transformation of the domestic banking environment in the conditions of fintech ecosystem development]. Ukrainskyi zhurnal prykladnoi ekonomiky, vol. 4, № 1, pp. 6–15. Available at: http://nbuv.gov.ua/UJRN/ujae_2019_4_1_3 (accessed April 25, 2022)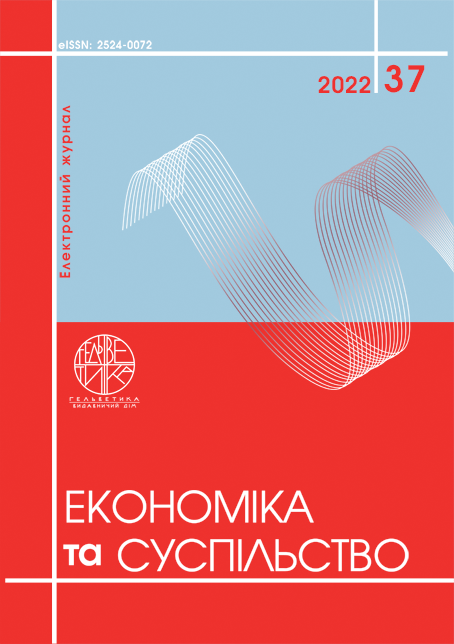 Article views: 90 PDF Downloads: 59
How to Cite
Riabokin, M. (2022). CHALLENGES OF THE INTRODUCTION OF THE CENTRAL BANK'S DIGITAL CURRENCY IN THE CONTEXT OF THE NEW EVOLUTIONARY FORM OF MONEY IN UKRAINE: WORLD EXPERIENCE. Economy and Society, (37). https://doi.org/10.32782/2524-0072/2022-37-63
Section
FINANCE, BANKING AND INSURANCE