INTERNATIONAL LABOR MIGRATION IN MODERN CONDITIONS AND ITS INFLUENCE ON THE STATE'S MIGRATION POLICY
Keywords:
migration, labor force, international labor migration, consequences of migration policy
Abstract
The purpose of this article is a detailed study of the process of international labor migration, identifying the positive and negative aspects of labor migration and systematization of phenomena that contribute to labor migration. Confirmation of the relevance of this article is that the problem of international labor migration, despite the significant time of its existence, is the object of increased attention of the scientific community. Among the most pressing issues are several controversial and unresolved issues, such as employment policy, migration in the context of economic reform, as well as the impact of migration processes on the demographic situation in the country as a whole. Nowadays, scholars have not reached a consensus on issues related to international migration. On the one hand, some scholars see this process as quite positive for the country and its economy as a whole, but other scholars believe that the migration process, despite all its positive, also has a number of serious shortcomings, ignoring which can lead to catastrophic consequences. International labor migration is an integral part of the world's economies, but practice shows that this process is difficult to control and has not been fully studied by the international scientific community. Migrant workers, working in the countries of destination, contribute to the development and economic growth of the latter, gaining experience, professional skills, experience, and a certain amount of currency, which in turn contributes to the development of the country of origin of migrants. However, in addition to preferences, the migration process involves some difficulties, primarily in establishing migration links between countries, as well as international cooperation in regulating the activities of migrant workers and protecting their rights. During the research, the stimulating motives of labor migration were identified and singled out, the positive and negative consequences of this process on the economy of Ukraine were analyzed and the impact of the COVID-19 pandemic on international migration processes was determined.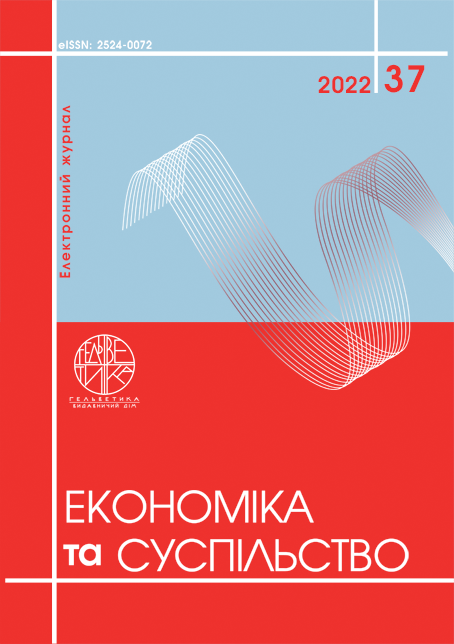 Article views: 113 PDF Downloads: 123
How to Cite
Dzenis, O., & Sharko, N. (2022). INTERNATIONAL LABOR MIGRATION IN MODERN CONDITIONS AND ITS INFLUENCE ON THE STATE'S MIGRATION POLICY. Economy and Society, (37). https://doi.org/10.32782/2524-0072/2022-37-20
Section
INTERNATIONAL ECONOMIC RELATIONS