THE INFLUENCE OF INTERNATIONAL INSTITUTIONS ON THE FINANCIAL STATUS OF UKRAINE IN WAR
Keywords:
martial law, International Monetary Fund, international finance, international credit, financial system
Abstract
In the article the authors analyze the impact of international institutions on the financial condition of Ukraine during the war. The study made it possible to identify both the negative and positive aspects of the financial process during martial law. Ukraine in the pre-war period made a significant leap in rebuilding the capacity of the national economy after 2014 and the current war has affected all sectors of the economy and led to stagnation or outright decline in most sectors of the country, but the financial situation of the country by the Russian Federation, is assessed as "moderate". The current credit ratings of Ukraine's debt obligations since the beginning of Russia's armed aggression in the conditions when the National Bank of Ukraine creates conditions for proper work in extremely difficult conditions have been assessed. The economic situation, opportunities and pre-war realities of Ukraine have been studied, taking into account the economic and political losses of Ukraine from the occupation of parts of Luhansk, Donetsk regions and the ARC since 2014. Prospects for the introduction of a package of financial assistance to Ukraine to continue resistance against the aggressor by attracting financial resources from international financial institutions are considered. It is proved that the example of Ukraine is very illustrative in terms of the intertwining of political and financial interests in the activities of international institutions. On the one hand, the important role of international organizations not only as financial, but also as political aspects that directly affect the political situation in Ukraine, and on the other - demonstrates the influence of the United States and other Western countries on their activities. The contribution and role of international organizations that have committed themselves to allocating significant amounts of funding to strengthen defense capabilities, support Ukraine's economy and humanitarian issues are studied.
References
Семененко О.М., Бойко Р.В., Водчиць О.Г., Добровольський Ю.Б., Бердочник Д.В., Ярошенок А.В. Основні методологічні аспекти воєнно-економічного забезпечення обороноздатності держави: теорія та практика. Системи обробки інформації: щокварт. наук.-тех. журн. Харків : ХНУПС. 2017. № 3(51). С. 165–175.
Воєнна економіка: підручник / за ред. В. І. Мірненка, І. М. Ткача, В. Л. Рихтюка. Київ : НУОУ, 2011. 332 с.
Савельєв А., Запара Д., Новіченко С., Деменко М., Доска О., Третяк В., Власов А. Структура інформаційно-розрахункової системи підтримки прийняття рішення «Аргумент – 2021». InterConf. 2021. № 49. С. 631–642. DOI: https://doi.org/10.51582/interconf.7-8.04.2021.069
На оборону в проєкті бюджету-2022 передбачено «рекордну суму» – Міноборони. URL: https://www.radiosvoboda.org/a/news-oboronabudget/31464482.html
Журнал «Фокус». URL: https://focus.ua/uk/economics/509718-procentnaya-pomoshch-kto-i-shkolko-videlyaet-valyutnih-kreditiv-ukrajin-vo-vremya-voyni
Інформація про продаж та купівлю іноземної валюти. URL: https://finbalance.com.ua/news/nbu-povidomiv-skilki-valyuti-kupiv-i-prodav-za-misyats-viyni
Semenenko O.M., Boyko R.V., Vodchyts O.G., Dobrovolsky Y.B., Berdochnik D.V., Yaroshenok A.V. (2017) The main methodological aspects of military-economic support of the state's defense capabilities: theory and practice. Information processing systems: quarterly: scientific and technical magazine. Kharkiv. KhNUPS, 3 (51), 165–175.
Military economics: a textbook / ed. V.I. Mirnenko, I.M. Tkach, V.L. Rykhtyuk. Kyiv: NUOU, 2011. 332 p.
Savelyev A., Zapara D., Novichenko S., Demenko M., Doska O., Tretyak V., Vlasov A. (2021). The structure of the information and settlement system to support decision-making "Argument – 2021". InterConf, 49, 631–642. DOI: https://doi.org/10.51582/interconf.7-8.04.2021.069
The draft budget for 2022 envisages a "record amount" for defense – the Ministry of Defense. URL: https://www.radiosvoboda.org/a/news-oboronabudget/31464482.html
Focus Magazine. URL: https://focus.ua/uk/economics/509718-procentnaya-pomoshch-kto-i-shkolko-videlyaet-valyutnih-kreditiv-ukrajin-vo-vremya-voyni
Information on the sale and purchase of foreign currency. URL: https://finbalance.com.ua/news/nbu-povidomiv-skilki-valyuti-kupiv-i-prodav-za-misyats-viyni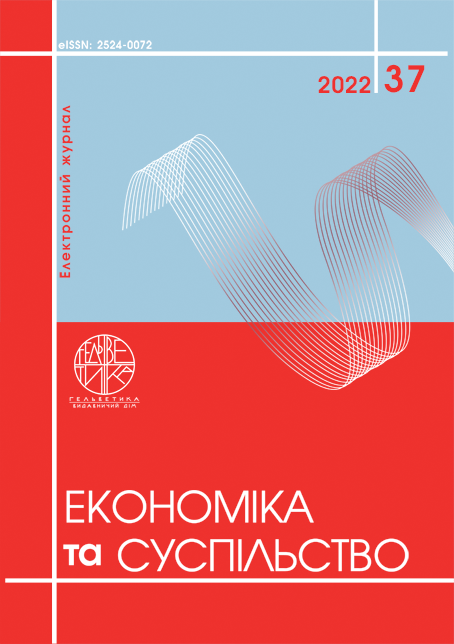 Article views: 159 PDF Downloads: 144
How to Cite
Marshuk, L., Babyuk, A., & Strapachuk, L. (2022). THE INFLUENCE OF INTERNATIONAL INSTITUTIONS ON THE FINANCIAL STATUS OF UKRAINE IN WAR. Economy and Society, (37). https://doi.org/10.32782/2524-0072/2022-37-23
Section
FINANCE, BANKING AND INSURANCE